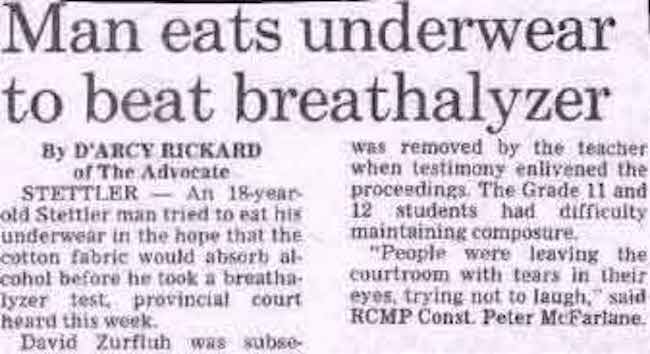 In case you missed it, here is part one of the weirdest news stories of 2017.
Model May Lose Sight After Tattoo Gone Wrong
Catt Gallinger's foray into body art ended just as quickly as it started, but not soon enough, as she may have been rendered partially blind by her tattooist.
Man Suspected Of Having Cancer Is Found To Have Traffic Cone Lodged In His Lung
Paul Baxter, 50, of Preston, Lancashire, visited a doctor after coughing up yellow mucus for over a year. He was a smoker for some 30 years, and after a round of tests, doctors feared the worst.
Falsely Accused "Satanic Panic" Couple Imprisoned For Two Decades Awarded $3.4 Million
Fran and Dan Keller, the couple at the center of the 1991 Oak Hill ritual abuse scandal, has been cleared of all charges and awarded $3.4 million in a wrongful conviction settlement.
Einstein 'Theory On Happiness' Note He Once Gave As A Tip Sold For $1.56M
An Israeli auction house sold two handwritten notes by the famous physicist.
Man In Clown Mask Chases His Daughter And Gets Shot At By Armed Stranger
Vernon Barrett Jr. won't be winning any father of the year awards—what he has done, instead, is ensure his 6-year-old daughter will need years of therapy to quell her coulrophobia.
After 80 Years, The World Finally Gets A New Type Of Chocolate
The best things come to those who wait, and those of us waiting for a new type of chocolate are about to be rewarded for our patience. After 80 long years, the world is finally welcoming a brand new treat.
Hawk And Snake Cause A 40-Acre Brush Fire In Montana
"A dead hawk was found burned, and it had contacted the power lines," Lee said. "The amazing thing is it still had a small snake gripped in its talons."
UK Man Claims To Have Real UFO Footage
Footage of what looks like a UFO flying over Bracknell in Berkshire surfaced on the Internet in late August 2017.
Denny's Breakfast Mascot Is Widely Mocked On Social Media
A breakfast sausage mascot belonging to the U.S.-based restaurant chain Denny's went viral as social media pundits liken him to a piece of poop.
'Mad Pooper' Terrorizes Colorado Springs
A female jogger, dubbed "the Mad Pooper," has been defecating in front of Colorado Springs homes and businesses for weeks.
'Rick and Morty' Fan Trades Packet Of Szechuan Sauce For Car
Rachel Marie not only managed to snag one of only 20 packets of the super rare sauce, but she's parlayed the bounty into a car.
The 'Safest Home In America' Is For Sale
Listed at a reasonable $14.7 million, the Alpharetta, Georgia home includes eight bedrooms, 14 bathrooms, three kitchens, elevators, a private museum, indoor shooting range, and a wine cellar.
CHECK OUT OUR ARCHIVES FOR MORE ODD NEWS STORIES AND FOLLOW ODDEE ON FACEBOOK and TWITTER.