24-year-old Canadian model Catt Gallinger wanted a scelera tattoo
Purple liquid started oozing from her eye during the procedure
Gallinger is now threatening to sue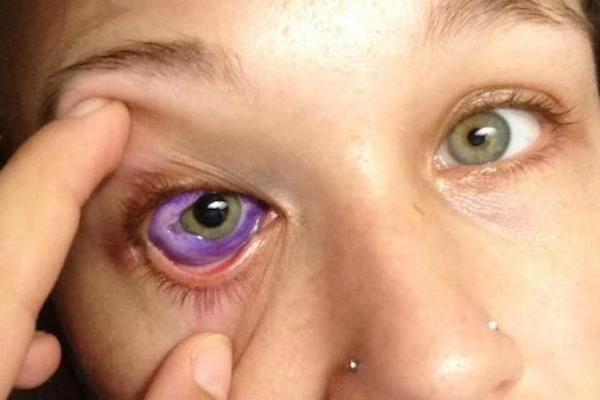 Catt Gallinger's foray into body art ended just as quickly as it started, but not soon enough, as she may have been rendered partially blind by her tattooist.
The 24-year-old had requested a scelera tattoo—ink that would tint the whites of her eyes. However, her modification didn't go as planned. Purple liquid starting seeping from her eye during the procedure, and she was rushed to the hospital.
While there, she was administered antibiotic eye drops, which seemed to make matters worse. Her eye swelled shut and left her with blurred vision. Doctors then recommended steroids and those did nothing but cause the purple substance to clump around the cornea.
Hospital staff has finally informed Gallinger that she will never fully recover, her eyesight will forever remain compromised. As a result of the mistake, she could even go completely blind.
Gallinger has been telling her cautionary tale on Facebook, saying the damage was "caused by undiluted ink, over injection, (and/or) not enough/smaller injections sights" during the procedure. When a commenter asked if she was going to take legal action, she responded with a simple 'yes." Other commenters told her how stupid she was for having the procedure done in the first place, to which she responded, "You know what? You really think that after something like this, I'm not the first person thinking that? I'm the first person to think that every single time I look at myself."
She now wears light sensitive dark glasses all the time and is completely discouraged from continuing her modeling career. "I don't see myself ever being comfortable enough to do another shoot. I can barely look at myself except for when I have to do my treatments," she wrote.
Gallinger is currently waiting to speak with a cornea specialist and continues to update her health status on social media.
FOLLOW ODDEE ON FACEBOOK AND TWITTER.