The chain has chosen has chosen a sausage link as the face of Grand Slam breakfasts
Denny's is sticking by the beleaguered sausage and says it won't "flush" him anytime soon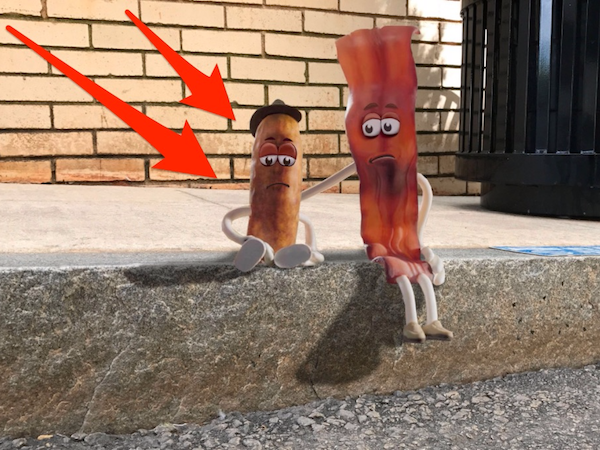 Have you ever felt sad for a sausage?
Probably not, but we're willing to bet this one will tug at your heartstrings—that is, if it doesn't gross you out first.
Recently, a breakfast sausage mascot belonging to the U.S.-based restaurant chain Denny's has gone viral on Twitter as social media pundits liken him to a health-code violation.
The Hat-Wearing Sausage Has Been Around A While
The breakfast link has shown up before—he was adopted by the chain in 2014 as part of its "Grand Slam" web series (along with an anthropomorphized egg, pancake, and slice of bacon), and he's drawn invidious online comparisons to something more typically found in Denny's restroom (or any restroom for that matter.)  Social media everywhere abounds with… uh, "toilet" humor:
This really is Denny's new mascot? Really? If this was there #1, what was there #2? pic.twitter.com/i6KYJGPZre

— VBTheWise (@VBTheWise) September 13, 2017
That just screams "we're number two!"

— Michael Reynolds (@aquasport281) September 13, 2017
Last week, Denny's posted a photo on Twitter of the downcast and confused sausage mascot being consoled by his bacon friend. "I'm just a sausage … I can't help the way I look," reads the caption.
Denny's Stands By Its Sausage
The restaurant giant is sticking by its pork link. "We do not have any plans to change how Sausage looks because…well, he looks exactly how a breakfast sausage should look," Denny's chief marketing officer John Dillon said. (That is pretty true.) "And of course, we'd hate to give Sausage a complex because we—and his Grand Slams family—love him just the way he is! Sausage has been looking for an opportunity to out-shadow his breakfast counterparts for a while, so it was only a matter of time before he tried to jump into the spotlight. While this unflattering comparison was never in his plan, he won't let it stop him from enjoying his 15 minutes of fame," Dillon said.
Regardless of how the public feels about Sausage, he appears to be here to stay, and he's on his way to viral fame, which is nothing but good news for Denny's.
FOLLOW ODDEE ON FACEBOOK AND TWITTER.