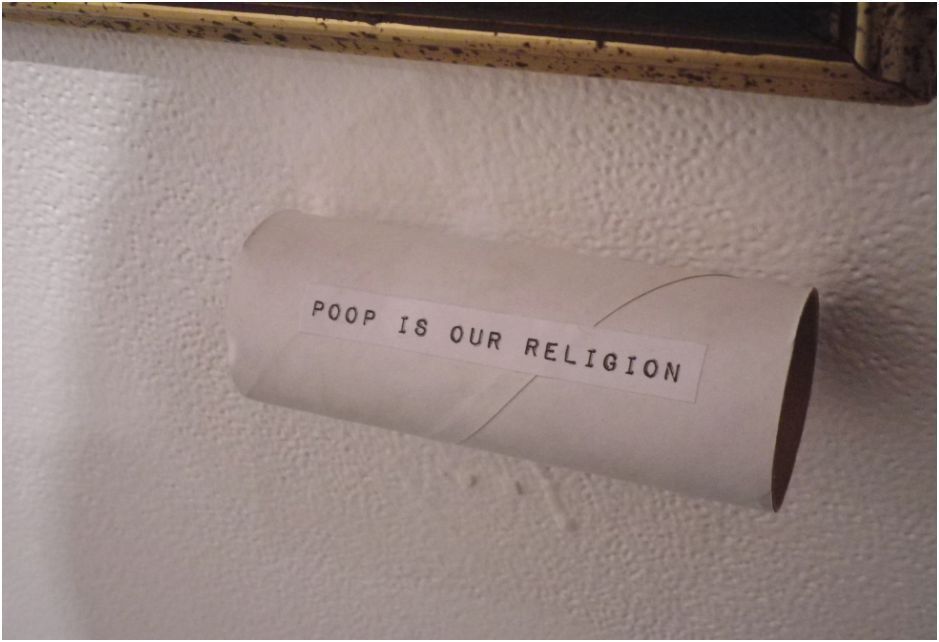 When you think of art, you probably think of a tortured, starving soul who lives in a loft and agonizes over how to capture the insolence of youth and the meaninglessness of life on canvas.
Perhaps you think of the snobby purveyor with a pseudo-British accent who only associates with people named Pierpont and Carter while they express the maddening wonder of a painted white canvas some artist in a pretentious beret calls "Chaos."
Or maybe an image of a gallery owner who wears nothing but black while hosting an exhibition complete with fig sprouts and recycled bottled seaweed water to satiate those uppity potential customers pops into your head
Chances are you don't think of these, though. Check out some of the more unusual art exhibits that have taken place around the globe. Some of them are pretty far out and proof that anything can be considered art, which is good to remember because while you may be tempted to throw out the spaghetti you couldn't finish, you could hold onto it and dupe people into attending an exhibit called "Reflections on Ronzoni."
Chopsticks Are Not Just For Struggling to Pick Up Your Dragon Roll
Japanese waiter Yuki Tatsumi is more than just a guy who delivers food. For almost six years, he's been collecting chopstick sleeves that customers rolled up into all kinds of shapes. He's gotten so into it, in fact, he's managed to snag sleeves from other restaurants and, earlier this year, he showed off 8,000 of the crazily-designed sleeves in an exhibit in Tokyo.
We think he should keep it going and put together a nice exhibit of all the duck sauce packets people steal and wind up never using because they forget it's on the bottom of their utensil drawer.
Cutting Their Teeth on a Radical Display
Here's an (Aqua) fresh idea that's nothing to bristle at: Vermont's Museum of Everyday Life was home to a gallery celebrating the toothbrush. A wide range of the cleaners you had best be using each day to fend off cavities, halitosis and just plain bad breath was put out for everyone to see while also serving as a reminder that you really need to call your dentist for your annual check-up.
Who knew: to make great art you don't necessarily need a brush as much as you need a toothbrush.
If it was the museum's Aim to educate, then consider it mission accomplished. Otherwise, we're at a floss for words and humbly apologize because we've used more malaprops than a Brit has crooked teeth. Maybe.
A Feast for the Eyes and Beers
New York City's Gitler &_____ housed this show called "99 Bottles of Beer," which features a batch of photos of beer bottles painted by Tom Sanford.
"In this otherwise self-explanatory show, Sanford has drunk and painted 99 bottles of beer," says a press release. "Sanford painted the relic of the experience, the bottle, and each of these singular still-lifes is a meditation on Sanford's experience with that beer and with those visitors."
RELATED:  Japanese Artist Creates Masterpieces On Rug Using Only A Vacuum
Sure. Or maybe he just wanted to see how he painted with a buzz and call it "art" in an attempt to replace the word "hammered" with "painted" to describe having had too much to drink. But, really, "I got so painted last night" just doesn't sound right.
Garbage Time
One man's trash is another man's treasure. Gitler &_____ was also the site for this project from mixed media artist Kristian Glynn.
According to a press release, "The building blocks of these new pieces are a combination of recycled, reused and new paper, as well as found materials, card stock, and cigarette filters. Somewhat appropriately, the artist appears to be wrestling with combinations of conflicting emotions that romanticize the past and lament the present (or the exact opposite), forming layers both figurative and literal."
That's some serious trash talk, wouldn't you say? While that sounds great, we all know he's just a hoarder who can't bear the thought of a cigarette butt remaining in the garbage.
Number 2 Costs a Lot of Money
Waste not, want not. For one night back in 2013, some olfactory free spirits ventured to San Francisco's Public Works art house to see a series of prints made from excrement in a show called "I Poop You." We assume people said it stunk, even if it had nothing to do with the scent.
"Animal feces…were 'carefully hand-picked from local farms' in the San Francisco Bay Area and plopped onto canvases," with some of the offerings going on the market for as much as $3,500. That's some serious cash to flush down the toilet.
Pity the poor person who dropped a deuce there and saw it sold later in the night for a couple hundred, huh?
A Stone's Throw From Ridiculous
We're gonna go ahead and say this exhibit belongs in the Museum of People With Too Much Free Time.
In reality, Japan's Chinsekikan museum is where you can find a collection of more than 1,700 rocks that look like faces, including some pop culture icons like Elvis Presley, E.T. and Nemo.
The late Shozo Hayama collected the rocks for half a century before he died in 2010 and his wife now runs the museum. We just wonder how many times he made the joke that she was his rock.
Rubber Maniac
This display isn't in a museum, so we'll include it with an asterisk. But we had to mention it because it's just so bizarre. A young lady in Norway named Tonje has put up used condoms on her wall. And we're not talking a condom from a dude who she can't seem to get over, either. No, she has nearly 2,000 of them. There's sexy, there's kinky and then there's a hobby that sounds like the CDC should shut down.
Tonje admits having paid upwards of $75 for condoms in the mail and shelling out another $15 if people provide a picture. "I do not care what others think, some like cars and sports, I like to collect used condoms," she says. "Everyone have their own hobby."
Yeah, you keep telling yourself that when you find out you're the first to get chlamydia by association.
CHECK OUT OUR ARCHIVES FOR MORE ODD NEWS STORIES AND FOLLOW ODDEE ON FACEBOOK and TWITTER.