A NJ couple set up a zombie car crash on their front lawn.
Police were called but the homeowners did not have to take the display down.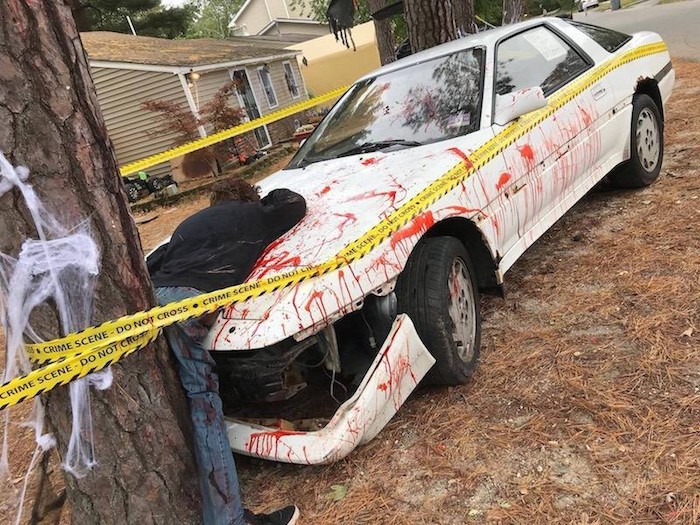 There's nothing more enjoyable than a good Halloween lawn display meant to scare the funk out of trick-or-treaters, neighbors and people passing by but this zombie car wreck might be over the line. Way, way over the line according to some people.
A Waretown, NJ family got a visit from local police after people complained that their front lawn display of a zombie pinned against a tree by a Toyota was a little bit too excessive.  Dead zombies bleeding all over the hood of the car isn't as PG as a giant Star Wars AT-AT, that's for sure.
"We mean no harm by it," homeowner Krysten Negrotto, 27, explained to NJ Advance Media. "We don't mean to offend anyone. We do it for the love of Halloween. We just want kids to enjoy like we did as kids."
Do kids enjoy bloody crime scenes? It's hard to tell. According to Negrotto and her husband, the response to the zombie-slaying has been positive. Except for a couple of people yelling out car windows.
"But some expressed their dislike for the display including someone who yelled from a passing car that they were going to "grow up to be horrible individuals.'"
I bet they shook their fist too. That seems like the type of thing a person who yells out the window would also do.
READ THIS: 12 Craziest Photos of People Arrested on Halloween
Negrotto said the responding officers were nice about the Halloween display. They had to respond to the call because that's the law.
"They encouraged us to add more," she said of the police that knocked on her door.
Someone told Negrotto the display might be better received if it depicted "something like someone getting stabbed with a knife."
And that person is obviously insane.
The Negrottos are considering the addition of a female body to the zombie car wreck. Because no one wants to die alone. Not even the undead.
So what do you think of this zombie car wreck? Over the line or perfectly fine? Tell us in the comments. 
FOLLOW ODDEE ON FACEBOOK AND TWITTER.