This is the wurst business decision VW has ever made.
Volkswagen is a legendary automaker. Although the company has been involved in emissions reporting scandals, everybody recognizes such cars as the various Beetles and the Type 2, aka the Hippie Van.
But now, a tragedy faces fans of German automotive engineering. In an internal document, Volkswagen has announced that it will phase out its best-selling product — the VW part number 199 398 500 A.
You'd never see this part in an actual car, though. Unless you really want to install a sausage to your ride.
Yes, the VW part number 199 398 500 A is currywurst sausage. It's the single most manufactured and popular Volkswagen product, with more than seven million sausages produced in 2019.
Since 1973, the currywurst has been a mainstay at the canteen of VW's Wolfsburg plant, where the sausage is also produced. But after nearly 50 years, it's now going the way of the dodo.
Volkswagen CEO Herbert Diess is apparently doing everything he can to clean the company's image after VW was busted for falsifying its cars' emissions reports in 2015. Diess has deemed that the currywurst is too carbon-intensive to produce and it must go.
In the future, the Wolfsburg canteen will serve more plant-based foods, including a vegan variant of the currywurst. The decommission of the sausage is part of VW's plan to remove factory-farmed meat from its canteens by 2025.
"Good food is important, it is crucial for the health, the mood and thus also the productivity of our employees," Diess wrote on his LinkedIn page.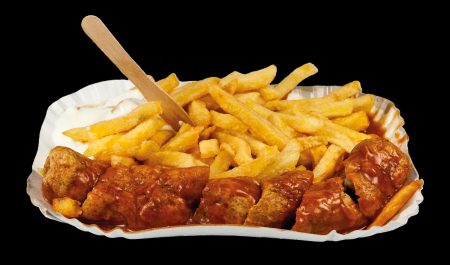 No to No Currywurst
VW's decision to reduce carbon emissions by serving more plant-based foods is laudable, and without a doubt they mean well. But many of the company's employees and supporters aren't exactly enthusiastic about losing their beloved currywurst.
Then again, we are talking about Germans. Is anyone surprised that they take their sausages very seriously?
The most high-profile individual to speak against the decision is none other than Gerhard Schröder. Germany's ex-chancellor and a previous VW board member, Schröder railed at the sausage incident in his own LinkedIn post.
"If I were still at the board at VW, something like this wouldn't have happened," Schröder wrote. "A vegetarian diet is good, and I do it myself occasionally. But basically, no currywurst? No!"
"Currywurst with French fries is one of the power bars of skilled workers in production. It should stay that way.
"I don't want to do without [the sausage], and I think many others don't want that in their company canteens either," opined Schröder.
The ex-chancellor even concluded his post with the hashtag #rettetdieCurrywurst. For those of us who don't speak German, that translates to #SaveTheCurrywurst.
Like we said. It's serious business.
The Cult of the Wurst
So what exactly is this currywurst, and what makes it so special? Well, to begin with, currywurst isn't actually the name of the sausage but the meal it accompanies.
The sausage itself is a type of bockwurst, a sausage made from veal and pork, with a heavier emphasis on the veal. The bockwurst becomes currywurst after you slice it into bite-sized pieces and add a spicy, curry-flavored ketchup and serve it with fries.
Oh yes, the ketchup. VW developed its own ketchup to go with its currywurst, which can be found in the company's product catalog under part number 199 398 500 B.
Currywurst is one of Germany's most popular fast takeaway foods. It's no wonder then that VW's employees loved the meal served in the factory canteens.
They loved it so much, in fact, that they wanted it even on their days off. You can find VW currywurst in grocery stores and football stadiums, with the part number 199 398 500 A proudly branded on each sausage casing.
"It's a cult. It's a statement for Volkswagen," VW fleischmeister Franco Lo Presti told Autocar in 2019. "If there wasn't currywurst in the canteen, there would be trouble."
Presti's prophecy was correct. Trouble is a-brewin', but it remains to be seen whether that can save the VW currywurst.
Sausage Fight
At least Volkswagen's sausage troubles haven't required the involvement of law enforcement. The same can't be said for Daimler, another famous German automaker.
In 2016, Daimler's shareholders were attending their annual meeting. As is common in German business culture, a buffet lunch was served at the lengthy meeting.
That buffet included saitenwürschtle, long and thin sausages resembling frankfurters, although they aren't exactly the same. After the meeting concluded, one shareholder decided to take some of the goodies home and started wrapping up several sausages.
But another attending person wouldn't have any of that and tried calling her fellow shareholder off. The two got into such an intense shouting match that somebody ended up calling the cops settle the issue.
Did we already say sausages are serious business in Germany? Because they clearly are.