The town of Ísafjörður in Iceland painted 3D effect to lower traffic speeds
Crosswalk appears to hover above the ground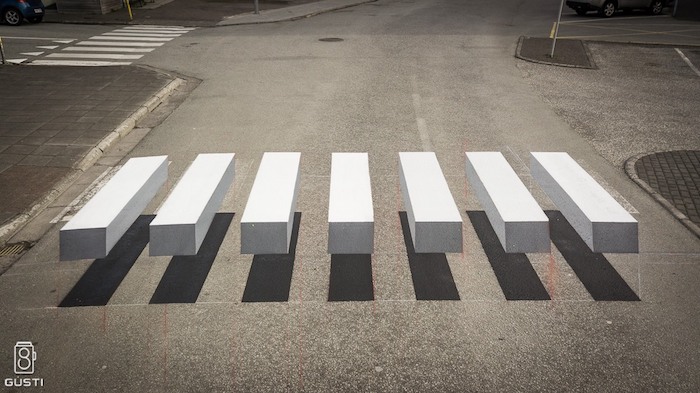 Earlier this month, we highlighted a UK company that installed over 400 tiles to create a "bent" look in the office. The goal was to keep people from running up and down the hallway.
A town in Iceland went the optical illusion route to stop cars from speeding down a business city street. The result will make any car slow to a crawl and cause any pedestrian to cross with caution. The town of Ísafjörður painted the crosswalk with bright white lines that appear to jump right off the ground thanks to a 3D illusion.
The photos above were snapped by photographer Ágúst G. Atlason of Gústi Productions.
The town isn't the first to go the 3D route to keep speeding cars from mowing people down. Last year, artist Shivrama Krishna created a similar 3D illusion on different roads and rooftops. Krishna uses a range of paint brushes and stainers to craft his optical illusions.
Here's a video of the artist installing an optical illusion speedbump of his own in Southern India.
For more mind-twisting illusions, check out these amazing optical illusions from makeup artist Mimi Choi or these pieces of furniture that also play tricks on the eyes.
FOLLOW ODDEE ON FACEBOOK AND TWITTER.