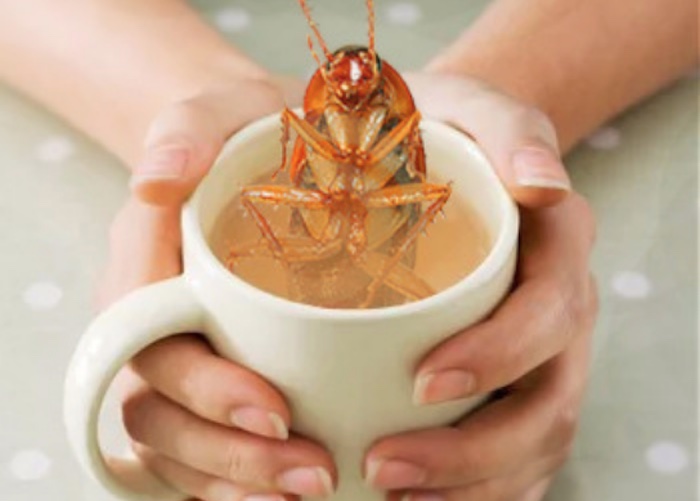 It's impossible to keep up with all the odd, weird, horrific, and awesome news every day. Luckily, we do all the work for you. Here are eleven odd news stories from this past week that you probably missed.
Anime Loving Penguin Passes Away In Japan:  Grape-kun, the Humboldt penguin, has passed away at the age of 21. He became a viral superstar after falling in love with a cardboard cut out of Hululu from the anime series "Kemono Friends."
Weird New Instagram Documents The Personal Life Of An Adventurous Cockroach:  Cockroach Diaries follows the life of one insect, living "his biggest life."  The account is intended to be a spoof on life and the culture of Instagram.
Man Kisses Fish And Goes Into Cardiac Arrest:  Kissing a fish may sound like a good idea—but it can be deadly. British fisherman Sam Quilliam was pleased with his catch, a six-inch Dover sole, so much so that he kissed it—and that's when his life flashed before his eyes.
Watch This Family Reunite With Beloved Dog They Thought Died In California Wildfires:  Two men searched the rumble of their mother's home for the beloved family dog after the California wildfires and get an amazing surprise.
Student Who Inhaled 360 Laughing Gas Canisters In A Week May Never Walk Again:  An Australian university student may never walk again after she inhaled 360 canisters of nitrous oxide in one week. The woman, aged in her 20s, has damaged nerves in her spinal cord which doctors say may never recover.
Remarkable Photos of Museum Visitors Whose Outfits Match the Art They're Viewing:  Photographer Stefan Draschan has created "People Matching Artworks", a remarkable photo series that captures museum visitors wearing outfits that match and/or coordinate with the art they are viewing.
Celebrity Chef Gordon Ramsay Learns How To Make Cocaine From Scratch With Guerrillas In The Jungle:  Celebrity Chef Gordon Ramsay has a 2-part documentary coming out this month titled Gordon On Cocaine which will air on ITV. Gordon Ramsay has released this short clip of himself and his film crew trekking through the jungle to a hidden cocaine laboratory where he learns how to make the world's #1 party drug from scratch.
Company Installs Optical Illusion Floor Just To Screw With People:  Casa Ceramica is making sure anyone who visits their offices leaves feeling a little nauseous but slightly amazed.
'Rick and Morty' Fan Trades Packet Of Szechuan Sauce For Car:  "Rick and Morty" fan Rachel Marie was one of the few to get a packet of the rare McDonald's sauce. She traded it for a car in a Facebook group.
Man Orders Food So Spicy He's Warned He'll 'Regret Being Born': Restaurant Hawkers Asian Street Fare warned him of the spice level via the receipt which went viral.
What Happens When Humongous Stars Die?:  Neutron stars are some of the weirdest objects in the universe. They're small — just 15 or so miles across — but contain a mass equal to the sun. And things get weird when they die.
FOLLOW ODDEE ON FACEBOOK AND TWITTER.
Want to tell your strange story?
Tell us about it
and it could be featured on Oddee. You can remain fully anonymous.