Grape-kun was 21-year-old when he died
He became a viral superstar after falling in love with a cardboard cut out of Hululu from the anime series 'Kemono Friends'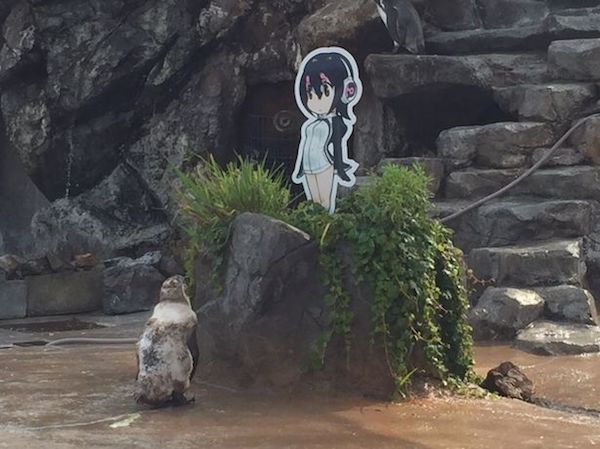 If this doesn't make you believe in love, nothing will.
Grape-kun, the Humboldt penguin, has passed away at the age of 21.
The celebrity penguin made his home at Japan's Tobu Zoo in Saitama prefecture and became a viral star last May after forming an attachment to a cardboard anime cut-out.
He fell in love with a picture of Hululu, an anthropomorphic penguin character from the Japanese anime series Kemono Friends, when it was put in his enclosure. He is thought to have become fixated on Hululu after being jilted by former (penguin) lady friend Midori, who he was with for over a decade. The fickle female spurned him for a younger man, leaving Grape to drift further and further away from the larger penguin group.
Hululu was initially placed in the penguin enclosure as part of a tie-in promotion with Kemono Friends, but she stuck around long after it had ended. Grape spent long hours lovingly gazing at Hululu and refused to leave her side. He was so smitten, in fact, he became distressed when Hululu was briefly removed during a typhoon and was often seen with his wings outstretched and his beak pointed upwards—in a penguin courtship terms the stance he used was meant to show his beloved that he wanted to take their relationship to the next level.
Tobu Zoo announced Grape's death through its Twitter account, saying that the cause of death was unknown, but it appears he died of natural causes—he would have been about 80-years-old in human years.
Condolences have been pouring in from around the world—most notably from Kemono Friends, and Chikuta Ikuko, the voice artist who plays Hululu in the series. "Best wishes from my heart to little Grape," Ikuko wrote on Twitter.
Rest in peace, Grape-kun.
FOLLOW ODDEE ON FACEBOOK AND TWITTER.