The limited edition drink combining spicy and sweet flavors is available for a limited time in two New York locations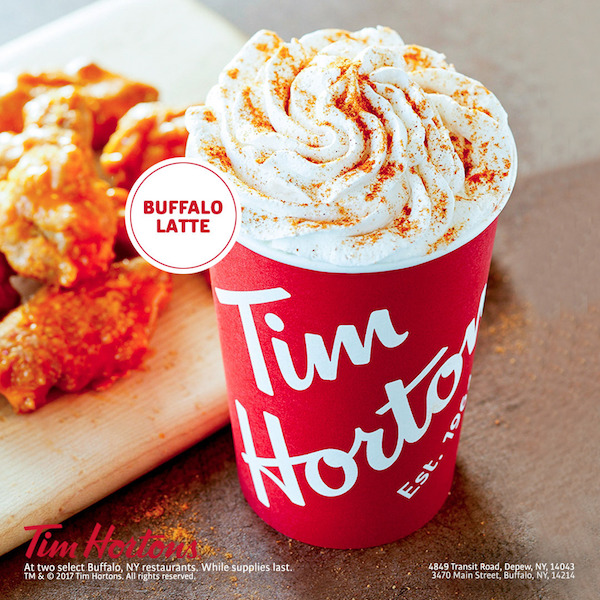 In the season of pumpkin spice and maple syrup lattes, no one saw it coming.
Ladies and gentlemen, may we introduce the Buffalo Sauce Latte—yes, the spicy stuff your chicken wings are slathered with, mixed with java.
This odd couple is the brainchild of Canadian donut chain Tim Hortons.
"We decided to surprise our loyal guests by pairing our new handcrafted Latte with the bold Buffalo flavor that's so iconic to the region," said Stephen Goldstein, regional president of Tim Hortons U.S. division. "The unlikely pairing comes together to create an unexpectedly delicious sweet and spicy treat."
The concoction, available hot or cold, combines espresso, steamed milk, and mocha, with whipped cream on top—pretty much an average latte. That is until it's sprinkled it with Buffalo seasoning.
Tim Hortons is offering the drink for a limited time in two of it's Buffalo, New York locations—one in the city of Buffalo, and the other in Depew. (In case you've forgotten, the area is home to Buffalo wings and the first U.S.-based Tim Hortons cafe.)
Hortons hopes the new concoction will drive brand recognition.
The new product, with its unique combination of ingredients, will likely generate awareness and create a sense of urgency with its expiration date."It does bring attention to the company," said Christine Couvelier, a global culinary trend expert and president of the food development firm Culinary Concierge. "The end result is that it will get people into stores and then they'll buy something else."
In addition to the Buffalo Latte, Tim Hortons is releasing a new lineup of standard espresso drinks, including caramel, vanilla, mocha and pumpkin spice flavors, available at select locations nationwide.
And what does Twitter think?
Canada, put down the buffalo sauce latte, hand over the healthcare. https://t.co/mdBpB1dkkQ

— Chuck Wendig (@ChuckWendig) October 13, 2017
Candice tricks Tom into trying Buffalo Sauce latte @ticasino. @TheDiceler #FTW pic.twitter.com/bkqjfKv8YR

— 92 KQRS (@KQRadio) October 13, 2017
If you try Tim Horton's Buffalo Sauce Latte, leave a review below!
FOLLOW ODDEE ON FACEBOOK AND TWITTER.