If you offer to make it, people will come — in every sense of the word.
No matter your outfit, there's a jewelry material to match it. You can get your jewelry in pretty much anything you want — gold, silver, bronze, steel, plastic, bone, wood…
And now we can add breast milk and human semen to the list.
It's all thanks to Amanda Booth, the founder of Trinkets by Amanda. The 33-year-old designer from Toronto blew up online after she started using — shall we say — imaginative materials.
Her bizarre jewelry lines started innocently enough with a single order, asking to incorporate breast milk into a jewelry piece. But after Booth showed the end result on her TikTok channel, the creations went viral.
Soon, Booth was making hundreds of pieces of jewelry a month. And then somebody asked for semen jewelry.
Long story short, Booth now offers her "Jizzy Jewelry" line on her website.
Hey, if someone's willing to pay money for it, might as well take it.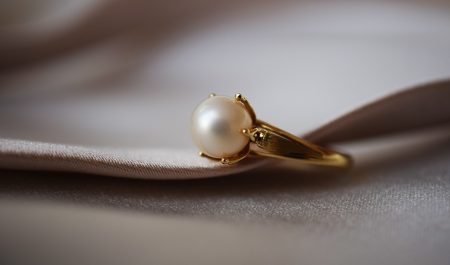 It Began with a Tragedy
Booth never intended to make a career out of turning human bodily secretions into jewelry, though. She stumbled into the niche more or less by accident.
Booth's jewelry-making journey began in March 2021. She said it was initially a form of therapy and — without going into private details — it "saved [her] life." So, that's great.
At first, she stuck to more usual materials. Booth made earrings out of clay and managed to drum up some sales online.
Then came the first request to incorporate human-originated materials into jewelry. But the first order was rather tragic.
Booth's friend contacted her after losing she lost her son in an unfortunate traffic accident. The friend asked if Booth could make a jewelry set from her son's ashes.
In her own word, Booth has "never said no" to a friend, and so she created the ashen jewelry. After showing off the set online, requests for more jewelry made from the remains of loved ones began to roll in.
And then, one fateful day, somebody requested if Booth could incorporate breast milk into jewelry.
Enter the Semen
Unlike what perhaps most of us would've done, Booth accepted the order. We suppose if you're working with dead people's ashes, you might want to use something that came out of a living person for once.
Booth crafted the breast milk piece and posted a video about it on TikTok last November. And that's what opened the floodgates.
So far, Booth had been seeing 10 to 20 orders per week. After the breast milk video, her weekly orders skyrocketed to 100.
Even Booth's husband quit his job and became a full-time employee at her jewelry business. In addition to breast milk, Booth also made jewelry with umbilical cords, placenta, hair, and fur.
With that in mind, it probably was only a matter of time before someone asked for semen jewelry.
"At first, I was like, super offended because I was doing like a really beautiful breast milk piece in that video. But it kind of became the joke of the office," Booth told Narcity.
"And one day, I just happened to post that joke on Facebook and ended up getting serious requests for it."
And so, the Jizzy Jewelry line was born.
A Saint or a Satanist?
Booth doesn't want to reveal exactly how she incorporates the bodily fluids into jewelry — the artist has her trade secrets. She uses a proprietary method to turn the liquids into powder, which she then mixes into translucent clay.
It doesn't take much to make one breast milk or dude goo piece. Booth only needs 10-20 milliliters of breast milk or just under two teaspoons of semen — roughly one to two busted nuts' worth.
Once she's added the powdered milk or semen into the clay, Booth sculpts the jewelry piece like she was using normal clay.
Not everybody is on board with Booth's products. Online, she's been accused of being various things, from a pervert to a Satanist.
Because Satan is renowned for loving breast milk jewelry.
That doesn't really bother Booth, though. She's more interested in the people who like her work.
Her clients have included people who want to celebrate the intimacy of childbirth or their relationship, in addition to some from various kink communities.
"We even get people who want something to represent their fertility journey for those couples that have struggled with fertility," Booth said.
"I am an open-minded artist, who really prides herself in being that comfortable, judgment-free space where people can come with all sorts of requests and feel heard."
And hey, how many other jewelry makers are there using semen? Clearly, Booth has only found a profitable, untapped market.