You want to work out, but you're sick of the gym, you're not a runner, and traditional yoga is so last year. But for health sake, we should all be working out more. So, now what?
Find a new workout. Maybe it's strange, maybe it's weird, maybe there are farm animals there. (Really.) Check out these new and different workouts to shake up your old, dull routine.
Aqua Cycling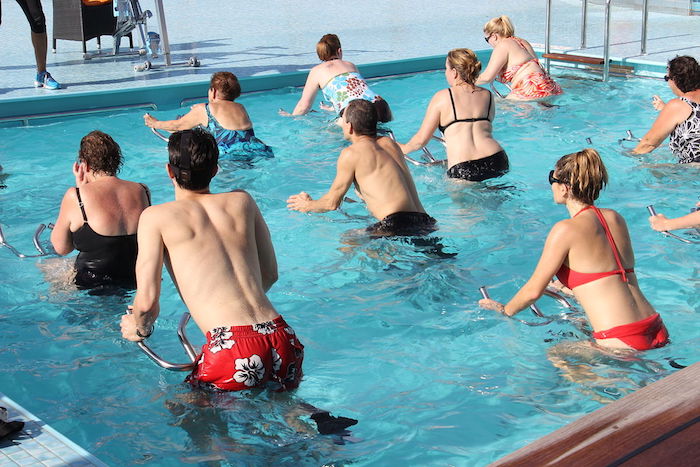 This cycling class has all the feels of a typical cycle class but with the added resistance of an entire pool of water. If you've ever done old school water aquatics, you know how much tougher underwater workouts can be.
The best part of this tough workout is how not tough it is on your body. Aqua cycling is impact free on your joints, helps burn your cellulite and can burn up to 800 calories a session.
Yoga in the Pool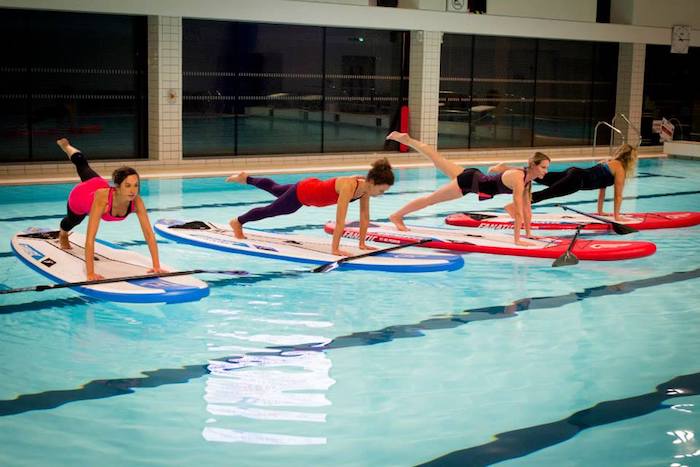 Floating Yoga may have been the hottest new summer workout circa 2017. Yoga is tough enough what with the balancing, often times on one foot, the poses, the flexibility of it all, and on the ground. Imagine yoga, on a surfboard, in a pool. So much harder.
RELATED:  10 Unusual Types of Yoga
A class starts with a slow warm up to get balance on your board. From there, you are urged to jump, twist, hold poses and even more, like mountain climbers or burpees. While some people find this workout relaxing yet hard, others find it just plain stressful.
Goat Yoga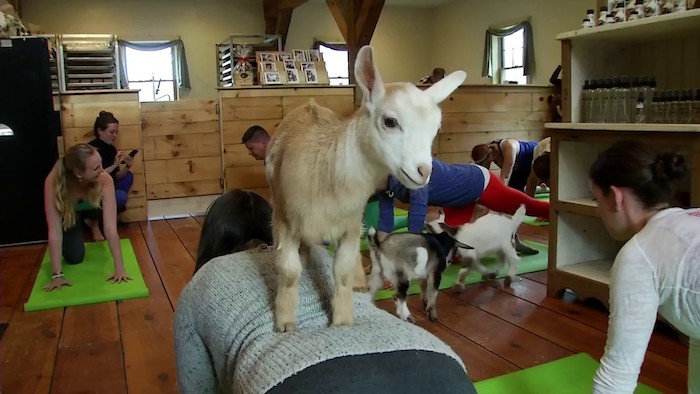 Unexpected to say the least, goat yoga is a new trend that is weird, and maybe in the best way. People claim this yoga is calm, therapeutic, and provides a great sense of yen.
Started as an animal-assisted yoga therapy, these goats aren't trained but rather join in on the fun with the yogis. The goats tend to climb on you, join you on your yoga mat, and may even give you a goat hug, if you're lucky.
Aerial Yoga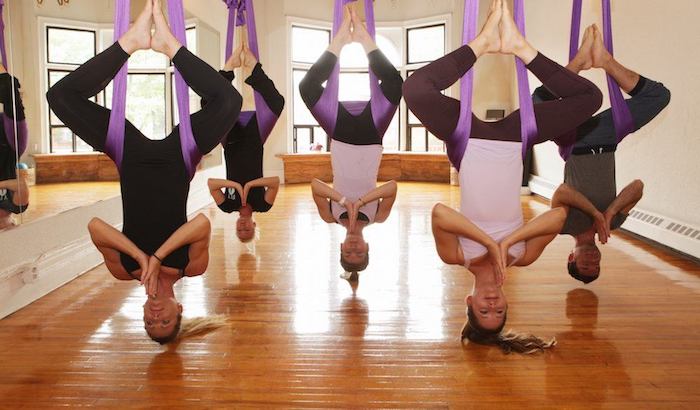 Aerial yoga is the inverted yoga that you have to try. Strong silks hang from the ceiling allowing for amazing stretching, longer hold in poses, and a slew of benefits.
This type of yoga helps align and decompress your spine. It also helps create more flexibility and joint mobility. With local classes all over the US, you could be to your next (and newest) yoga session in no time.
Pound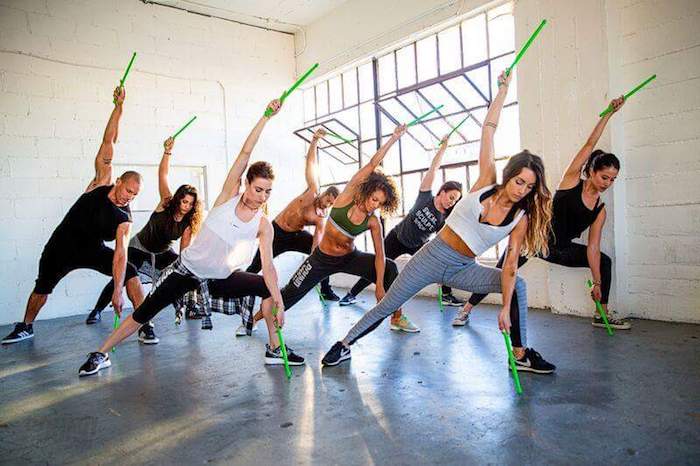 Did you ever want to be a drummer? Take a Pound class and you can combine a love of drumming with your love of working out.
These workouts are cardio-based, along with conditioning and strength training. The pilates and yoga-inspired moves are completed with weighted drumsticks making this workout very different from the rest. Just search poundfit.com to find your nearest class and you're in.
Forza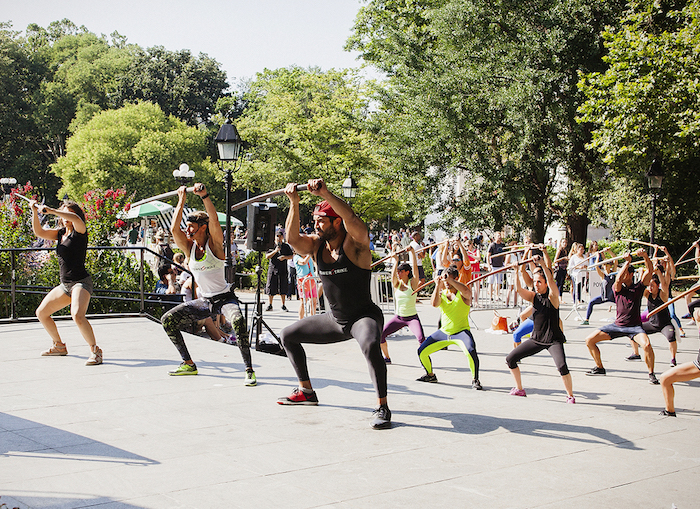 Forza is also known as Samurai sword training.  The one-hour class is high-intensity and combines Kendo and Aikijujitsu, two Japanese fighting techniques.
There are three major movements to get down in this workout, half-cuts, full-cuts, and diagonal cuts. You hold the sword for the entirety of this class, leaving no time for breaks or repositioning throughout, what a workout.
Jukari Fit to Fly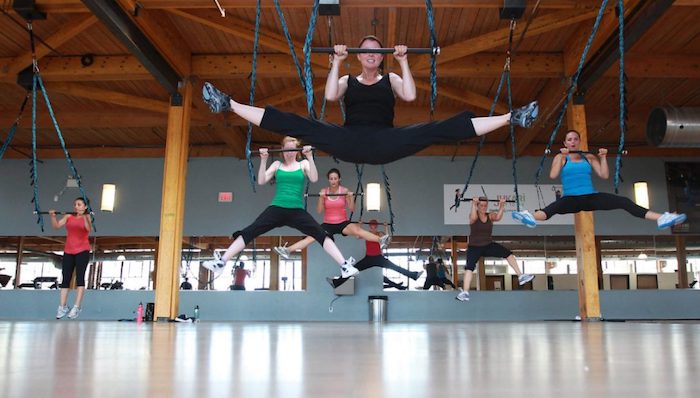 This workout is the brainchild of Reebok and Cirque du Soleil, so it's got to be good. People rave about Jukari because of how fun it is and they literally can't stop smiling about it. This class is a 90s fitness class and Cirque du Soleil, all in one, and is said to awaken your "inner dancer" or "inner athlete."
Want to do a trapeze workout? This is it! Each classmate is set up with a chest-height suspended bar, also known as an aerial hoop. And that's it, let class begin. This hour-long session will take your through cardio and strength moves, and tone your whole body while you're at it.
Trampoline Park Classes
These workouts make you sweaty, toned and tired in no time at all. This low-impact workout can be done on a home trampoline, gym trampoline or at almost any and every trampoline park you have ever been to. And not just in the US, these courses and classes can be found all over the world.
These workouts start with some beginner moves and move towards advanced moves including double jumps, flips and more. What's more is the ropes course. Most trampoline parks have one and this is a perfect start, or finish, to any workout.
Kangoo Jumps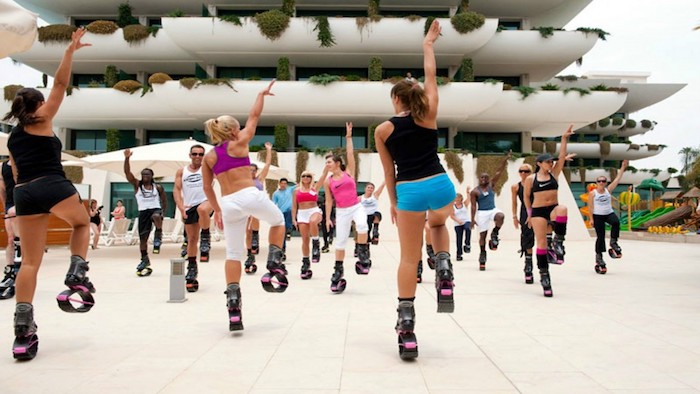 And if you're in the mood for bouncing and jumping, but not a fan of trampolines, then this workout is for you. Kangoo jumps gives you the jumping power of a kangaroo, all in a pair of boots.
Classes are held all over the US and the workouts are said to be 80% less impactful on your body and joints. The best part about these boots is how fun they are. You can wear them anywhere and make a fun workout out of a walk or even chores around the house.
There you have it. These weird, strange and new(ish) workouts will have any athlete excited and ready to try something new.
CHECK OUT OUR ARCHIVES FOR MORE ODD NEWS STORIES AND FOLLOW ODDEE ON FACEBOOK and TWITTER.