A 27-year-old 'spiritual guidance counselor' has made love to over 20 'spirits'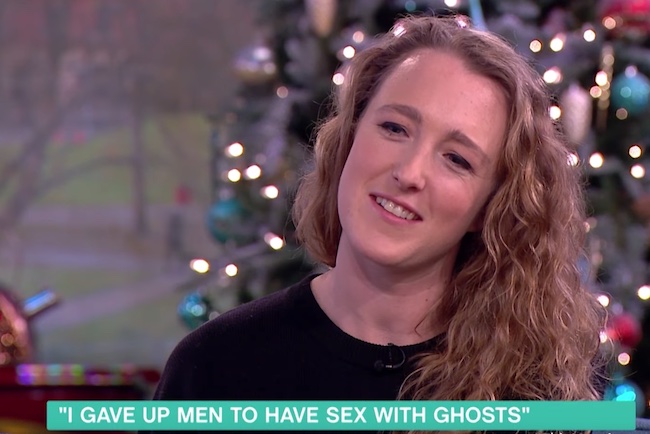 Some ghosts spend their free time haunting schools and photobombing pictures in hotels. The smart ones spend their time seducing and sleeping with women.
Well, one woman actually, a 27-year-old "spiritual guidance counselor" named Amethyst Realm. (For real?) Realm claims to have done the dirty with at least 20 ghosts. She prefers them to men.
Realm appeared on the British TV show "ITV This Morning" to talk all about the many (dead) men in her life.
"It started as an energy, then became physical," she told hosts Phillip Schofield and Holly Willoughby. "There was pressure on my thighs and breath on my neck. I just always felt safe. I had sex with the ghost. You can feel it. It's difficult to explain. There was a weight and a weightlessness, a physical breath and stroking, and the energy as well."
That sounds pleasant but did they call her the next day? Did they call on the phone on from empty rooms and inside closets?
"Realmmmmm….REALLLLLMMMMMMM….I had fun last night….It's me, George. I'm hiding in the linen closet."
"Realm said she had an affair with the ghost for three years but that it ended when her human husband came home from work early and saw the shadowy shape of a man through the window."
How you gonna do a guy dirty like that?
Now Realm wants to get pregnant by a ghost.
"I've done a bit of research into phantom pregnancies," she said. "There's a possibility that it is a ghost in you, but people don't know how to carry it to full term."
Let's hope the baby daddy doesn't love her and leave her but how would she even know?
I Gave Up Men to Have Sex With Ghosts
CHECK OUT OUR ARCHIVES FOR MORE ODD NEWS STORIES AND FOLLOW ODDEE ON FACEBOOK and TWITTER.
Want to tell your strange story?
Tell us about it
and it could be featured on Oddee. You can remain fully anonymous.