Fake or Fortune host Philip Mould gave a Twitter demonstration on a 400-year-old piece of art.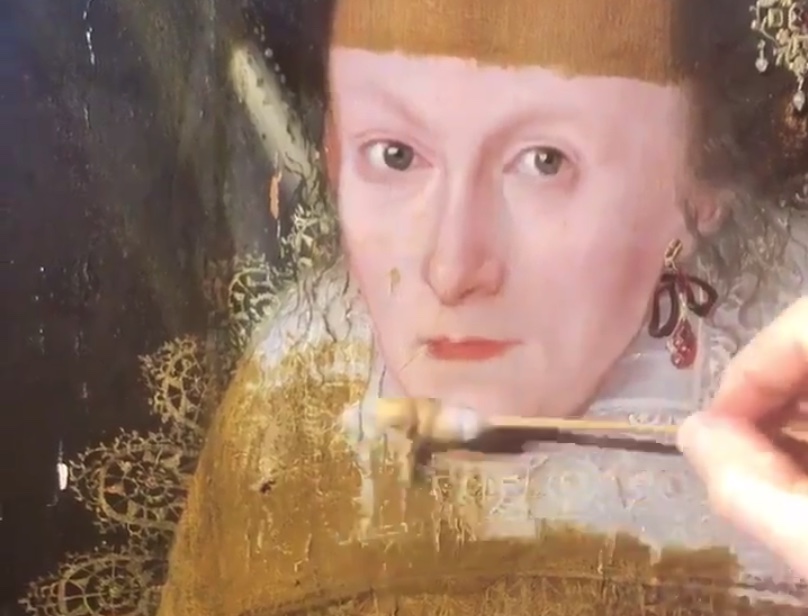 Art dealer and host of the BBC One show Fake or Fortune, Philip Mould, live-tweeted his latest art restoration project. He's tasked with removing over 200 years of yellowing varnish from a 400-year-old painting.
Watch the first fascinating moments of the project.
A remarkable Jacobean re-emergence after 200 years of yellowing varnish 1/2 pic.twitter.com/yBGNGDcNd7

— Philip Mould (@philipmould) November 6, 2017
Fine art is often coated with a varnish to provide a protective barrier. Over time, in this case centuries worth of time, the varnish yellows. Art restoration experts must strip old the original varnish off and reapply.
2/2 ….still a way to go, but what a transformation! pic.twitter.com/nyGx3qdhOZ

— Philip Mould (@philipmould) November 6, 2017
Not much is know about this "Woman in Red" painting, but Mould shared that the original inscription on the piece is 1618.
Gizmodo explains exactly how the process works.
"How a restorationist manages to scrub off the varnish without also erasing a priceless work of art is a mixture of skill and trade secrets. One method involves two pieces of cotton, one soaked in a solvent like turpentine, the other in a neutralizing liquid that stops the turpentine from eating straight through the canvas."
The process requires nerves of steel and an incredible removing agent.
A last smear from the chin removed. I will post an image of the completed picture as soon as it is ready. pic.twitter.com/K7TSl2XdqE

— Philip Mould (@philipmould) November 6, 2017
CHECK OUT OUR ARCHIVES FOR MORE ODD NEWS STORIES AND FOLLOW ODDEE ON FACEBOOK, TWITTER.