It's a heartwarming story about what is unquestionably one tough kitty
Everybody loves a good, touching animal story and we at Oddee are no exceptions. We've covered a whole bunch of them earlier, from a runaway chicken to a grocery-delivering dog.
But it's not often that you come across a story that makes you feel this good. A Utah woman has just been reunited with her cat that left to roam the world on its own more than a decade ago.
This story begins in the late 2000s. Back then, the woman in question – who has chosen to remain anonymous – was just a high school girl with a black-and-brown cat she had named Mocha.
While we don't know the details, we can assume that their life was nothing out of the ordinary for a high schooler and her cat. That was, of course, until the day that Mocha went missing.
To this day, her owner doesn't know how Mocha got away. Maybe she slipped through a door that was left ajar and a cracked window, but that is beside the point.
Mocha's disappearance left the girl devastated. She and her family looked for ages, but the cat was nowhere to be found.
She didn't want to eat, nor did she want to go to school. The only thing that mattered to her was to find Mocha.
Time pressed on, and the hopes of Mocha ever coming back grew dimmer with each passing day. Finally, the girl and her family were forced to concede that the cat was gone for good.
"This had a big impact on Mocha's owner, but eventually she was forced to move on from the loss," a Facebook post by Tooele City Animal Shelter in Utah said.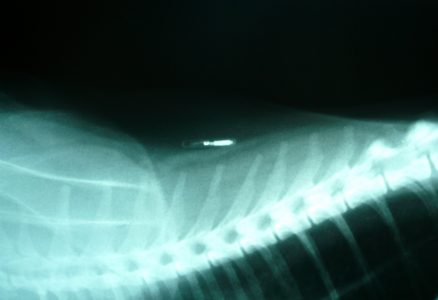 The Wander Years
Why are we suddenly mentioning an animal shelter, you ask? Well, the answer to that should be pretty self-evident very soon.
In early July, a person came to the animal shelter and brought with them a cat. It was a black-and-brown stray that they had been feeding for the past ten years as a kind of an outdoor pet.
Unfortunately, due to personal reason they had move away from Tooele. Concerned that there would be no one there to feed the cat, they decided to bring it to the shelter.
"The shelter manager had a feeling to scan the cat upon hearing the story, so a technician scanned it," the animal shelter announcement said.
They were surprised to find that the cat had a registered microchip. They called the chip company, and were given the contact information for the cat's owners.
When the shelter contacted the owners, a very confused couple answered the phone. They explained that they had once had a cat, but that cat had run away more than ten years ago and by now it was certainly dead.
We bet you already know where this is going.
A Tearful Meeting
Despite the overwhelming odds, the shelter asked the owners to come and see the cat anyway. Maybe she looked familiar, and if not, at least there'd be closure.
The owners arrived at the shelter on July 16. They took one look at the cat – it was definitely Mocha.
"Immediately upon seeing her, the father said he remembered this cat. He said he was going to go home and contact his daughter who lived in her own place with her family in another city," the shelter said.
In the years that had passed, Mocha's owner had grown up. She'd moved away, gotten married, and had children. Their family also had a dog and another cat.
"An hour later, a very excited and shocked woman turned up at the shelter. She said her parents called her about the cat," the shelter announcement read.
The shelter workers led her to the cat, and she burst into tears of joy pretty much immediately as she recognized her. After ten years, she finally reunited with her long lost little Mocha.
By now, Mocha is back at her rightful home, being spoiled by her true owner. Only this time, she will go on extra mile to make sure she remains an indoor cat.
"Hopefully they are able to make up for lost time, after all these years of thinking Miss Mocha had vanished and was likely deceased," the shelter said.
Bring Strays In, Chip Your Pets
The shelter decided to ask permission from Mocha's owner to go public with the story. They want to encourage people to bring stray animals they find to animal shelters.
"Bringing the animals to the shelter is one of the only ways to increase the chances of their owner finding them," they said. "We have had a large number of people refusing to bring strays into the shelter lately, making it very difficult for us to get the pet back to their owners."
The shelter also says that they've encountered many cases of people keeping the animals they find as their own for long periods of time.
"By the time someone comes forward with the stray – whether it is two weeks, three months, or 10 years later – the rightful owner of the pet may not be around anymore, or may have had lifestyle changes that prevent them from reclaiming their long-lost pet."
According to the law, people have 24 hours to report a stray animal to the authorities before they can be charged with harboring a stray, the shelter says.
"This law is in place for situations such as Mocha's. If Mocha had been brought to the shelter when she was initially found, she would have been returned to her owner 10 years ago."
The shelter also encourages pet owners to microchip their animals and making sure the contact information in the chip is up to date.
"Without Mocha's chip, she never would have been reunited with her owners today."
Want to tell your strange story?
Tell us about it
and it could be featured on Oddee. You can remain fully anonymous.