If this isn't a medical triumph, we don't know what is
Ah, the miracles of modern medicine. What would the world be without them? Thanks to medicinal science, we're able to not die at the ripe age of 30 as was the tradition for thousands of years.
We've eradicated entire diseases. We can repair limbs that have been mangled beyond recognition, and successfully treat conditions that only a few decades back would've been a death sentence.
With modern medicine, we can even regrow a man's penis on his arm… Wait, what?
No, that's correct. Doctors have managed to grow a replacement penis for a British man who lost his little buddy due to a blood infection — and it's currently attached to his arm.
That's science for you. What a time to be alive.
The owner of "Jimmy" – yes, it has a nickname – is 45-year-old mechanic Malcom MacDonald from Thetford, wrote The Sun. Due to delays in his medical procedures, he has lived with the thing on his arm for four years.
"Of course it is mad – having a penis on your arm," MacDonald said. "Not even I am used to it. But when you think about it, it's actually amazing. That they can make me a new penis at all is incredible – but that they can build it on my arm is mind-blowing."
While MacDonald still thinks that his new… Organ, looks like something out of a sci-fi comic, he's glad to have it.
"It's my chance at a normal life," he said.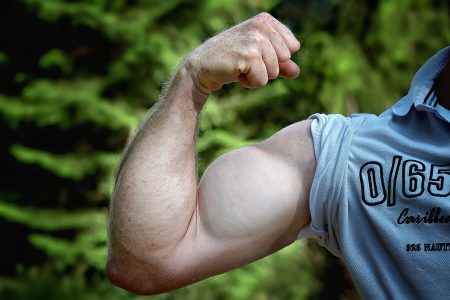 Losing His Manhood
The saga of the arm penis began several years ago, when MacDonald developed an infection in his perineum. If you don't know what that is, you can Google it, but suffice to say it's not a nice place for an infection.
The infection developed into sepsis, which got so bad that his fingers, toes, and manhood turned black.
"When I saw my penis go black I was beside myself. It was like a horror film. I was in a complete panic. I knew deep down it was gone and I was going to lose it," he told The Sun.
One day in 2014, the unspeakable finally happened. His wingwong fell off to the floor with a sad "splat".
"Because I had been through the devastation of knowing I was going to lose it, I just picked it up and put it in the bin," MacDonald recalled.
Doctors didn't have any good news for him. They told MacDonald that the best they could do was to "roll the remaining stump up like a little sausage roll".
Understandably, MacDonald didn't take this gruesome turn of events all that well. He said he began to drink and isolated himself from his family and friends.
"For two years after losing my penis, I felt a shadow of a man. My life really fell apart because I had no self-confidence," he said.
'A Glimmer of Hope'
But one day, MacDonald heard of someone who might be able to help him. His general practitioner told him of professor David Ralph from the London University College Hospital – who also happens to be known as the "penis master".
Expert in reconstructive genital surgery, Ralph is famous for grafting a bionic penis for a man who was born without one.
"It gave me a glimmer of hope that I could go back to being a normal bloke," MacDonald said.
He got a referral and, sure enough, Ralph said he could do it. Only, MacDonald's new dong would have to be grown on his arm over a period of two-years.
To MacDonald, that sounded like "all of his Christmases at once". It got even better when he found out that the UK's National Health Service would pay the $65,000 bill for the procedure.
The justification for the funding was that MacDonald didn't want the surgery for sexual purposes. He just wanted to be able to use bathroom like a regular guy again.
As an extra cherry on top, Ralph took down some preferences from MacDonald before beginning the operation. "Not many can say they have a designer penis," he mused.
Doctors took skin from MacDonald's left arm to form the shaft. The organ is fitted with a urethra and two tubes that can be inflated with a hand pump for… Obvious reasons.
The operation was a success and MacDonald woke up with a penis on his arm. And it was two inches longer than his old one.
Delayed Finale
The doctors told MacDonald his new buddy would be transferred to his crotch in 2018. But of course, nothing good ever happens without issues.
MacDonald got sick before his surgery and the transfer had to be postponed.
Scheduling issues ruined his follow-up operations, and in December 2019, a staff shortage at the NHS pushed the final procedure even further back. He was scheduled for the surgery again for this April, but then the coronavirus happened.
MacDonald said that sometimes he feels like he's "cursed".
"The delays have been hard to deal with. I can't lie, having a penis on your arm for four years is a really strange thing to live with," he said.
While the graft is a new lifeline for him, it hasn't come without it's own share of difficulties.
"I can't run because it waggles about. I can't go swimming or wear a short-sleeve shirt."
But now, he is finally scheduled to get his penis moved to its right place by the end of the year. Here's hoping that this time the schedule sticks.
Want to tell your strange story?
Tell us about it
and it could be featured on Oddee. You can remain fully anonymous.