1

The cable news network whose rumored doomsday video surfaced on the internet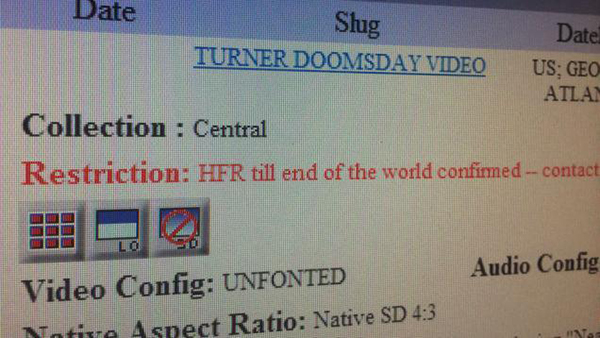 The CNN apocalypse video has always been the stuff of legend – a tape that was only meant to be broadcast at the end of the world. It was to be the last "event" CNN would ever cover.
When the news network launched in 1980, founder Ted Turner made a grandiose and specific promise about his newly created round-the-clock operation. "Barring satellite problems, we won't be signing off until the world ends," Turner declared. He also said, "We'll be on, and we will cover the end of the world, live, and that will be our last event. We'll play the National Anthem only one time, on the first of June [the day CNN launched], and when the end of the world comes, we'll play 'Nearer, My God, to Thee' before we sign off."
Many thought he was joking, until January 2015 when the tape was leaked on the internet. According to former employees, an ex-CEO, and a CNN archivist, they've all been trained to use the tape.
Turner, who has since retired from the media industry, has yet to comment on the video's authenticity.
Interesting to note: "Nearer, My God, to Thee" was said by survivors to be the last song played by the band on the Titanic.

2

The most horrifying nuclear war film ever made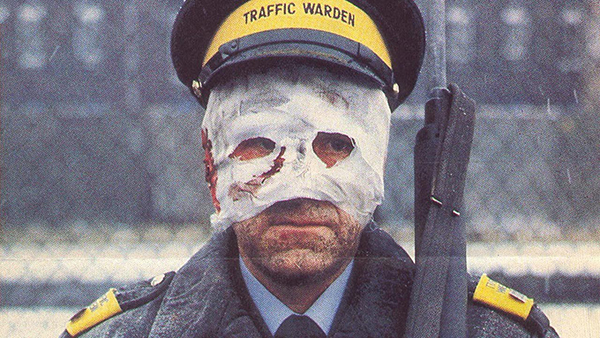 During the Cold War, there were a few films that addressed the possibility of nuclear attack. Some were instant classics (Dr. Strangelove or: How I Learned to Stop Worrying and Love the Bomb), some targeted a teen demographic (War Games), while others were far reaching in their conclusions of the fate of mankind (The Planet Of The Apes series). None, however, were as bleak, terrifying or realistic as 1984's Threads.
Produced by the BBC, this docudrama follows two families in Sheffield in the days leading up to a nuclear attack, and the increasingly dire years (approximately 13) that follow. No stone is left unturned in Threads as we witness the horrors of a post-nuclear word, which includes cannibalism, famine, and disease.
Threads is not for the faint of heart, but we believe it's essential viewing, and just as relevant today as it was more than 30 years ago:

3

Strangely cheery ephemera from the Atomic Age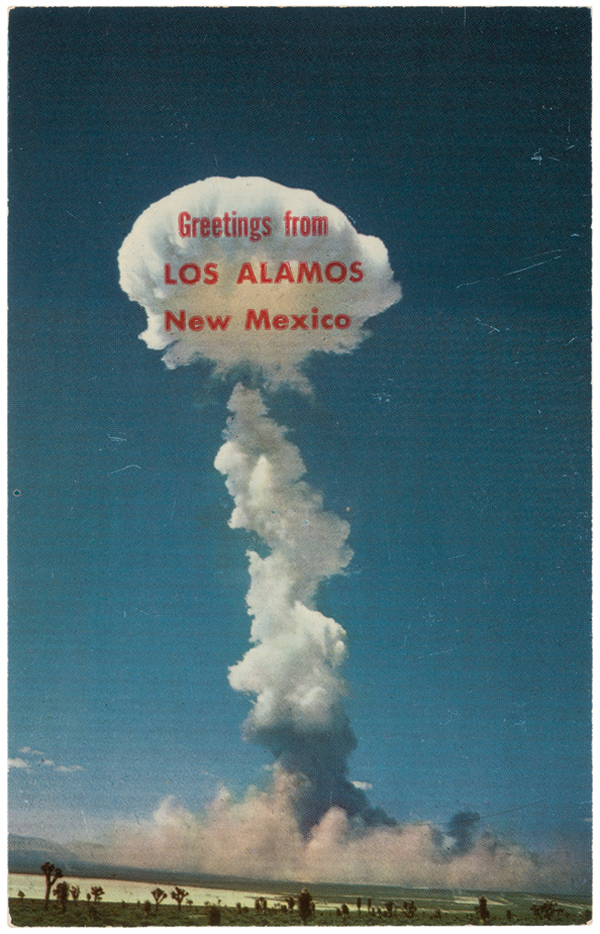 Even under the threat of nuclear annihilation, people maintained their sense of adventure and humor.
Enter Atomic Postcards.
In 2011, Authors John O'Brian, a professor of Art History at the University of British Colombia, and visual artist Jeremy Borsus, (both Canadian) found and published dozens of atomic (Cold War) postcards from countries as diverse as Belgium, Britain, Canada, China, France, Israel, Italy, Japan, the Philippines, Russia (then the Soviet Union) Switzerland, and the United States. These two-sided cards depict everything from haunting afterimages of atomic incineration on the Nagasaki streets to sales materials from atomic suppliers. Taken as a whole, the postcards form a largely cheery dissemination campaign for the wonder of atomic power (and weapons). Wish you were here!
4

The deserted ghost towns in Nevada which served as nuclear bomb testing sites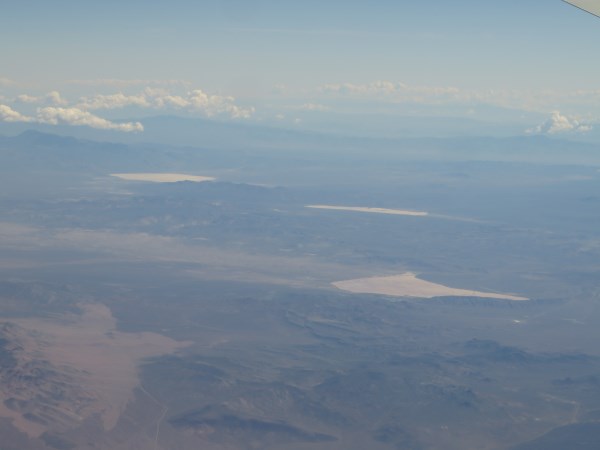 In 2002, archeologists took to the Nevada desert armed with Geiger counters to explore the eerie A-bomb rubble and ghost towns left over from Cold War blasts at the Nevada Test Site, formerly the Nevada Proving Grounds, on 1,375 square miles of desert 65 miles northwest of Las Vegas.
From 1951-1963, above ground testing of nuclear devices was commonplace –nighttime explosions were seen all the way to Vegas. Testing continued below ground until a 1992 moratorium ceased it entirely.
The desert landscape is still littered with mock towns, bridges, bomb shelters, bank vaults, underground parking structures, empty animal pens, and railroads, which were exposed to atomic blasts to determine what could survive a nuclear attack.
The United States Department of Energy and Desert Research Institute sponsored an archeological mission to survey and discover structures worthy of preservation. Seven sites received "historic place" status, with many more pending.
The Atomic Energy Museum in Las Vegas houses some of the original JC Penney mannequins and other objects that were used in testing. The mannequins and clothes donated to testing sites were set up in households to reflect the life of an average American family. The Army posed them in the acts of playing, eating and so on; then left cameras on to record the "fun" that was about to ensue. Once testing was done, the mannequins that weren't totally destroyed made their way back to Vegas, and JC Penney's window and store displays.

5

The civil defense survival advice that is making a comeback in a new era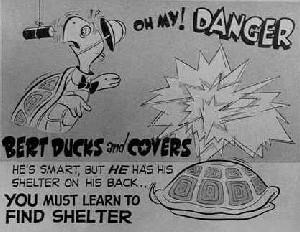 In 1951, ad men Ray Maurer and Anthony Rizzo produced a film for the federal government's Civil Defense agency in response to Soviet nuclear tests. The film, Duck and Cover, features an animated turtle named Bert and real-life schoolchildren from New York protecting themselves from impending explosions by –you guessed it – hitting the ground and covering their heads.
The film became an icon of Cold War kitsch and was widely mocked for years. Against the threat of a nuclear attack, how much good would diving under a desk do?
According to the federal government, a whole lot. Duck and Cover, as a concept, is back.
With the threat of nuclear attack on one or more major cities a growing concern (this time from terrorists), authorities are once again looking to educate the masses on what to do in the event of an explosion. What they've found is duck and cover does work. While it is completely useless for anyone who is standing right where the bomb goes off (ground zero), for someone outside of the initial blast radius, ducking and covering is a useful defense. Shielding your head will protect you from blunt trauma caused by being pelted from all sorts of debris such as glass, rocks, bricks, and other everyday objects. Placing a thin blanket or any fabric, over your body can significantly protect you from the intense heat caused by nuclear blast by absorbing it.

6

The attempt to save a grim reminder of the Cold War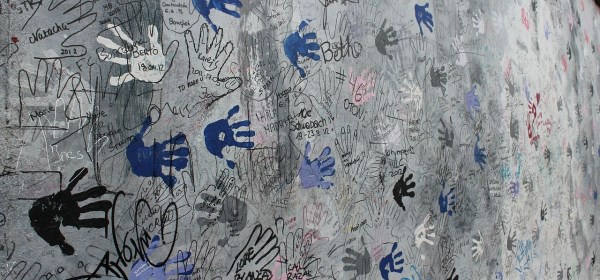 In 1989, the Berlin Wall fell, and tourists from all the world made their way to the city to hack off pieces as souvenirs. Large pieces of the Wall were sold worldwide to governments, companies and individuals while other parts were reused to make roads in Germany.
Within a short amount of time, the Wall was all but erased from the landscape, and by 2004, newspapers provided readers with maps showing them where the Wall used to be. Tourists and locals alike decried the loss – some felt it wasn't right to just erase an important part of their history, while others wanted to be able to show their children and grandchildren what life was like during the Cold War. Still others felt that those who had been shot or imprisoned for trying to escape, had not been sufficiently mourned and commemorated or even counted and named.
While there some sections left, the longest 1.3-kilometer (nearly 1 mile) stretch known as the East Side Gallery, was compromised in 2013 by a developer looking to build luxury apartments. Another section of the Wall, located near the Spree River, is by a bunker which used to house 3 of the 26 speedboats driven by patrolling border guards ready to give chase to would-be refugees trying to swim to freedom.
After decades as a no-man's land, the spot has become a prime real estate, where luxury housing with spectacular views of the Spree is going up amid a property boom.
The city would like to clean up the area –which as of September 2014 was still home to a tent city – and build a cycle path and small road for delivery trucks and emergency vehicles. Cultural historians and activists are fighting these and other changes to save what little is left of the Wall, as it is an import part of Germany's history.
7

The long forgotten air raid sirens that still dot the Los Angeles cityscape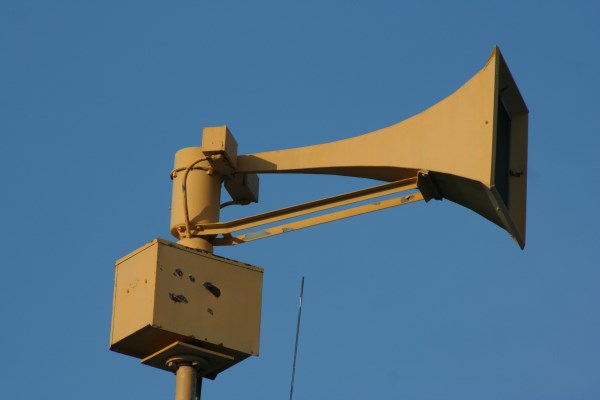 Cold War history can be still be found in neighborhoods across Los Angeles in the forms of long-neglected civil defense sirens. During the height of the Cold War, these sirens, when activated, were supposed to alert people about a coming nuclear attack so they could seek shelter.
The sirens originally cropped up during World War II to warn residents about possible Japanese attacks, but they really proliferated during the Cold War. Ultimately, there were about 225 within LA city limits, according to "siren hunter" Dennis Hanley, who has spent years finding, mapping, and photographing the sirens. They were paid for by the federal government and operated by the LA County Sheriff's Department.
Approximately 75% of the sirens still stand abandoned in place today. The Do Art Foundation (a non-profit organization that helps develop the careers of visual artists) hopes to utilize the forgotten sirens in a citywide soundscape art installation.
8

The information campaign created by the British goverment that shows what do to in the event of a nuclear attack
The U.K.'s answer to Duck and Cover, Protect And Survive is a series of videos (and print materials) made in the 1970s and '80s to show people what to do during and after a nuclear attack on Britain. The series had originally been intended for distribution only in the event of dire national emergency, but it provoked such intense public interest that the campaign's materials were authorized for general release.
The origin of the series dates back to 1938, with the release civil defense leaflets entitled The Protection of Your Home Against Air Raids. These pamphlets were updated in 1963 to include instructions for what to do in the event of nuclear attack and were renamed Advising the Householder on Protection Against Nuclear Attack, with the first of the videos showing up around 1964.
During the early 1970s, the BBC became involved in further updating the print and video series, and by 1980, Protect And Survive was released.
The series of 20 films would have been shown constantly on all television channels in the build up to a war. They were never utilized for the obvious reasons, but thanks to the magic of the internet they are now available for viewing. We warn you, they are as chilling as it gets. (Also of note – audio samples of Protect And Survive were used on the Frankie Goes To Hollywood song "Two Tribes," which is also included below.)
9

The forgotten luxury bomb shelter buried under a park in Queens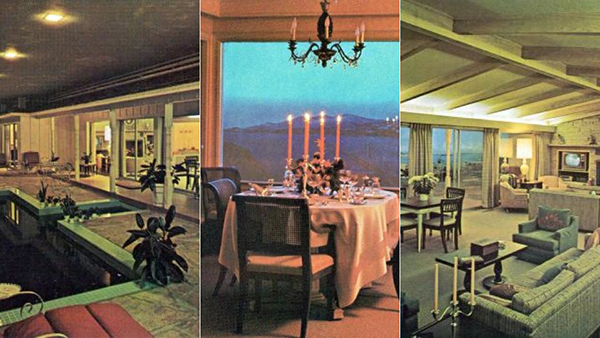 Is there a bomb shelter buried in a New York City area park? The jury is still out, but in 1964, the shelter was indeed there, three feet under Flushing Meadows Park in Queens.
The Underground World Home was built for the 1964 World's Fair by Plainview, Texas resident Jay Swayze. Prior to his World Fair debut, Swayze won a contract from Plainview to construct small nuclear bomb shelters for its citizens in the event that Moscow was hellbent on nuclear annihilation. Swayze moved his family into a 2,800 square foot, 10-room underground lair to show potential buyers how great living underground could really be. However, what he was selling, no one was buying.
No one, that is, except Avon Cosmetics founder Jerry Henderson, who purchased two of these roomy and stylish cold war bunkers. (We featured one of his underground homes in 10 Awesome Time Capsule Houses back in April 2014.)
With the backing of Henderson, Swayze was able to score a prime spot at the 1964 World's Fair, and the Underground World Home was constructed. The home, a slightly smaller version of Swayze's Plainview residence, was surrounded by a concrete-steel shell 20 inches thick at the floor and between 10 and 13 inches thick at the walls and ceiling. It featured the requisite fake trees, grass and shrubs, included in an attempt to make life during wartime a feel a bit more "cozy."
Between 500,000 and a million people visited the Underground World Home in 1964 alone, with just under a million more arriving during 1965. After the fair was over, exhibits were either moved to other locations or destroyed. What, then, became of Swayze's vision? Some believe it was stripped down to its studs and the entrance sealed. Recently, historian Lori Walters of the University of Central Florida is seeking the permits and funding to do a radar and camera survey to check.
10

The propaganda that permeated every aspect of daily life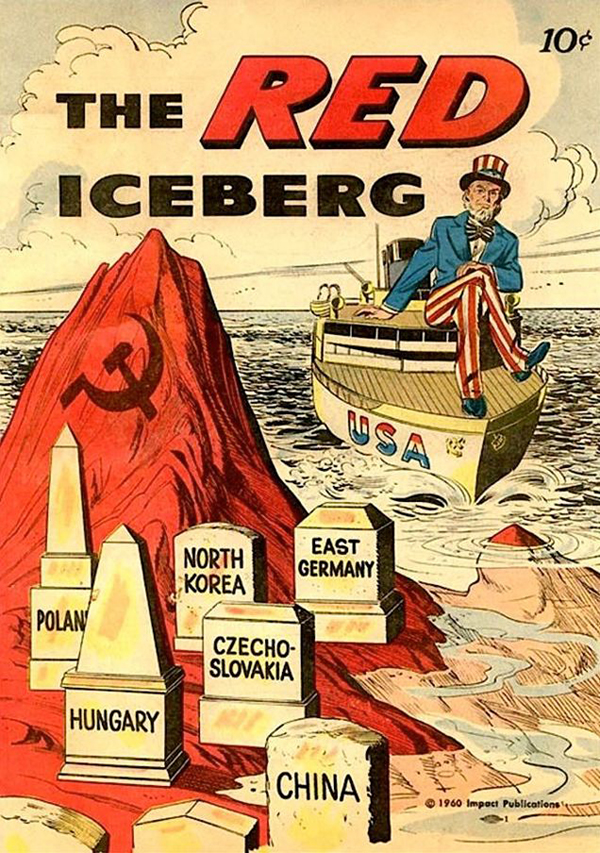 By its very nature propaganda distorts the truth while pandering to our basest impulses – fear and anger, flight or fight.
Nowhere is this more evident than during wartime. However, U.S. and Western Europe waged war against socialism and Communism decades before the Cold War era. This offensive began several years before the start of WWI and reached a fever pitch the 1950s and 1960s, with concerted attempts to demonize communism while extolling the virtues of capitalism and democracy.
The Red Iceberg (pictured above) is just one example of this type of propaganda. This comic book, published in 1960 by Impact, an imprint of the anti-communist Catholic Catechetical Guild, warns young readers of the dangers ahead should Uncle Sam fail to steer clear of the "Red Iceberg."
The Red Iceberg was distributed to thousands of Catholic school kids to warn them about the threat. Look out America!