1

The train passenger with no toilet paper who was saved by twitter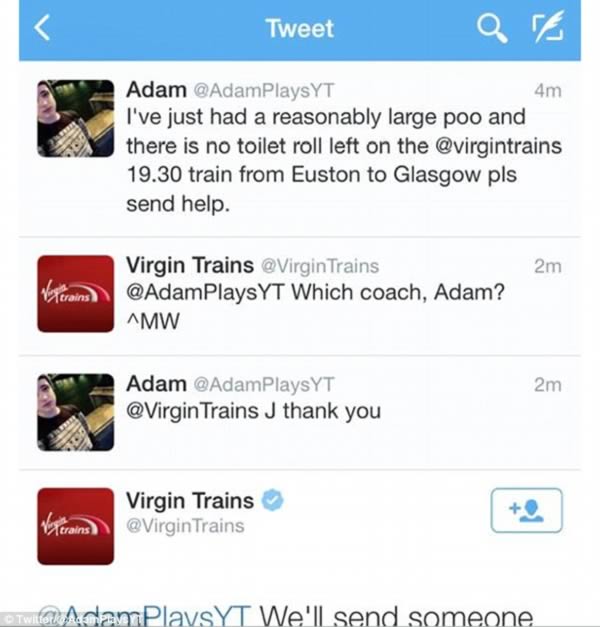 An unlucky pooper who found himself in the stall on his train without toilet paper was recently saved by the power of Twitter and awesome customer service. It seems that 16-year-old Adam Greenwood was traveling on Virgin Trains when he found himself in the no-TP predicament. Left with no other option, Ol' Train-Pooper decided to tweet the company as a gag.
However, the gag turned into a real life problem solved when Virgin Trains wrote back, "Which coach, Adam?" Like Santa on Christmas morning, he was delivered a new roll and posteda picture of the roll on Instagram to prove it!
2

The Amazon Rep who had the funniest Norse Mythology themed chat with a customer and solved his problem

A chat between an Amazon customer service representative and a customer whose book hasn't arrived on time will probably restore your faith in the power of the Norse gods. It all starts when the Amazon rep introduces himself as "Thor," and a customer asks to play his father, Odin. The conversation just gets better from there.
After the two sort out the book delivery issue, they resort back to modern-day speak. In response to Odin's gratefulness, Amazon Thor responds: "Anytime, bro."
3

The airline who surprised passengers with Christmas gifts after they reached their destination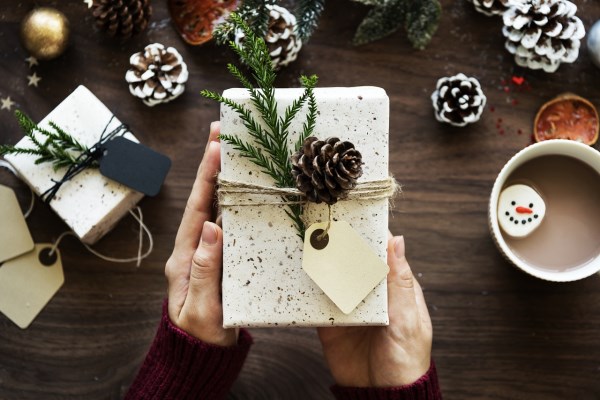 During Christmas 2014, Canadian airline WestJet found out passengers' Christmas wishes thanks to a virtual Santa in terminals at two airports. When the selected flights landed in Calgary, passengers were taken to a special baggage claim area, where packages containing the gifts they had asked for — ranging from big-screen TVs to tablets to snowboards to socks and underwear — filled a conveyor belt.
Airline bosses also promised to donate flights to families in need through the Ronald McDonald House Charities if 200,000 people watched the video. So far, the clip has been seen more than 40 million times.
4

The Lego customer service rep who provided the best solution for a seven-year-old kid who had lost a LEGO figure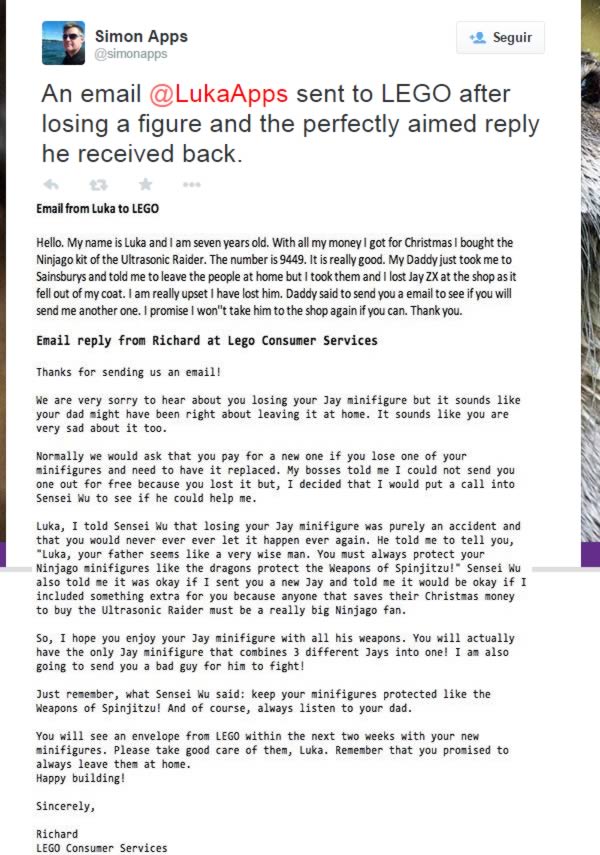 In 2013, one poor kid lost a LEGO figure and wrote to the toy manufacturer for help. He got a fantastic reply. His dad (@simonapps) posted the exchange between his son and LEGO and you'll understand why it's gone viral as you read it.
5

The Disney performer who takes his job very seriously and won't break character
Anyone who has ever been to a Disney theme park knows the performers playing well-loved characters take their jobs very seriously – they never, ever break character.
When one customer at Disney World in Florida challenges Gaston (the dastardly villain from Beauty and the Beast) to a push-up contest, he gladly accepts.
While the challenger manages a series of slow push-ups, Gaston zips through a series of fast exercises, to cheers from the crowd. "He looks like he's struggling, perhaps he needs a hand," says Gaston, embarking on a set of one-handed push-ups.
The video has had over seven million views since it was uploaded on January 2, 2014 and the employee's dedication his job has elicited positive comments. One commenter said: "I love this video. It shows that the employees at this park not only act like their characters, but can back up their claims that it really is almost like the movies. Props to this employee who can do this!"
6

Taco Bell has 10,000 tacos deliverd to Alaska by helicopter after town was victim of hoax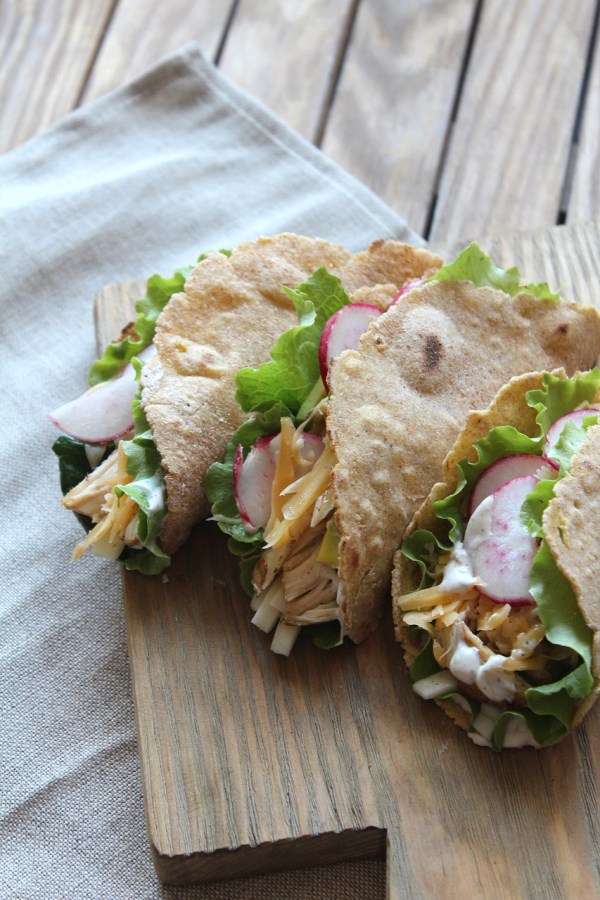 As far as customer service stunts go, this one was pretty epic: In 2012, a helicopter was sent to a remote Alaska town bearing a Taco Bell truck, which in turn was bearing ingredients for 10,000 Doritos Locos tacos.
The 6,200 townspeople of Bethel in the distant western stretches of the state got this long-distance delivery after the Irvine-based fast-food company took pity on them.
A month prior to the stunt, fliers trumpeting the chain's debut in Bethel got residents salivating. After all, cheap Mexican-style food in the land of sled dogs and sub-zero temperatures isn't exactly easy to come by. (The nearest Taco Bell is some 400 miles away in Anchorage.)
Instead of seasoned beef, Bethel citizens ended up with the taste of dust when the promise of Taco Bell turned out to be a hoax.
When Taco Bell executives learned of the cruel joke, they sent a free consolation package bearing 950 pounds of beef, 500 pounds of sour cream, 300 pounds of tomatoes, 300 pounds of lettuce and 150 pounds of cheddar cheese.
The effort, which Taco Bell dubbed "Operation Alaska," was hugely popular – both in Bethel and on social media, garnering thousands of Facebook likes.
7

The multinational grocery costumer service rep who responded to a poem with a poem of their own

When two students from St. Andrews turned up to their local Tescos only to discover their favourite popcorn was no longer stocked, they decided to take the matter into their own hands by writing a poem.
Almost two months later, Tesco responded with a poem of their own.
The students still both keenly feel the loss of the popcorn in the store, but added, "With the help of the £10 voucher we have found solace in our sorrow."
8

The WoW In-Game Support rep who helped user with math problem
This is alleged screenshot a user sent the World of Warcraft in-game customer support of a calculus problem he needed to finish before he could get his game on, and the response he received.
9

The restaurant who delivered a steak to the airport after a customer jokingly asks for one via Twitter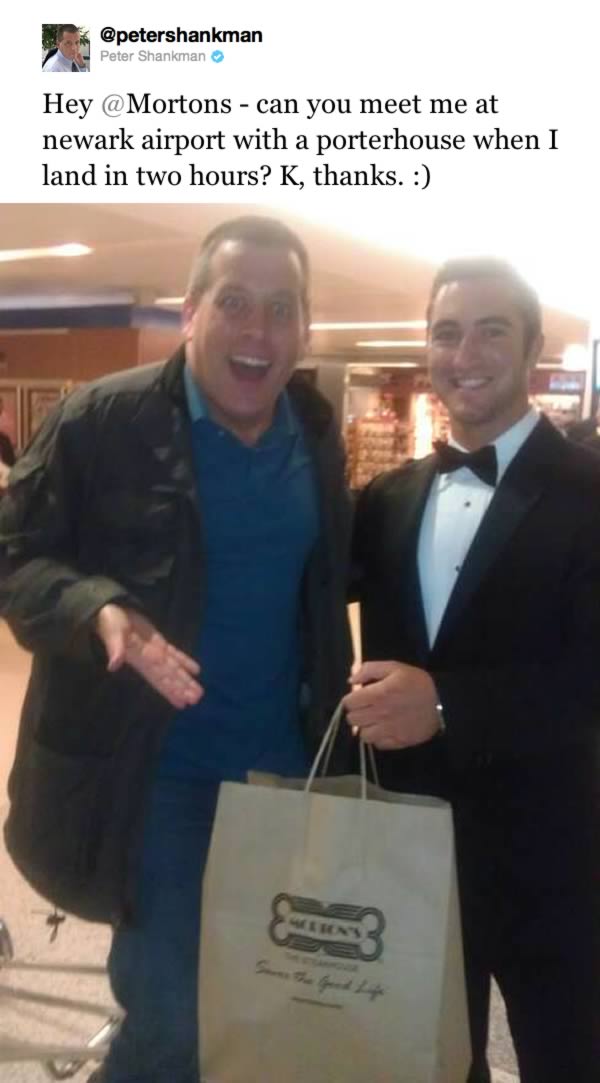 Before hopping on his flight from Tampa to Newark, author and entrepreneur Peter Shankman jokingly tweeted to the Morton's Steakhouse official Twitter account that it'd be great to have a Morton's porterhouse waiting for him when he landed in New Jersey.
Well, someone at Morton's was listening. They had a tuxedo-clad server and a porterhouse waiting for a Shankman at the baggage claim less than three hours later. He was understandably thrilled, and shocked.
Morton's differentiates itself through quality and customer service -- that's how it can get people into the restaurant to order $40 entrees. This gesture focuses directly on the strengths of the Morton's brand, and was sure to be a hit if it got exposure.
And they picked the just the right guy – it's no coincidence that Shankman happens to be the author of Customer Service: New Rules for a Social Media World, a book about how to use social media to improve customer service.
So did it pay off? Big time. It has been an absolute PR coup.
Shankman put up a blog post about the experience, entitled "The Greatest Customer Service Story Ever Told, Starring Morton's Steakhouse." He also has 100,000 followers on Twitter, and all of them now know how awesome Morton's is.