Found at a McDonald's restaurant. Guess who isn't ordering a Filet-O-Fish any time soon?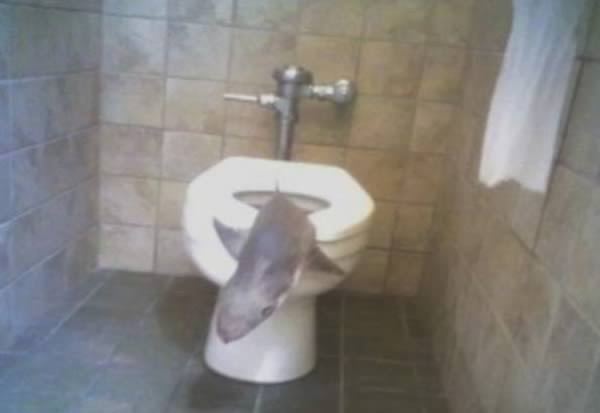 Two women at the Henry Chamber Waterfront Park in South Carolina got quite a surprise when they found a shark in a public toilet. The shark was dead when they found it, and is unlikely to have got in the toilet on its own. Park authorities are quite certain that the shark did not swim up the toilet and get stuck.
The two women were said to be shaken by their find, but calmed down enough to take a photograph of the fish with a mobile phone.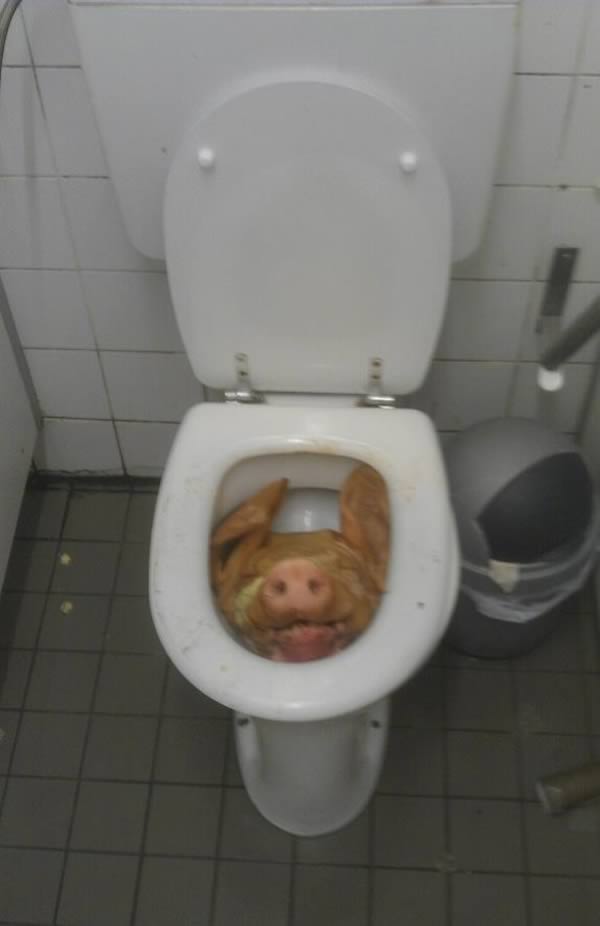 The pic was shot in the bathroom of a local rowing club in Amsterdam, ASR NEREUS. Apparently this is some form of hazing by the new eights for the men, heavyweight and lightweight. It is a tradition that they dine in the club, piss all over the lady's dressing room floors and put a pig's head in the toilet.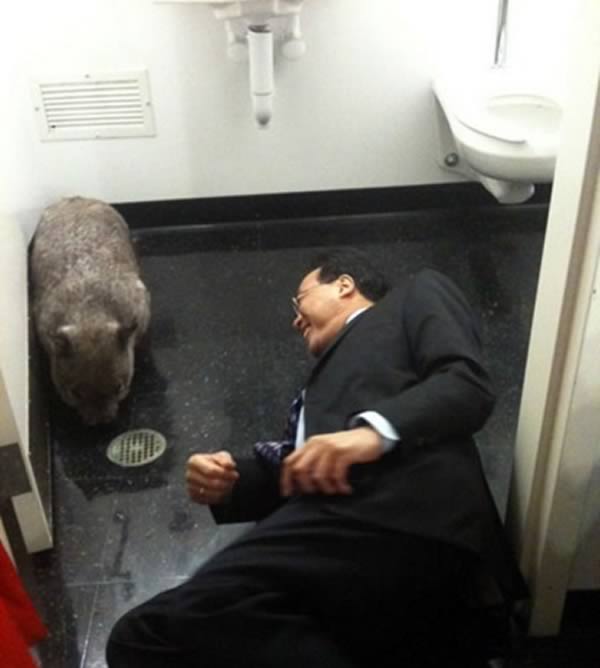 Cellist Yo-Yo Ma is one of the most acclaimed living musicians in the world. He has won several Grammys and in 2010 was the recipient of a White House Presidential Medal of Freedom. His greatest distinction, however, may have occurred in 2011 when he spent some time on a Chicago bathroom floor with Wilbur the Wombat.
Yo-Yo Ma requested a meet and greet with the Brookfield Zoo's wombat while attending a benefit for Chicago's Community Trust, according to event producer Donna LaPietra. NPR host Peter Segal snapped a picture of the dynamic duo that has since been making its way across Twitter.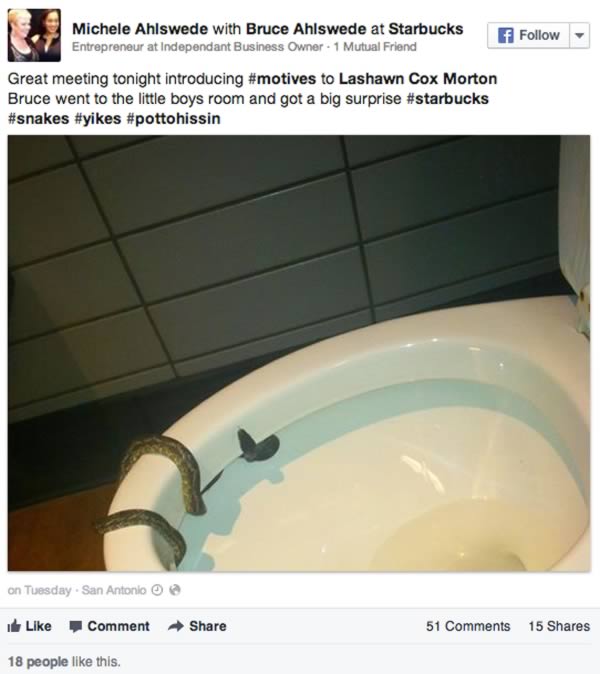 A Starbucks customer in San Antonio got a "grande" surprise when he went into the store's bathroom. The man came face to face with a snake that was hanging out on the toilet.
Bruce Ahlswede isn't a snake lover so you can imagine his shock when he spotted one slithering around this Starbucks at Bandera road and Loop 1604. His wife snapped this picture before it disappeared. She posted it to Facebook and, of course, got all kinds of responses.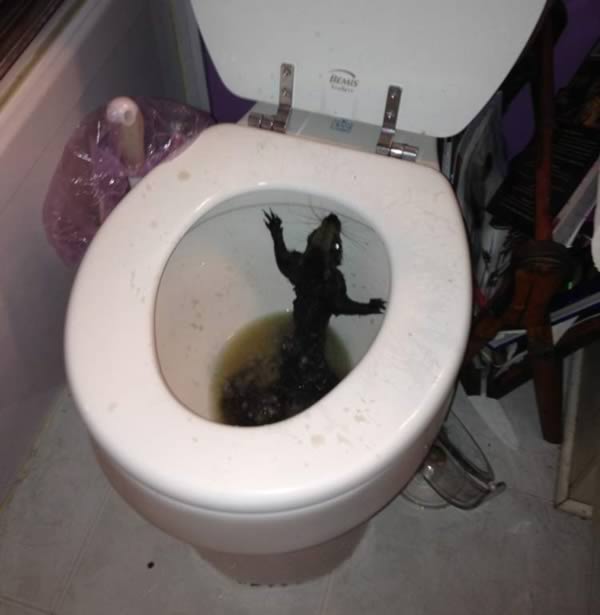 A Winnipeg woman had to act fast after finding a furry home invader taking a bath in her toilet. Angela Campbell said she found a small squirrel floundering in her toilet early Wednesday morning after hearing a strange noise coming from the bathroom of her St. James-area home. So Campbell did what any sensible Winnipegger would do — grabbed a pair of BBQ tongs from the kitchen and put the water-logged creature in her bathtub.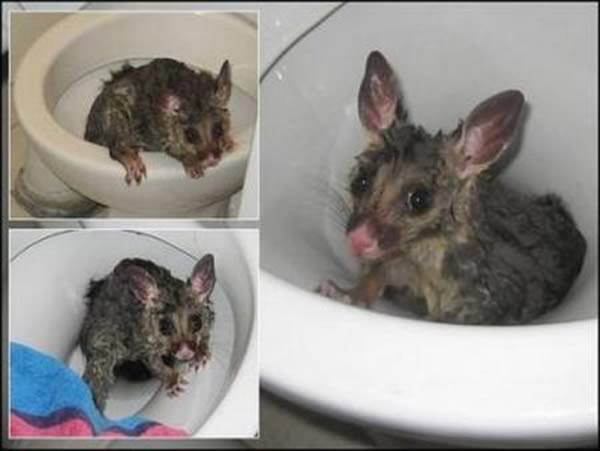 A man living near Dallas, Texas walked into his bathroom one day to find a small possum staring at him from the toilet bowl, wet and out of breath (he had to have traveled at least 50 feet through water filled pipes). Probable cuteness aside, the man slammed the lid on the little demon and waited for animal control to arrive.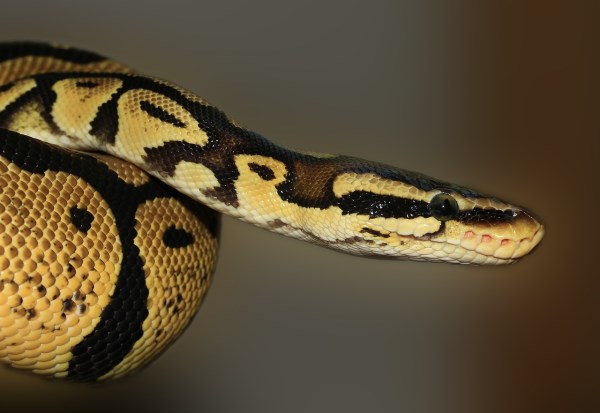 An Australian man found an unpleasant surprise coiled up in his toilet – a python almost twice his size was lurking in the toilet bowl. The man, Erik Rantzau, called in snake wrangler Chris Peberdy to deal with the 3-meter-long carpet python that had made his toilet its new home.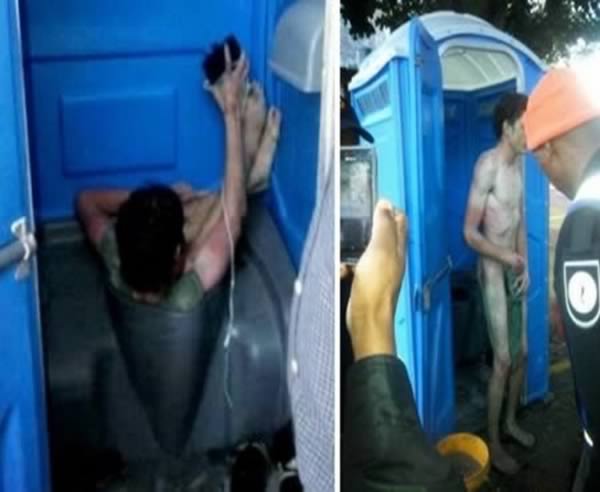 An unnamed man was rescued from a toilet in Claremont, Cape Town in May 2013. The man had somehow gotten himself stuck in the bowl of a portable toilet on a building site. He was so stuck, in fact, that only his legs, arms, and head were sticking out! According to Baydu Adams, a Cape Town blogger who witnessed the bizarre situation unfold, passers-by heard a panicked shouting coming from inside the toilet.
Upon finding the man, it took about 40 minutes for security, police, and some helpful onlookers to find a way to rescue him. "The funny part was that while two or three people were trying to help, others were taking pictures and videos," says Baydu.
Baydu says that some of the gathering crowd commented that the man's eyes were red and he looked high. He couldn't have been homeless, Baydu adds, because he had an iPhone or iPod with him.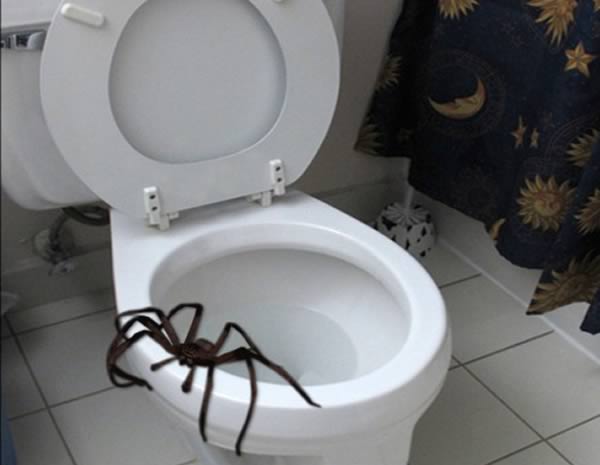 You don't really have to go, do you?
Apparently, finding spiders in the toilet is more common than you might think, so before sitting, it's always better to take a look.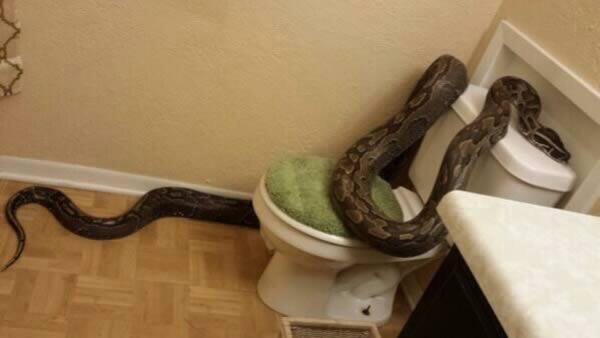 A 12-foot python is not something you'd expect to see in your bathroom, but a Texas mother is sure what she saw was a monster of a snake slither into her bathtub. Officers later told her tell her it was a 12-foot python. The African python was not Veronica Rodriguez's snake and she was not sure how the reptile got into her bathroom.