As the corpses keep piling up, maybe we should just stop having these parties.
Gender reveal parties have been in the headlines quite a bit lately, but for all the wrong reasons. Soon-to-be parents' appetites for outlandish celebrations seem to be causing serious destruction and mayhem.
The parties have sparked raging wildfires and killed and maimed people in general. You'd think people would learn their lesson and start toning down their antics, but – of course – that's not happening.
In Mexico, a gender reveal stunt gone wrong has claimed more lives. Two pilots died in an airplane crash that turned the joyous event into a nightmare.
The disaster happened near Cancún, a city famous for its beaches and vacation resorts. The plane flew over a gender reveal party and disgorged a pink powder to announce the unborn child's gender.
But then something went wrong. Only seconds after the fly-by, the plane crashed into the ocean.
Police and rescue personnel rushed to the scene, but it was too late. The plane's pilot and co-pilot were found dead.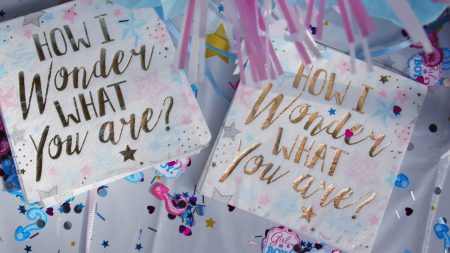 Death in Technicolor
The moment of the accident was caught on video. A quick disclaimer, if you don't want to see a non-graphic but still fatal accident, maybe don't click on the link.
The video was shot by one of the celebrants on a boat. It begins a moment before the plane puffs out the powder to announce the baby's gender.
One man in the beginning of the video makes an ominous comment in Spanish. "As long as it doesn't fall on us," he jokes.
As the plane release the powder off-camera, another person asks: "Is it a boy?"
The shouts soon change to "It's a girl! It's a girl!" as the onlookers get a better view of the stunt. At this point, the camera pans away from the plane.
A moment later, the videographer points the camera at the plane again. It's all downhill from there.
Suddenly, the plane makes a nosedive and plunges into waves. A woman's voice screams in horror as the plane disappears into the ocean.
"No way! It went into the water," another man yells, accompanied with obscenities.
Later, pictures shared on social media showed hazmat-clad rescue workers dealing with the crash's aftermath. The workers pull at least one body, wrapped in a blanket, onto a dock from a boat.
Piles of Corpses
Tragically, these are not the first gender reveal party-related fatalities this year. In February, a father-to-be accidentally blew himself up while preparing for the party.
Chris Pekny, 28, was at his home in Liberty, New York, tinkering on a device that was supposed to explode into colored powder. Unfortunately, something went wrong and the device went off in his hands.
Pekny was killed immediately. His brother, Michael, survived but required hospital treatment after flying shrapnel struck him in the head and chest.
Yet another explosion, also in February, claimed the life another person. This time, the gender reveal party held in Gaines Township, Michigan, featured a small cannon.
The device was once again supposed to belch out a cloud of colored powder to announce the baby's gender. But the gunpowder charge fractured the cannon, showering the party with sharp metal shrapnel.
One man, named Evan Thomas Silva, was riddled with the pieces of the cannon. He was rushed to the hospital, where he later died from his injuries.
The shrapnel also tore through three parked cars and the party house's garage. Other partygoers were lucky enough to escape unharmed.
'For the Love of God, Stop!'
The increasing death toll doesn't seem to be making gender reveal parties any less popular. Some people, though, have had enough of them – including the woman who popularized the whole concept.
Jenna Karvunidis, a blogger from California, is often credited as starting the gender reveal party craze in 2008. That's when he published a story on his blog about a cake she prepared to announce her baby's gender.
Now, she regrets what she started. In the aftermath of the 10,000-acre El Dorado wildfire in California – sparked by a gender reveal party – she called the celebrations "stupid" and said people should stop having them.
"Stop it. Stop having these stupid parties," she wrote in a Facebook post.
"For the love of God, stop burning things down to tell everyone about your kid's penis. No one cares but you."
Karvunidis also responded to people accusing her of being a hypocrite. She started the whole thing, so why is she suddenly so against it?
"Excuse me for having a cake for my family in 2008. Just because I'm the gEnDeR rEvEaL iNVeNtoR doesn't mean I think people should burn down their communities," she says.
In an earlier post from 2019, Karvunidis argues that there's a world of difference between cutting a cake and building what are essentially homemade pipe bombs.
"I've felt a lot of mixed feelings about my random contribution to the culture. It just exploded into crazy after that. Literally – guns firing, forest fires, more emphasis on gender than has ever been necessary for a baby," write Karvunidis.
She has a point. If your idea of a gender reveal party requires blowing something up, maybe you should reconsider having one.