We want to say airplane food can't be any worse than other ready-made meals, but…
The coronavirus pandemic has given the global travel industry, particularly airlines, a real punch in the gut. Some of the recent controversies certain flight operators have run into probably don't help either.
To try and remedy the situation, airlines have started getting creative in trying to keep themselves afloat during hard times. For example, Qantas recently started offering flights to nowhere that have been selling out in record time.
These bizarre campaigns are targeting travel-hungry globetrotters who have been confined within four walls for months now. To a good portion of people, traveling is almost a second nature, and you can imagine why they'd be itching to get a taste of flying again.
It now seems that airlines are starting to take note and have begun to give the people what they want. Namely, they're trying to give you a taste of traveling by making airplane food available for the general public.
It's not an isolated incident either. The aforementioned Qantas, the Finnish airline Finnair, and Singapore Airlines have come up with their own ways to put their food for sale.
It sounds like a decent idea on paper, until you realize how notoriously terrible airplane food is. You don't even have to take our words for that. Celebrity chef Gordon Ramsey sure didn't mince his words in criticizing plane food.
"There's no ****ing way I eat on planes," he told Time Magazine in 2017. "I worked for airlines for 10 years, so I know where this food's been and where it goes, and how long it took before it got on board."
Still, we suppose airlines have to try and make ends meet somehow. So if you're hungry for that dry piece of chicken and questionable pasta, here are some options that are open for you.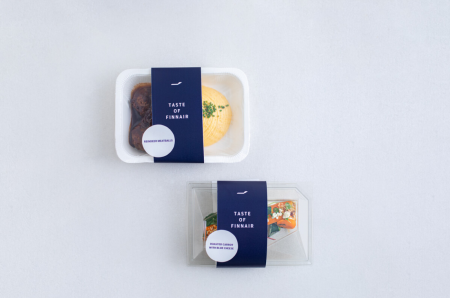 International Flavors
Let's go alphabetical, shall we? Finnair, which operates flights from Finland to all continents, is bringing its ready-made flight meals to the Nordic country's convenience stores.
In a statement, the airline said its Taste of Finnair meals are only available in a single store. Other locations in the Finnish K-Market chain could soon also opt to put them on the shelves.
"We want to offer people a chance to have a Finnair experience and bring some luxury to their everyday lives at home now that travel is restricted," said Marika Nieminen, Finnair Kitchen Vice President and Head of Kitchen.
"At the same time, this is a new business venture for us and helps us keep our cooks employed."
The Finnair meals – including dishes like reindeer meatballs and beef in teriyaki-daikon sauce – are set to go on sale on October 15. Nieminen says that the meals, inspired by Nordic and Japanese cuisines, are in line with those offered on Business class flights.
"Our food cultures share a common appreciation for and emphasis on the natural flavors of the ingredients. That's what we've wanted to bring to our meals," said Finnair Kitchen Head of Product Development Jukka Stenholm.
The offered meals are on a rotating menu that changes after every two weeks.
Not Enough for You? Buy the Whole Cart
Meanwhile, on the other side of the globe, Australian Qantas Airlines is taking things a step further. They are not only selling meals, but 1,000 entire 747 galley carts.
The carts, which went on sale on September 24, come from Qantas' Boeing 747 planes. The airline retired the jumbo jets in the beginning of the coronavirus pandemic as a cost-cutting measure.
"These pre-loved carts served Qantas and our customers well during their world travels from London and Los Angeles to Singapore and Santiago, with each one averaging around 2,000 flights," said Phil Capps, Qantas Executive Manager of Product and Service, said.
"While we no longer have use for them, they still have life in them, especially for those with an appreciation for aviation collectables and an eye for design."
Were you to purchase one of the carts, not only do you get the cart itself, but all of its contents. That includes, among other things, champagne, 80 mini bottles of white and red wine, candy, pajamas, and a Qantas-exclusive blanket.
The whole shebang sells for a bit over $1,000.
Restaurants on Grounded Wings
Last, but not least, Singapore Airlines has taken yet another approach into the catering business. Instead of selling their food to the outside markets, they have basically turned their airliners into restaurants.
A meal on a Singapore Airlines Airbus A380 costs a whopping $496. Who in their right mind would pay that much for airplane food?
Well, quite a lot of people, as it turns out. Singapore Airlines sold out its first two seating dates within 30 minutes after they went on sale, reported the BBC. Due to demand, they are also offering home delivery
Diners will get to pick their cabin class, just like they would on an actual flight, and to use the onboard entertainment system while they eat. So the whole thing is as close as you can get to a genuine on-plane meal, with cramped seating and airline-quality food.
Sounds like a real treat for half a grand. But hey, who are we to judge?
If it helps airline cooks keep their jobs and scratches the traveling itch of would-be passengers, what's the harm? Sounds like everybody wins.