They didn't think her outfit was right for the flight.
Originally they said that her top was "lewd" and they didn't want it to affect the other passengers and their flight. But now, the airline apologizes.
"Lewd, obscene, and offensive — those were the words of choice."
After a woman was not allowed to board her flight due to the way she was dressed, the airline apologizes. Kayla Eubanks took to Twitter to talk about her experience at La Guardia airport on October 6th. 
She was attempting to fly from New York to Chicago while wearing a black halter top. When she got to the gate, the boarding agent refused her saying that she was in breach of the airline's dress code.
In an airline spokesperson's statement, the airline apologized directly and issued a refund to Eubanks as a "gesture of goodwill." She said she usually doesn't dress this way when she travels, but that she also didn't really think anything of it. 
"Generally I wear, like, T-shirts, sweats, or whatever to the airport, but it was supposed to be like 77 degrees in Chicago when I landed. It's only an hour-and-a-half, two-hour flight."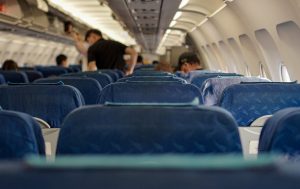 Online footage showed Eubanks dropping off her luggage and making her way to her gate. You can see her being refused by the Southwest Airlines employee. 
Eubanks is also heard clarifying with the staff that the reason she was being refused was because of her halter top. She responded by asking for clarification and to see the airline policy, which the employees were not able to produce.
"I was initially shocked, then I was very annoyed because this is discriminatory. I literally cannot remove these from me, I'm a woman, and they're mine, I can't leave them at home, I can't detach them so for you to tell me that my body part is offensive, I don't know what you want," said Eubanks.
"I've seen men on planes shirtless. I've seen them with tank tops where I can see their nipples on the side — not to make it about other people, but I've seen a lot of other things on planes."
To see the rest of the story, read Southwest Apologizes to Passenger: Part Two.