You know the pandemic has changed the world when this ends up being a profitable business idea
The coronavirus pandemic that still keeps ravaging countries around the world has had a crippling impact on many businesses. One of the possibly worst impacted industries is travel.
COVID-19 has forced the cancellation of thousands upon thousands of flights. Similarly, businesses and location relying on tourism have lost potentially millions of dollars in income.
But travel restrictions don't impact just the economy, but the travelers themselves too. Who knows how many summer vacations, honeymoons, and trips to see friends and relatives got ruined?
To many people, being on the move is second nature. While some of us are couch potatoes to whom quarantine didn't really change things all that much, others find being confined within four walls intolerable.
While you can still, for example, camp and bike while safely socially distancing, it doesn't suit everybody. Some people just like flying to places and going on city escapes, as far away from bug-filled tents and other nuisances.
With that in mind, Australian airline Qantas had a brilliantly stupid idea. As a company they naturally like money, and because their planes could fly nowhere, why not sell a flight precisely there?
Nowhere.
Imagine the board meeting where someone pitched this idea. And that the rest of the company's management liked it enough to make it reality.
Man, the 'Rona does weird things.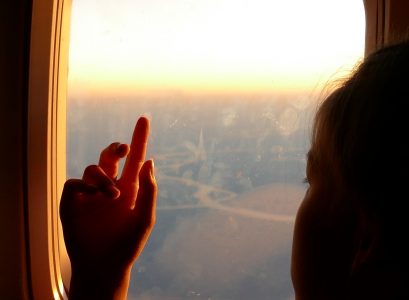 Reach No Place, in Comfort!
Despite how ridiculous it sounds, in mid-September Qantas started offering the Great Southern Land scenic flight. The flight takes off from the Sydney Domestic airport and – seven hours later – lands back in the same place.
The company says the travel simulation package is aimed at "those who are missing the excitement of travel or are keen to wave to friends and family interstate". If you're thirst for the thrill of takeoff, or the slight nervousness just before landing, then you're in the target audience.
A total of 134 passengers – 104 in Economy, 24 in Premium Economy, and 6 in Business class – will take to air in a Boeing 787 Dreamliner. The plane is usually reserved for long international flights, says Qantas, but due to its relatively huge windows, it has been repurposed for the sightseeing flight.
The tour will fly over various locations in Queensland, the Northern Territory, and New South Wales. The passengers can gaze at the wonders of the Great Barrier Reef, the Uluru and Kata Tjuta rock formations, Byron Bay, and Sydney Harbor.
The company's website also promises some surprises during the flight. Not having been there, we couldn't tell you what they are, but there's something about a celebrity host.
Passengers who have bought the flight also get to enjoy a pre-flight breakfast in the Qantas lounge at the Sydney airport. On the plane, the flight attendants will serve a lunch menu designed by the famous Australian chef Neil Perry.
The one downside is that on-flight entertainment will not be available. Man, we really wanted to empty our bank accounts so we could watch last year's blockbusters on a tiny, smudged airplane screen.
Is it Safe, Though?
But wait, you say. This flight is supposed to be a travel simulation to comply with coronavirus restrictions, right? Then why are they cramming more than a hundred people on one plane?
That's an excellent question. And the answer is… Well, they can.
Of course, the flight will be performed according to Qantas' COVID-19 precaution measures. To begin with, all passengers are encouraged to wear masks, which will also be provided as part of the flight package.
Some researchers also say that you're much less likely to catch the virus on a plane than on, say, a bus or a train. The air circulation system on planes operates in a way that sucks most airborne bugs away from the passengers.
Plane travelers are also not sitting face-to-face, which lowers transmission risk.
"While the risk of COVID-19 inflight transmission remains extremely low, we've introduced a range of measures to ensure a safe environment onboard," the company says.
Some of Qantas' COVID-19 measures include hospital-grade HEPA filters in the air circulation system and enhanced cleaning.
'Fastest Selling Flight in History'
Though the idea about the flight to nowhere is pretty weird, it wasn't only the Qantas management and investors that liked it. When the tickets went on sale in September, the whole plane sold out in less than ten minutes.
"It's probably the fastest selling flight in Qantas history," Alan Joyce, Qantas' CEO, told CNN.
And that's even in the face of the fact that most people on the sightseeing flight won't be able to do that. As with any flight, the limited window seats will be first to sell out. You'd imagine that be doubly the case with this one.
Since Qantas doesn't allow seat swapping to limit any possible coronavirus transmission, you'll be stuck sitting on a plane for nothing, really. Nonetheless, people swarmed to get onboard and the tickets sell like hotcakes.
"People clearly miss travel and the experience of flying. If the demand is there, we'll definitely look at doing more of these scenic flights while we all wait for borders to open," Joyce said in September.
The demand must've been there, since the next scenic flight is scheduled for October 10. If you're in Australia and want to take wing, you can check for seats, but we'd imagine they're sold out by now.
Don't worry, though. Airlines in Japan and China are organizing similar flights, and if the trend catches on, others will surely do so as well.
After all, who doesn't like sitting on a plane for hours on end to get absolutely nowhere.