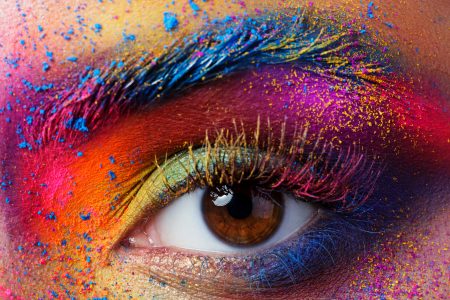 We've jumped back into the Roaring Twenties, and trends from the decade are making a comeback. Who doesn't love a flapper dress and pearls? False eyelashes were invented in 1916 and entered the mainstream a few years later.
It's safe to say the rather juvenile versions that were initially produced have come a long way since then. So much so, eyelash extensions are now available where semi-permanent individual lashes are painstakingly glued to your upper-lid. You can see examples of false lashes at https://flawlesslashesbyloreta.com.
But one thing that hasn't yet made an appearance again is the makeup styles of the era. The problem with makeup is, it's been around since the Ancient Egyptians (as far as we know, it could be even older!) and as our creativity with products can only go so far, makeup trends are resurfacing more often than any other fashion trends and we quickly become bored of it.
Then again, some creative souls are bucking all these trends and throwing all makeup rules out the window to create these crazy eyelash ideas, have a look and see if you're brave enough to try any of them this year.
1.   Pom-Pom Peepers
Many of us wouldn't have used pom-poms since kindergarten and over the years have swapped the craft glue and pipe cleaners for something a little more mature to express ourselves. But pom-poms can apparently be used not just on cringe-worthy homemade gifts for our humoring parents, it looks like it's 'acceptable' to glue them to our face, more specifically our eyelashes. This technicolor trend is yet to make an appearance in the mainstream but has been spotted on catwalks. If giving it a go, we recommend using a high-quality eyelash glue, Flawless Lashes by Loreta stock a high-quality one that would suit if you are adventurous enough to give this one a go. Source .
2.   Flower Power
Flowers have always been a staple in fashion throughout history, worn in hair, lapels and printed onto fabric. But now it appears they have weaved their way onto our faces? Nature-lovers can now carefully glue petals to their eyelashes for a real fairy feel, you can even press them first so they last longer and don't start looking brown and mangy by the end of the day. Suffer from hay fever? Don't despair, you can purchase false ones made of silk and plastic too. You may get a few strange looks in the grocery store but you'll fit right in at Coachella 2020. Source.
3.   Squiggle Lashes
Probably the most 'subtle' of these crazy trends to try is squiggle lashes. You can achieve this using hair weavers on false eyelashes and adding shed loads of mascara and setting spray. Be careful with synthetic eyelashes as they may melt, so best opt for a natural set. If you manage to achieve this with your natural lash then we will be incredibly impressed, we would have burnt our eyelids off! Some influencers have even been seen with matching squiggly eyebrows, if you're doing one, you may as well do the other. Source
4.   Eye…..Jewelry?
Ok, so this isn't exactly to do with eyelashes but it's just so weird we simply had to mention it. A creation by Dutch designer Eric Klarenbeek that has left us all speechless. These contact lenses are designed with a tiny clear string with a crystal attached in your choice of color, because, erm, why not?
So if you want to look like you are permanently crying or have evidence of your lunch stuck on your cheek, go grab yourself a pair. Source.
5.   Pins & Needles
If the idea of the flower lashes completely repulsed your inner goth, take it to the other extreme and nail this freaky look (pun intended). With a steady hand and some industrial strength eyelash glue, channel your inner Pinhead and you can rock this look. Unfortunately, we can't give you any advice on how you're actually meant to see with these on or what to do what they poke your eyeball… Source.
6.   Double Trouble
Why have one set of eyelashes when you can have two? As strange as this look is, it is probably the one that will get the least sideways glances from strangers in this list. Instagrammer Alexalink, who posts a new style every day, posted this on day 643 and we're impressed with her impeccable clean lines and perfect blending. If we gave it a go, it would just look like we fell asleep with our falsies on, they slipped, and we didn't look in the mirror this morning. Source.
7.   Put It In Reverse
Audrey Hepburn's makeup artist, Alberto de Rossi, revealed he achieved her beautiful doe-eyed look by meticulously separating each of her individual lashes with a pin. So naturally people are now doing a 180-degree turn and joining the end of their lashes together. Many models have been seen sporting this look on catwalks and fashion shoots. A few years ago 'spider lashes' were the next big thing, and this seems to be the new decade's spin on it. Source.
8.   Kawaii Kicks
For the true individual, you can now get custom eyelash jewelry on Etsy. At first, these looked like an absolute no-go but the more you look at them the cuter they are! From picnic themes to outer space, there is something available for every event. These are hand-crafted using wire and beads, then the charms of your choice are added. You can be as garish or subtle as you want and they are far more reusable than any other false eyelash we've purchased. Source.
So, are you courageous enough to give any of these a go? We're not sure which is more scary, the thought of sporting these down a busy public street or the actual action of putting these on without poking yourself in the eye a hundred times, smudging your makeup and wanting to completely give up. If you achieve either, we salute you!