Whether it's heavy metal or classical guitar music you're into, for many of us music lovers, there is nothing better than an excellent guitarist. When you witness someone who was born to play the guitar it is almost a mystical experience. The time spent practicing, putting together challenging guitar chords and solos, and having a natural ability to be able to control one of the most played musical instruments in such a manner is almost like watching and listening to real magic.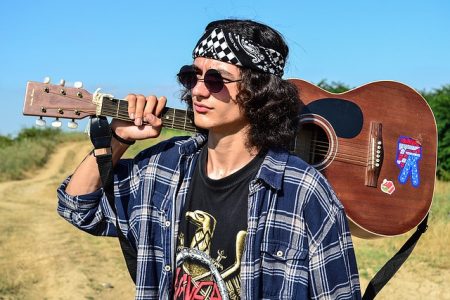 It seems to be fairly common that extremely creative people are often oddballs, however, some of the best guitarists in the world seem to take odd to a new level. 
Although there is no specific reason for this, and yes, there are lots of guitarists who are fantastic and seem to integrate well into our society, but perhaps there is more to it. Playing the guitar is a fantastic way for people to express their emotions. Some people who find it difficult to deal with others, often use a musical instrument to tell the world how they feel. Some people play the guitar to help them reduce stress levels, and others enjoy playing to help fight off depression and anxiety. 
Whatever the reason is, the world has been entertained by these strange, incredibly talented musicians for years. Here are a few of some of these crazy geniuses. 
Buckethead
Brian Carroll grew up close to Disneyland in a California suburb. He seemed like a normal child who was into video games, comic books, martial arts movies and spent lots of his time in Disneyland as it was a stone throw away from his house. It wasn't until Caroll was a teenager when his love for metal took off. He enjoyed AC/DC, Ozzy Osbourne, and the Swedish Overdrive Virtuoso Malmsteen. He learned how to play the guitar and studied classical music and music theory and combined this knowledge with metal. 
The 1988 horror movie ''Halloween 4: The Return of Michael Myers.'' got slated by critics, however, Caroll took inspiration from it. That night he went out and bought a replica of the famous Michael Myers hat along with buying a bucket of fried chicken. He put the mask on while eating the chicken and then put the bucket over his head. He walked to the mirror and realized from there on he was to be known as ''Buckethead''. 
Easy guitar chords were not what Buckethead was known for as his incredible eight-finger solos were almost from another world. He went on to have an incredible career and played for Gun n Roses for several years. On stage he was known to be a bit of a mad man, some described his stage presence as an alter-ego, however off stage he appeared to be shy. 
He loved theme parks so much as a child that he has claimed that he wants to open his own theme park at some stage and call it Bucketheadland. 
Euronymous
Norwegian musician Øystein Aarseth, who is known for his stage name Euronymous, was one of the founders of the Norwegian band Mayhem which he played in until the day he passed away. He was also credited for being one of the main people who brought the black metal scene to Norway. Aaseth was also the owner and founder of the Deathlike Silence Productions metal record label. 
Euronymous was not a shy person, and would often make extreme misanthropic comments. He was a Satanist and led a militant group who were called the "Black Metal Inner Circle". As you can imagine, constant controversy followed his incredibly successful career. The death metal musician was involved in many crazy acts, including destroying churches.
Problems between Euronymous and Vikernes, a former band member, and other people who were involved with the Swedish black metal scene arouse. On the 10th August 1993, Vikernes murdered Euroymous in an apartment located in Oslo. Vikernes said it was an act of self-defense as Euroymous had planned to capture him, torture him and eventually murder him while capturing the whole murder on videotape.  Euronymous's body was found with 23 stab wounds in the head, five in the neck, and another 16 stab wounds in the back. 
In 2018 a movie was released about the musician's life and death called Lords of Chaos.
Ace Frehley
Paul Daniel "Ace" Frehley, also known as "The Space Man", or the "Space Ace" was known as one of the founders of the band Kiss and was also the lead guitarist. 
Every musician who has crossed paths with Ace Frehley seems to have a story about him. Here are just a few of these wild tales:
He was electrocuted on stage in the middle of a gig: In the mid-1970s in Lakeland, Florida, his band Kiss played a show. When The Space Man had completed playing a song on the upper section of the stage he attempted to lower himself down to the lower section and grabbed a metal railing to help him. He woke up behind the amplifiers at a different section of the stage with the crowd screaming his name to continue playing. He somehow, even without being able to feel his own hands, managed to keep on playing and finished the gig. He claims it was the adrenaline that helped him to keep going. 
He was involved in a high-speed police car chase: In 1983 police pulled over Frehley's vehicle while he had a suspended license after he had hit the back of another vehicle. After the officer requested him to provide him with his license and registration, Frehley put his foot on the gas and drove as fast as he could. He was driving a DeLorean (the same vehicle in the movie

Back to the Future)

and was eventually caught. He was later charged with both driving under the influence and reckless driving. 
Before the guitarist founded one of the biggest bands in the world at the time, Frehley was heavily involved with local gangs and had been involved in many violent altercations. He has openly discussed his gang involvement and said he has been in trouble with the law on multiple occasions. He was involved in gun crime, fighting and on his 13th birthday, the Kiss lead guitarist was slashed in his stomach by a knife. Luckily enough the wound wasn't life-threatening. 
The Space Ace has been involved in Kiss reunions, the last reunion was in 2018, however, most of the time he works on his solo career. 
Conclusion
These weird and wonderful musicians have given us some incredible pieces of music over the years, and it's not just guitarists that are a bit wacky.
Drummers like Ginger Baker, known for his days playing for Cream, was another talented genius. From heroin addiction while playing with one of the world's best bands to running his jazz club at his polo club. 
Michael Jackson of course is one of the most famous musicians the world has ever seen. Often called "Wacko Jacko" because of his strange appearance, his Neverland Ranch, his odd personality, the list goes on. Whether you love him or hate him, there is no denying the man was an extremely talented musician and an incredible dancer.