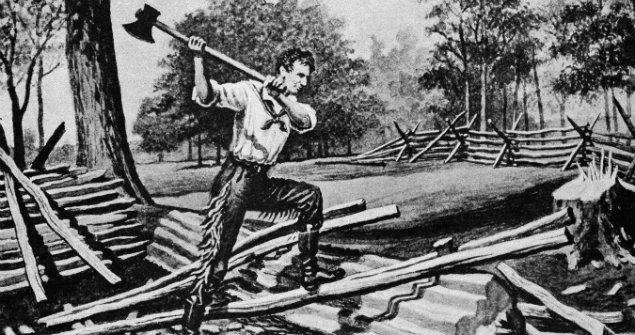 Abraham Lincoln became proficient with an ax when he helped his father, Thomas, clear the forest and build a cabin on the land the Lincolns had bought in Indiana after moving from Kentucky in 1816. Lincoln also learned basic carpentry from his father and became adept at building simple furniture (e.g., three-legged stools).
In a political campaign biography he prepared years later, Lincoln remarked that he "had an ax put into his hands [at age seven]; and from that to within his twenty-third year, he was almost constantly handling that most useful instrument." During those years he developed the muscle coordination needed for a powerful swing, and he grew in size and strength such that he could fell trees that were four to six feet in diameter.
Even in the best of times, life for the Lincoln family on the Indiana frontier was hard. In October of 1818, young Abe (then nine years old) lost his beloved mother, Nancy Hanks Lincoln, at the age of 34 to "milk sickness," a disease contracted by drinking the milk from a cow. The animal had eaten a poisonous snakeroot plant while grazing.
Lincoln later described his mother's death as the saddest day in his life, but he refrained from mentioning her in any of his autobiographical writing. Some Lincoln scholars have surmised that the pain of Lincoln's mother's death remained a lingering sadness throughout Lincoln's life. More pain and sadness would follow when ten years after the death of his mother, Lincoln's older sister, Sarah Lincoln Grigsby, died at the age of 20 while giving birth to a stillborn baby boy.
Thirteen months after Mrs. Lincoln's death, Thomas Lincoln married Sara Bush, herself a widow, who brought order, love, and encouragement to the Lincoln household. She also brought three children of her own from her earlier marriage. Many years later, also in a political campaign autobiography, Lincoln commented that his stepmother "proved a good and kind mother to A," the "A" Lincoln's shorthand way of referring to himself. Sara Bush Lincoln also supported and encouraged Lincoln's ongoing and persistent efforts at self-education.
RELATED:  America's Most Famous – And Mostly Self-Educated – President
When Lincoln would encounter a passage in his reading that he thought important, he would methodically write it down in a "copy book" constructed from loose pieces of paper. Lincoln used such books to help him memorize the poetry and prose passages he had identified and copied. He also use the copy books to record his personal poetry and prose efforts.
As he grew in maturity and strength, Lincoln began taking for-hire jobs, often working for $.25 a day clearing land, plowing fields, felling trees, and building fences. He also spent time at the local general store and nearby grain mills where he liked to listen to stories and, over time, to contribute his own often humorous stories. He continued to read widely and to borrow books from others and became acquainted with some local lawyers who likely planted the seed in his mind that law could be a worthwhile and interesting profession. Lincoln made a trip to New Orleans with a local businessman by flat boat down the Mississippi River. He earned eight dollars (a significant sum in those days) for the round trip, and he may have seen his first slave market while in the Deep South.
After living and farming in southern Indiana for 14 years, Thomas Lincoln moved his family to central Illinois in 1830 when his son Abraham was 21 years old. Both Kentucky and Indiana had important and lasting effects on the future president, but it would be in Illinois that Abraham Lincoln would excel and develop the national reputation that would propel him to the White House as our 16th president.
The Lincoln Boyhood National Memorial, located near Gentryville, Indiana, preserves both the site of the farm, where the future president spent many of his formative years, and the traditional gravesite of Lincoln's mother.
11 PRESIDENTIAL Facts About ABRAHAM LINCOLN
CHECK OUT OUR ARCHIVES FOR MORE ODD NEWS STORIES AND FOLLOW ODDEE ON FACEBOOK and TWITTER.