As far as a veterans' last wishes go, this is a pretty heartwarming one
Have you ever liked something a lot? Like a really absurdly much?
Maybe even so much that you'd want to take the thing to your grave? Well, this WW2 veteran who recently was given the right to be buried in a chewing gum package certainly has.
Alright, that's a bit of an exaggeration, but it's mostly true. Suttie Economy, a 94-year-old vet from Roanoke, Virginia, has been granted license by the Mars Wrigley corporation to be buried in a casket resembling the wrapping of Wrigley's Juicy Fruit chewing gum.
Economy's love story with the bubblegum began decades ago back at the front, wrote CNN. During World War 2, chewing gum was included in US soldiers' rations.
"Because of wartime rationing, Wrigley could not make enough … gum for everyone," the Mars company says on its website.
"Rather than compromise … the company took Wrigley's Spearmint, Doublemint and Juicy Fruit off the civilian market and dedicated the entire output of these brands to the US Armed Forces."
The gum actually served a valuable purpose in the fighting men's rations, says War History Online. First, chewing gum releases saliva, which helped keep the soldiers' mouth clean when brushing their teeth was probably less of a priority than, you know, fighting the war.
Second, gum helped calm the soldiers' nerves. Cigarettes were handed out to them for the same reason, but chewing on some gum was of course a more health-conscious option.
Given the circumstances, it's no wonder Economy developed a taste for his favorite gum brand.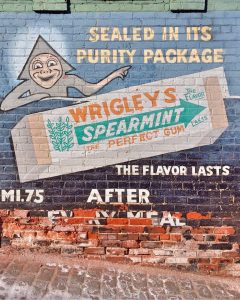 Sharing is Caring
Economy survived the war, and finally returned home. But the man who came from the front back wasn't the same as the one who had gone there.
No, we're not talking about anything morbid. Economy just still loved the everliving crap out of Juicy Fruit.
According to his brother, John Economy, 81, Suttie would share his love for the bubblegum, handing out to anyone in his community.
"It served as a symbol for his mission to talk to people about the World War 2 memorial and to honor the deceased veterans that died for our freedom," John said.
Sammy Oakey, Economy's long-time friend who runs the Oakey's Funeral Service, corroborates John's story.
"Suttie would come in here for visitation or just come in to visit and he would always bring a bunch of packs of Juicy Fruit chewing gum and put it out for the employees to enjoy," Oakey told CNN.
"He didn't just do that here. He did it at restaurants and doctor's offices, wherever he went."
One Final Wish
For decades, Suttie Economy continued his mission to keep the memory of veterans and their fallen brethren alive through his love for Juicy Fruit. But, unfortunately, even the brightest candle must eventually burn out.
Three weeks ago, Economy was taken to Salem Veteran Affairs Medical Center in Virginia because of a heart condition. Within a week his condition luckily improved enough that he was moved to the Virginia Veterans Care Clinic.
However, Economy – who had told the ol' Grim Reaper to shove it for the time being – understood that his time might soon be at hand. With that in mind, he contacted his friend Oakey about how he wanted his earthly remains to be laid to rest.
"His sole request for his funeral is to have his casket painted or an applique applied to it that would make the coffin look like a giant pack of Juicy Fruit," Oakey wrote on his funeral service's Facebook page.
"Since we are in the profession of carrying out requests, we assured him that we would make this effort."
As logo copyrights are touchy issues, Oakey and Economy's brother John contacted Wrigley Mars for permission to decorate Suttie's coffin the way he wanted. Unfortunately, the company wasn't exactly forthcoming.
"We commend you on your creativity," the Wrigley Mars customer service responded. "As a company, it is very important that our trademarks do no lose their distinctiveness. It is for this reason we ask that you do not use our logo(s) on the casket."
Disappointed, Oakey relayed the company's response to Economy. He says the ailing veteran didn't take it all too well.
"He was crushed that his one request had been squashed by the corporation that he had faithfully patronized for decades," wrote Oakey.
Reversing Positions
It was then that Oakey wrote the already-mentioned Facebook post. The story began to gain traction on social media, with many people voicing their disappointment in Wrigley Mars.
Soon, Oakey received another email from the company. This time, though, it wasn't from a customer service agent, but Wrigley Mars' president himself.
"I had an email from the president of Wrigley Mars saying that they're willing to do whatever the family wanted to do," Oakey said.
And so, Suttie Economy got his wish. When his time comes, he will be laid down into a giant pack of Juicy Fruit.
Not only that, the company also shipped 250 packs of the gum to the funeral home for the Economies to pick up once they were able. According to CNN, they have already done so.
"I think it's right for them to do it. It's good publicity for them," said John Economy.
But, as Suttie wasn't ready to go quite yet, he is going to continue spreading his love of Juicy Fruit. And that's a good thing too. Those 250 packs of gum aren't going to hand themselves out.