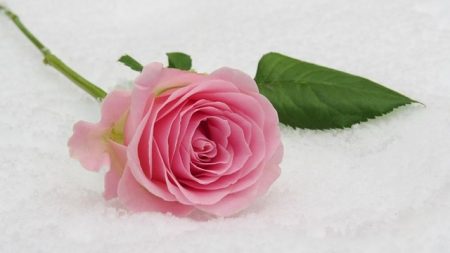 Despite winter's notoriously biting cold winds and slippery highways, the aesthetics of winter conjure images of crystalline icicles, fairytale snowflakes falling gracefully life the inside of a snowglobe, and gorgeous furs and wool bundled over bodies to keep warm. In short, winter is magic. And yet, choosing flowers for a winter occasion can feel like a difficult task.
It may seem like everything plant around you is dead, trees haven't had leaves in months, and the sight of a sunflower is just out of place. When you want to decorate a venue, put together a bouquet, or even just brighten up your home, the winter months can feel like a daunting time to bring flowers into the picture., it can take some imagination to envision what flowers to choose from that feel seasonally appropriate. Additionally, buying flowers out of season is usually expensive and time-consuming as you will likely have to get them delivered from out of state.
The good news is that at least in cold climates, the winter season creates a stark white and grey backdrop so that the vibrancy of your choice of flowers can really stand out. You can use the calm and desolate landscape of winter to highlight your floral arrangements, elevating your gathering to an elegant affair.
During the holiday season, you may want to play on the cheery spirit in the air by bringing in flowers that conjure the nostalgia of the holidays. You can use hypericum berries, a plant that looks similar to mistletoe, as a centerpiece. Fill out the arrangement and complete the decor by complementing the hypericum berries with pine or eucalyptus.
You can also play on the traditional colors of the holiday season by adding a pop of a red flower to your greenery. Choose red ranunculus', which appears like soft and delicate roses to offer a bright contrast to the white snow and grey sky. Paired with an arrangement of birch branches of juniper, you will have an elegant winter bouquet that could work well for bridesmaids or even in your home in a vase to liven up the room.
A classic winter flower is a poinsettia, known for their bright red petals and deep green leaves. While this flower may conjure images of Advent services at church or stock displays in hotel lobbies, they can offer a classy and seasonal touch to your venue or home. Their rich color stands well on its own but can be stunning when interspersed with white flowers to add dimension.
Speaking of white flowers, tulips, especially of the light pink, yellow, and purple variety, are often associated with Spring as that is when they normally bloom in nature and yet can make a beautiful and surprising choice for a winter flower arrangement. White and red tulips add shape to a bouquet and a delicate touch of color to any large display. For an understated yet sophisticated winter wedding, a bride may choose to carry a bouquet of all white tulips. This can be filled out and made more dynamic with the addition of juniper or pine, making it the striking yet subdued bouquet that will perfectly encapsulate the season and photograph beautiful against a white gown.
If you want to stay true to the flower and foliage that actually bloom in the winter months, the camellia is a lovely and seasonal option for a winter display or even just home decor for the winter months. They will also grow successfully as an evergreen shrub outside, even in the snow! If you choose to bring the flower inside, pot the camellia with a layer of peat moss and let the striking red color of the camellia flowers brighten up even the darkest winter days. This flower often works best when it stands alone as it is rather large, so it may not be the best option to add to a bouquet, but they make a perfect piece for an entryway or to add some interest to otherwise dull corners of a venue.
Another resilient flower that can withstand the winter cold and snow is forget-me-nots.  When growing in a garden, they bloom less, but the snow and cold will not cause them to die. Since they are usually biennial, they sometimes lie latent one year and then bloom again the next. Regardless of how they grow, you can get forget-me-nots for your winter bouquet. While many of the previous flowers are either white, red or rely on green foliage for their charm, forget-me-nots are blue, matching the deep blue color of a winter night sky and offsetting the glimmer of the snow. For a bride, forget-me-nots can double their purpose as a beautiful flower and the "something blue" to go with the something old, new, and borrowed.
Another great winter flower is the Montecasino aster. Fall gardens are notoriously dotted with these delicate flowers, but they also make a great addition to a flower arrangement. They usually come in purple and white, and these small blooms can add dimension and volume to a winter bouquet or flower arrangement, or they could stand alone as a minimal yet chic centerpiece. A bunch of these asters will have flowers blooming at all different heights and sizes, making them a visually interesting complement to other decorative pieces.
Even though winter is naturally the season of death and rest, all it takes is a little imagination to come up with interesting floral displays that will match the mood of the season while still adding some life into a room. A professional florist can help you choose the flowers that are going to be best and brightest in the region you live in during the winter. You can go to a local flower shop and ask the florists there for advice and they will help you find an arrangement that fits your style and preference. For even more ease, there are florists online at website shops like 1StopFlorists who will help you find the flowers to fit your occasion and budget and even get them delivered right to your door.