Out of all the things you could steal, they chose meat.
Earlier this year, we brought you the story of the Great Canadian Maple Syrup Heist. That lit a spark of competition — we can't let those guys up north do all the weird food-related crime, can we?
Fortunately (or not) we now have an all-American contender in the same race. Three men from Florida were recently charged with stealing millions of dollars' worth of property from meat-packing facilities across the Midwest.
But they didn't take any of the money there may have been at the plants. Nor did they pilfer electronics, industrial equipment, or anything like that.
They took the meat.
Delvis Fuentes, Yoslany Del Sol, and Ledier Andino stand accused of illegally transporting stolen goods and money laundering. Altogether, the trio's alleged crimes have caused more than $9 million in losses to meat producers.
We hope the police are keeping a sharp eye on them. We'd imagine the meat packers might have some beef with the guys.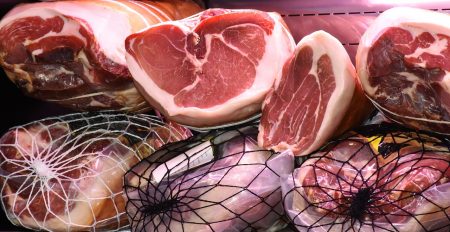 Daring Criminals
According to the authorities, the three men were very audacious in their crimes. Lancaster Country (Nebraska) Sheriff Terry Wagner said that they drove away with filled meat trailers like they legally belonged to them.
"They would just drive in, hook up to a trailer and take off. We were very surprised how brazen and wide-scale it was," Wagner told Iowa Farm Bureau.
If they ended up being questioned about their meat haul, one of the three men would produce a bill of lading. These bills are legal documents suppliers issue to shippers, detailing the exact contents, destination, and other details of the shipment.
According to the document, the men were supposed to be hauling the meat somewhere. Of course, the documents were entirely fabricated.
But you can't say they didn't come prepared.
Busted for the First Time
Fuentes, Del Sol, and Andino were arrested and charged only following a months-long investigation by the U.S. Department of Homeland Security (DHS). According to Fox 9, DHS first became aware of the crimes in late June 2022.
At that time, the Lancaster County Sheriff's Office (LCSO) received a notification that someone had stolen two trailers from a meat-packing facility outside Lincoln. The stolen trailers contained a $390,000 load of beef.
The LCSO eventually located the trailers. By that time, though, they were completely empty.
The authorities discovered a vital clue using cell phone data from a tower near the meat plant. The data showed that Fuentes, Del Sol, and Andino had been in the area at the time of the crime.
Not only that, records over the summer revealed that the trio returned to Nebraska multiple times between June and October. Wonder what they were doing there?
Tracking the Target
In mid-October, the three men were spotted driving semi-tractors without trailers in Columbia, Tennessee. That's not a crime, but the cops thought their having the vehicles was suspicious.
Sometime later, there was another sighting of the trio packed in the same truck, slowly circling two truck yards near Des Moines, Iowa. The authorities believed they were evaluating their next target, so on October 13, they placed a GPS tracker in the men's truck.
On October 15, a trailer carrying $40,000 worth of ham disappeared from a facility in Sioux Falls, South Dakota. And what do you know — GPS data showed that the trio's semi had been at the crime location.
The following day, three pallet jacks were stolen in Pipestone, Minnesota. Additionally, two pork-packed trailers, valued at $150,000, vanished in the same locations.
Again, GPS data showed that Fuentes, Del Sol, and Andino had been where the trailers were later discovered.
Finally, on October 18, Tennessee Highway Patrol stopped a semi Fuentes was driving for a DOT inspection. Fuentes had no proper authorization to be driving the truck, but what's worse, in its trailer were 19 pallets of pork that matched those stolen on October 15.
When questioned, Fuentes produced what the cops determined to be a fake bill of lading. However, for some reason, he only received a citation and was allowed to go.
The Jig is Up
The DHS continued to track the trio's semis. The cat-and-mouse game finally came to an end on October 20.
A Florida Highway Patrol stopped Fuentes for a faulty equipment inspection. He again showed a fake bill of lading, and also appeared "visibly nervous" during questioning.
On the same day, trucks that Del Sol and Andino had driven were spotted at a commercial truck lot. Inside their trailers, the cops found meat that had been stolen from various previously reported locations.
Now, the three have been arrested and charged. All in all, they're accused of committing 45 thefts across Iowa, Minnesota, Nebraska, North Dakota, South Dakota, and Wisconsin. The investigation is still ongoing.
In the end, we only have one question remaining. What did they do with all the meat?