Ten years and $150,000 dollars later, they couldn't even prove whether the cat was guilty.
Meet Miska. She's a tabby cat living in Bellevue, Washington.
Miska also has been embroiled in lawsuits for the past eight years. That's because she's a homicidal sociopath — allegedly.
Since 2014, Miska has been slapped with various court orders for — allegedly — committing cruel and horrendous atrocities on her neighborhood's other animals. According to complaints, Miska has — allegedly — killed at least dozens of pets
We're emphasizing the alleged nature of these crimes because even if Miska had committed them, her court case has taken a surprise turn. In early May, the City of Bellevue and King County were ordered to pay a $125,000 settlement to Anna Danieli, Miska's owner.
Why? Not because her cat was proven innocent, but because Danieli's lawyers managed to prove governmental overreach.
Let's take a step back and see how we got here.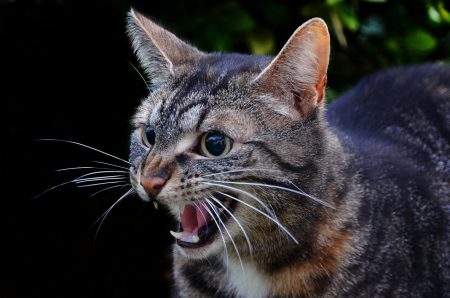 The Allegations
Complaints about Miska's alleged misdemeanors have been flooding into King County's Regional Animal Services for the past decade. According to MyNorthwest, the first complaints date back to 2012.
At that time, a resident in Miska's neighborhood filed a complaint about the cat "stalking" their dog. We're not sure what she did, but in light of the later accusations, the dog got off easy.
In 2014, another neighbor made much more serious allegations. According to them, Miska had left the neighbor's rabbits with their "ears and tails ripped off through the wire of their hutches."
The same neighbor also claimed that at that time, this had been going on for at least seven years. The complaint said that Miska had killed "dozens" of animals over those years, including rabbits, chickens, and ducks.
According to another report, Miska again slaughtered dozens of pets just over the summer of 2019. Put together, we're dealing with potentially close to 100 dead animals.
Bad as that sounds, we have to ask — how many pets are there in this neighborhood?
The Punishment
Animal Control, however, took the claims seriously. Their measures started in 2014 when they gave Miska a confinement order.
Animal control officials ordered Danieli to keep Miska inside, or in an area "secured with a padlock" or leashed if she was outside. However, Danieli didn't comply, as she said being stuck inside would make Miska "unhappy."
She filed an appeal against the confinement order a month later, claiming she'd see six other unconfined cats prowling the neighborhood. One of them "closely [resembled] Miska in stripes and coloring," Danieli claimed.
Could it be that another cat altogether was behind the killings? Who knows.
Still, in 2015, Danieli momentarily agreed to sign surrender forms for her cat. However, when animal rescue workers later came to pick Miska up, Danieli refused to hand the animal over.
"This was extremely frustrating to us, as we were ready to get Miska into a home where she was not free-roaming. Months of correspondence and then determining a great new home came to nothing," Kristine Alessio, director of Savannah Cat Rescue, told MyNorthwest in 2015.
Over the years, the complaints and fines have been steadily rolling in. By this time, Miska reportedly has more than 30 cited violations and has accrued more than $30,000 in outstanding fines.
The Twist
But neither Miska nor Danieli may ever have to pay for the cat's — alleged — crimes. It seems that Danieli has won her countersuit.
The case has gotten so overblown that Danieli and her lawyers have an entire website dedicated to documenting its developments. They've left no stone unturned in trying to absolve Miska of her — alleged — sins.
"Miska is the most prosecuted cat in King County and in the City of Bellevue," summarized Danieli's attorney Jon Zimmerman in 2020.
Now, it seems their efforts have paid off. The courts have determined that the City of Bellevue and King County overreached their authority in trying to bring the judge's gavel down in Miska.
You see, it turns out that Danieli's neighbor is an animal control manager for King County. That means he's directly involved with the complaints about the cat, which according to Danieli's lawyers was a conflict of interest.
Additionally, the lawyers pointed out that King County revamped its laws about domestic cats in 2016 — but the City of Bellevue didn't. Consequently, King County's Regional Animal Services didn't have any authority to operate in the city.
The courts sided with Danieli and have now ordered Bellevue and King County to pay her a $125,000 settlement. In addition, the years of legal wrangling have cost Bellevue $25,000.
That's one expensive cat. Also, we feel like we should point out that in October 2020, Miska had reportedly been missing for "several" months.