Online gaming can be fun, if played legally and responsibly...
Casino games, when designed properly, are fun to play. Some of them invoke nostalgia. Others immerse you into a virtual world through which you can compete with the best players in Las Vegas.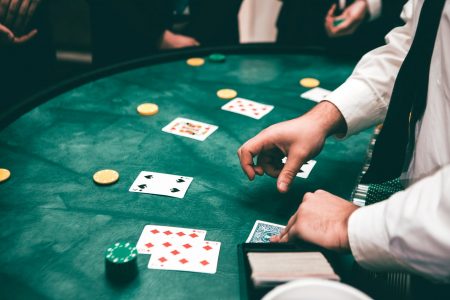 The best part about online casinos is that they bring all your favorite games to one place. With one click, you can play hundreds of slots and table games.
Truth be told, the online casino industry has come a long way. Continue reading to learn 10 facts about the industry you probably didn't know about until now.
1—The First Online Casino Launched in 1994
Contrary to popular belief, the online casino industry has been around for more than 25 years. Isle of Man based software developer—Microgaming—launched the world's first online gambling game in 1994.
Interestingly, Microgaming is still alive and kicking. In fact, it's the biggest supplier of online slot machines globally, with more than 1000 slots to its name.
2—Online Casinos are Legal in 50+ Countries
Governments all around the world have been licensing online casinos since the 1990s. Curacao, Malta and the UK were three of the first nations to create licenses for the industry.
Today, you can play online poker legally in over 50 countries. That includes all these major countries and regions:
The UK
Europe
Canada
The US
Curacao
Panama
Costa Rica
India
South Africa
In some countries online gambling is a legal grey area. As a result, adults can gamble through offshore casinos without breaking their home country's laws.
3—20% of Adults Gamble Online
According to a study done in the UK, one in four adults now gamble online. This is a 3% increase from 2017, when just 17% of adult gamblers admitted to have played, slots, lotto games or card games online.
Surprisingly, the number of new iGaming customers has skyrocketed since the COVID-19 pandemic hit the world. In a study done by the BBC, more people joined online casinos between 2020 and 2021 than in the previous three years combined.
In all fairness, lots of countries have legalized online casinos in the past five years. From South and North America to Africa and Asia, governments have been relaxing their laws to embrace iGaming.
4—You Can Bet Online Free of Charge
If you're like many people, you know you need money to play slots and roulette for real cash. But that is not entirely true. Almost every gambling site in 2020 has a marketing promotion that allows you to gamble for free.
Casino bonuses come in many types. The most sought-after promotion is a no deposit, no wager bonus. Basically, you sign up for an account. There's no need to link your credit card.
You get a bonus immediately you verify your email address. Because it's a not wager bonus, it's free of wager requirements. You don't need to play through your bonus 10x to 40x. Instead, you can cash out your profits instantly.
Although no wager bonuses are hard to find, it's not impossible to find them. A case in point: Fruityslots.com has a comprehensive guide of casinos with quality no wager bonuses online.
5—Online Casinos Support Mobile Devices
So, you depend on your iPhone for all your Internet needs? You don't need to buy a laptop or cubicle desktop to play slots and blackjack. In this mobile-driven world, you can play nearly all major casino games through a mobile device.
Usually, you can install an app on your smartphone. Or you can log into your favorite casino through a mobile browser like Safari, Chrome or Firefox. The latter is in trend.
No one wants to install a dozen casino apps on their phone when they could play these games through a browser. After all, the use of browsers mean you can access your account through multiple devices.
6—Slots are the Most Popular Casino Games
In Macau, baccarat rules. In Las Vegas, blackjack is the king of card games. But on the Internet, slots are the most dominant games. In all fairness, slots also dominate Las Vegas.
People love slots because they are exciting and profitable. You could walk away with a million dollars after spending less than $10 at a slot. Of course, it's easier said than done. But everyone who play slots is hopeful of winning.
Another reason slots are popular is because they come in many types: video, classic, Megaways and progressive slots. Video slots feature all manner of themes, from sports and TV shows to ancient Egypt and wild animals.
7—You Can Play Casino Games with Friends
Some people avoid gambling online because they think it's a lonely place. They choose land-based casinos so that they could interact with real human players. Fun fact: you can also interact with human players online.
This is all thanks to live dealer software supplied by companies like Evolution Gaming. Evolution has casino rooms distributed throughout Europe and North America.
These rooms are branded and lighted to resemble casino rooms. What's more, they are overseen by human dealers and croupier. Next up, Evolution has software that allows you to interact with the dealers and fellow human gamblers through video software.
8—You Can Win a Crazy Amount of Money Online
As we stated earlier, some casino games can turn you into an overnight millionaire literally. An example is a Norwegian student, who after losing sleep, decided to play slots. Out of sheer lucky, he won over €13 million, changing his life forever.
9—You Can Bet using Bitcoin
Bitcoin has been trending in the past couple of years. It's a revolutionary technology built on a hack-proof system known as the blockchain. It's also a store of value—one of the reasons everyone keeps buying it.
Additionally, bitcoin is a means of payment. You can use it to deposit and play casino games. This is especially true for casino games built on the blockchain. One bitcoin platform you may want to check out is Quantum Flash.
10—Every Casino Game Favors the House
This is an odd fact to admit. But it's the truth. When you gamble online, keep in mind the game favors the house. Due to that, it's recommended that you find games with the lowest house edge. Blackjack at 1% and Video poker at 0.46% are good examples.