If you're compiling a list of bad PR moves, you'll want to include this one.
A Walmart Supercenter in Mexico, ME, clearly doesn't give a hoot or the holler for the public opinion. Case in point, on May 26, they called the cops on a grandpa who was just trying to clean up the mountains of trash the store had neglected for years.
If you love nature, you want to preserve it as pristine as possible. And Tony Bennett from Bethel, ME, is a nature-loving man.
"I love Maine and I love the rivers, I love the ponds, the lakes and the wildlife," Bennet said.
With that in mind, it's easy to understand why the Mexico Walmart would start getting on his nerves. According to Bennett, mounds of garbage from the store have been piling behind it for years.
The backyard of the store has been littered by anything from dirty diapers to food wrappers and shopping bags. Bennett has been concerned that the trash would end up in the Androscoggin River that runs by the store.
So, he did what a responsible citizen would and contacted the store about the issue. That was three years ago.
"Three years ago, I brought it to their attention at several of their stores in the western mountains of Maine here," said Bennett.
To his frustration, though, his complaints didn't seem to do anything. The trash remained.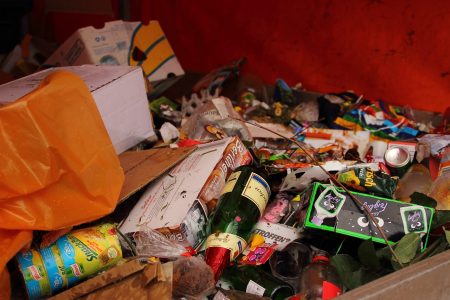 'You're Allowing This to Happen?'
When Bennett arrived at the store on May 26, the familiar sight of the garbage awaited him. Well, we say familiar, but it was actually worse.
It seems that the store had actually done something to clear their backyard. The problem was that it only made things worse.
"They literally just raked (the trash down the river banking)," Bennett described.
"They raked from 20 feet to the pavement all the way to bank and they dumped it over the bank right with all of the leaves and debris and garbage for 100 feet long, 20 feet wide and put it right over the bank, with all the other trash."
That was too much for Bennett. He wasn't about to let the store continue to pollute his beloved Maine landscape any longer.
So, he entered the store and asked for the one thing no retail worker in the world wants to hear. Bennett wanted to talk to the manager.
"You're the manager and you're allowing this to happen in the River Valley? I said: '164 miles of the Androscoggin River, 3,530 miles of watershed and you're allowing your store to disrespect us like this? And you're not doing nothing about it?'" Bennett asked the manager Scott Huddleston.
Huddleston told Bennett that the store had contracted a company to clean up the trash. Unfortunately, he didn't know when it would be done.
It was an answer, but it wasn't the answer Bennett wanted. And it wasn't good enough for him.
"I've heard it from the district manager, and I've heard it from corporate. Stop blowing smoke up my a** and do something about it," he said.
Taking Matters Into His Own Hands
It seemed to Bennett that the store would never do anything about the trash, so he resolved to do something himself. So, he went down to the river bank and started picking up the trash, loading it onto the back of his truck.
"I don't like to get so emotional and so involved in all these things. I got other s**t that I should be spending time on," said Bennett.
"I've got grandkids, but if I don't do it, who the hell is going to? It's been three years and it hasn't got addressed."
Bennett spent the morning picking up the garbage, until Walmart employees noticed him. The store managers asked him to leave, but Bennett more or less politely informed them that he'd do no such thing.
So, the managers called the cops on him. Bennett was, in the end, technically trespassing on the store's property.
After Mexico Police Officer Lawrence Briggs showed up, Bennett figured it wasn't worth getting into more trouble over the matter. He left the property peacefully.
We don't know whether he took the trash he picked up with him.
'He Wasn't Doing No Harm'
For his part, Bennett doesn't regret his actions. He still says he's had enough of corporate irresponsibility in his home turf.
"I can't walk away from it anymore. I'm not gonna let corporate Walmart s**t all over Oxford County, Maine. They can do it to the rest of the country and the rest of the world but they're not doing it here on my watch," he declared.
Walmart's stunt hasn't earned them any sympathy from locals, either. Patty Smith, who lives next to the store, thinks Walmart should clean up their own garbage instead of punishing someone trying to do it for them.
"Pick it up and take care of it. It's on their back door," said Smith.
"I know the police were called and they run him off. I don't think that's right at all, he was doing a good thing."
Dan Hatfield, who witnessed the incident, agrees with Smith.
"He wasn't doing no harm. If this guy was doing a good deed, and he was doing nothing wrong, then they should have let him just do a good citizen deed," Hatfield said.
Bennett now hopes that Walmart will actually get the garbage cleaned. He's not holding his breath, though.
"The basic, bottom line is we just want this trash cleaned up. That's what this is all about," said Bennett.