And does the right thing, even so.
We all know that servers in America make next to nothing without tips, and that's why we should always leave a tip, if they do a good job. But know that if you don't, these workers are still (usually) really great people, and here's why.
A waiter at a New York City pizzeria was stiffed on his table's bill, but he still stood up, and did the right thing. A woman had accidentally forgotten a cashier's check worth $424,000 (!) at the table, and the waiter gave it back.
Armando Markaj came across the check in an envelope while he was cleaning the table on May 4th. He works at Patsy's restaurant in Harlem.
The retired social worker, Karen Vinacour, had left the envelope behind while eating lunch with her daughter at the restaurant. She had brought along the cashier's checks for a condo that she was buying in the neighborhood.
It was her down payment, but she left it at the table before leaving after the mean.  "I'm happy for her, really. Saturdays are pretty busy, and I was very close to taking everything left on the table and throwing it out when I saw an envelope," Markaj explained.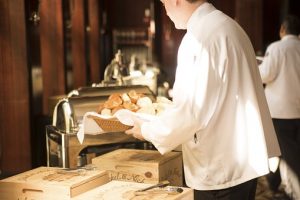 The waiter didn't make a tip from the two after their lunch, but he knew the right thing to do was to give the check to the owner of Patsy's for safekeeping. So that's what he did.
"Normally we just put things left behind in the lost and found box in the back," Markaj stated. "But I wasn't going to do that with almost a half a million dollars."
"I'm so grateful that the insult that we gave him did not prevent him from going the right thing," Vinacour said.
Vinacour returned to the restaurant a few days later to claim the check. "I'm glad we had it here for you," Markaj said. "It would have been dramatic for a lot of people. She was in tears. She was super excited that someone had found it and kept it."
I sure hope she gave him a tip after all of that!