Which is so rare, it has a one in two million chance of happening.
No matter how you plan it, you never really know when you're going to have babies. You can plan it out to when you want to get pregnant and give birth, but we never really know when either will happen. 
Some kiddos are born on holidays or even on their parents birthdays but you know what's really rare? Being born on a leap year.
You know what is even more rare than that? Having not one but two children born on leap day. But that's what happened to this couple. 
Lindsey had son Omri on February 29th, 2016. Then this year, on February 29th, 2020, baby girl Scout joined the family with a leap day birthday as well.
"Deep down, I wanted it to happen and always joked with my wife that she will be born then, too, but never really believed it [would] happen again," Dane told CNN. "I think they said the odds were 1 in 2 million.
Scout came early though, joining her sibling as a leap year baby. Her due date was March 4th. 
To celebrate Omri's birthday, the family had set up decorations. Lindsay started having contractions early that morning.
 "No way on leap day, again," Dane said.
But alas, Scout was born on leap day. She was a 7 pound, 2 ounce healthy baby girl.
When it comes to celebrating their birthdays, the family has it all figured out. They plan to celebrate Omri's birthday on February 28th, since he is the older child.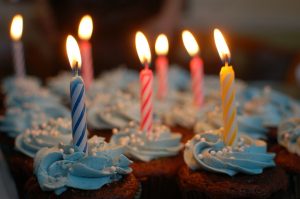 As for Scout, her birthday celebrations will be yearly on March 1st. Then every year that is a leap year, the kids will celebrate their birthday together. 
 "Hopefully, it becomes a tradition that carries on with them as they grow old and something that keeps them close forever," Dane said.
The kiddos aren't the only ones with birthdays in February. Lindsay's birthday is on February 26th and her mothers is on February 28th. 
It's safe to say this family is busy with celebrations late February, and for good reason. Happy birthday, fam!
Want to tell your strange story?
Tell us about it
and it could be featured on Oddee. You can remain fully anonymous.