The best meals for each state turned into a three-parter, and here it is.
Here are This is the Meal That Defines Your State: Part One and This is the Meal That Defines Your State: Part Two, in case you missed them.
Arizona
You can never really beat the heat in Arizona, but you can get some good grub. And the people of Arizona think that Sonoran hotdog are one of two things you just have to eat in Arizona. The hotdog is covered with minced onion, green chile sauce, diced tomato, pinto beans, mustard and mayonnaise.  The other one? Carne Asada tacos with onions, cilantro and whatever sauce you want on top.
Arkansas
Did you know this state starts off with biscuits covered in gravy, for their day? Did I mention that the gravy was chocolate? This meal is one that you simply cannot miss. And for an appetizer? Cheese dip! This snack is so big I the state that there's a competition for it every year.
Colorado
If you're in Colorado, then you should be eating green chili cheese fries. That is, according to the locals. And also according to them, you should eat said fries at Good Time, no restaurant makes green chili cheese fries better than Good Times.
Georgia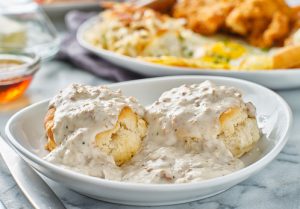 Known for peaches, the dish that most people from Georgia call theirs is actually savory in nature. If you can believe it, it's biscuits and gravy. Crispy but soft, homemade biscuits covered in a hearty sausage gravy. It's the stuff that weekends are made of.
Connecticut
This coastal state of course has seafood on the menu, but you may be surprised in what way. People who live there say that nothing defines Connecticut like a New Haven-style clam pizza. We can all agree that this combination is out-of-the-ordinary if not completely strange. However, mostly everything is worth trying at least once and if the people who live there love it, you probably will too.
Delaware
The food you should be eating in Delaware is called a scrapple. It's a sandwich of sorts that honestly looks as good as it tastes. It's basic but delicious, an egg and cheese on a toasted pretzel bun. Yum.
Nebraska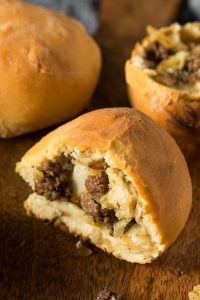 Known as a runza, people say that this dish is drunk food. Runza is a pocket of bread filled with beef, cabbage or sauerkraut, onions and tons of seasonings. They aren't the prettiest thing but they sure are appetizing.
Idaho
Idaho had potatoes, and that's what they're known for. But when it comes to their favorite meal, it's not a vegetable but a meat. Elk steak served with huckleberry compote, sauteed more mushrooms and roasted potatoes. This is as Midwest of a dinner as you can get and you must eat it towards the end of May to get morel mushrooms fresh!
New Hampshire
Another state with breakfast as it's most popular dish. Some would say poutine, with Canada's influence of course. But when it comes down to it, blueberry pancakes with fresh maple syrup are is the best meal of the state
Kentucky
Created back in 1926, this sandwich of sorts was popular back then and it still is today. Hot Brown is what they call it and it was invented in Louisville. There are a ton of variations but all of them commonly have turkey and bacon on them, tied together with a sauce of Mornay, which is a cheese sauce.
Maryland
Have you had old bay? It's a delicious and flavorful spice and it's Maryland's claim to food fame. When in Maryland, you must have a Maryland-style crab feast. The crab is the most important part but what makes it Maryland is the Old Bay. Steamed crabs and a cold beer make a fantastic Maryland meal.
Massachusetts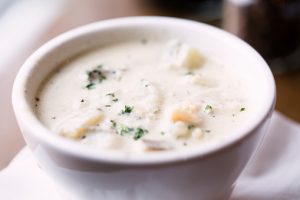 Massachusetts is known for it's food and there are many things that locals love. Whether it's a losbta roll or bakes beans, there is always something delicious to enjoy. But, clam chowder is really something in this state. Massachusetts clam chowder is second to none.
Which of these do you just have to try? I could go for a taste-testing of Arkansas cheese dips right about now.