Because those goats sure can party!
Do you like to party? Do you prefer the club or wine and cheese at a friends house? Would you party with a goat?
If you like the club, and you like goats, this new party scene will be your new favorite.
That's right, party with goats. Spanky and Pippin are the party animals of the Los Angeles nightlife scene. And you can rent them, too, for a party of your own.
These Nigerian Dwarf goats are professional party-goers, and they bring their own brand of goat magic to celebrations and parties of all types.
Self-proclaimed goat-mom and ex child star Scout Raskin is a lifelong animal lover and she has a lot of goats. She set up party goats in 2017 and charges $99 per hour for people to rent out her goats.
They even do goat tricks, one being the jump onto the back of anyone who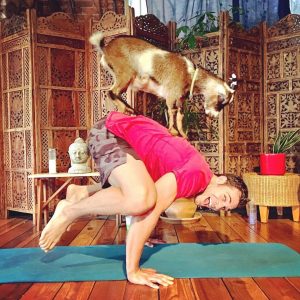 gets on the ground and into the "all fours" position. Not only can you party with goats, but you can play with them, too.
Torian Mylott is a 20-year-old student and said the experience was fun and therapeutic. "They're so friendly and they're just so nice to be around, because you can definitely tell they love humans and they are just a lot of fun," she said.
Raskin has goats that are the same breed and age but says they all have their own personalities.
"Usually people at parties have their favorites. Some people love Pippin because he's really cute, but he's the cute dumb one," Raskin says. "And then some people really like Spanky because he's more chill and quiet and they feel like they can connect with him more."
Loud music and lots of people don't faze these party going animals.
"We've been to parties with DJs where there's loud music and I myself was concerned about how they would react to it. Pippin fell asleep and was totally calm and chill and fine in that environment, and it didn't really seem to hurt their ears or anything like that," she said.
Before going out, they are dressed up, too.  Party with goats, it's an experience you'll never forget!
Want to tell your strange story?
Tell us about it
and it could be featured on Oddee. You can remain fully anonymous.