Cause this guy would, and he does.
When it comes to pets, there are so many these days. Yes, dogs and cats, but also snakes, mice, spiders and other reptiles.
Most families have some kind of pet. Growing up I had gerbils, fish, cats, and a dog. I never had reptiles and I certainly didn't have 400. Yes, 400 reptiles for one house.
There's a Frenchman who shares his home with 400 reptile roommates. And here's the story.
"I think it's unfair to treat these animals the way we do because we don't understand them," Philippe Gillet said.
He has a cobra that lives on the coffee table, a tortoise that roams the garden, and a seven-foot alligator that sleeps in its owner's bed. Oh, and another alligator keeps watch at the door.
Over two decades, Pilippe Gillet, 67, has purchased and now has more than 400 phobia-inducing animals..err, pets. He has rattlesnakes, tarantulas, and lizards living with him, in his home in western France.
His two alligators are named Ali and Gator. How fitting. They were rescued from a leather farm by Gillet. Most of his other 'pets' are ones that were donated or abandoned.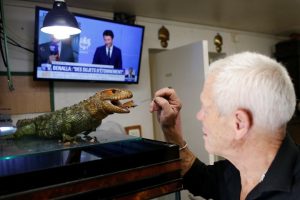 "I think it's unfair to treat these animals the way we do because we don't understand them. We don't understand them, we hate them, we think they're horrible. But when we get to know them, you can call them over, tell them to come and eat something for example."
Gillet says has all the necessary permits to keep the animals. He also transports them for animal roadshows he runs to raise awareness about reptiles.
According to him, the locals don't mind this reptile-filled family. They even stop by for coffee and he says people feel safe knowing the most dangerous of the snakes are kept in a room behind two locked doors. Whew!
To Gillet and his town, this may not be odd. But to most of us, this is odd news for sure.
Want to tell your strange story?
Tell us about it
and it could be featured on Oddee. You can remain fully anonymous.