A Japanese engineering company introduces a "cushion-tailed therapy robot"
Qoobo is designed to "replace the need for actual animal companionship"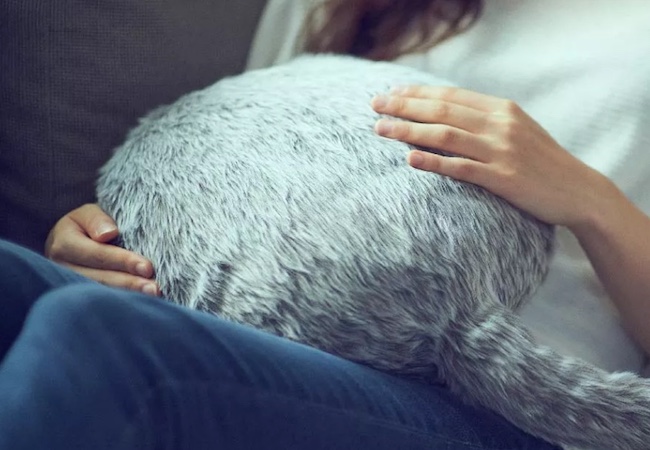 Robots will soon take over the world. They've already taken over our lives. Robots are delivering packages to our door, the best robot vacuums are doing the chores we hate and now robot animals are helping people cope with things other than dirty floors.
There are countless studies that show animals help reduce stress. Spend just a couple of minutes petting or playing with your beloved furball and you'll feel so much better about all of the things going wrong in life.
For example, just yesterday I spent 20 minutes petting my beloved cat Stephen and completely forgot that I'm about a month away from losing my house to foreclosure. Just a couple strokes of his fur and I thought "Take the dumb house, he's purring so loud when I rub his butt!!"
Yukai Engineering, a Japanese company, feels they understand the therapeutic value of petting a dog or cat but also understand how robotics are the future. Unfortunately, they're not quite sure how anatomy works. They've created Qoobo — a furry robotic companion for people who…don't like heads? We can't be sure.
Check out the promotional YouTube clip for the new Qoobo.
Are they trying to say that Qoobo provides all of the healing benefits of a dog or cat without all of the excitement, protection and running around the house? Is this the perfect pet for the mundane among us? "I want a pet that's technically just a decorative pillow."
The Qoobo comes in two colors — husky gray and French brown — and Jezebel put it best, stating "It's a therapist you don't have to talk to and a pet you don't have to love. Perfect for sitting in your bedroom on the verge of tears for hours."
RELATED:  9 Heartbreaking Goodbyes Between Pets And Their Owners
While we don't doubt that robots will one day dominate the bedroom, and some are pretty damn endearing, we're having a hard time accepting that people will pay money for a ball of fur with a tail.
The estimated cost of Qoobo will be around $100.
FOLLOW ODDEE ON FACEBOOK AND TWITTER.