This is the story of a massive d***… And his penis. Seriously, though, Napoleon was a bit of a jerk.
Napoleon Bonaparte is a man who needs no introduction. The one-time emperor of France is famed for his military genius, almost taking over all of Europe, and his height – which was actually average for the time.
These days, Napoleon spends his time primarily in his decorated tomb in Paris. But not all his body parts are there with him.
The most famous organ extracted from his body after Napoleon's death in 1821 is his heart. What most people don't know is that the doctor carrying out Napoleon's autopsy also snipped off his penis.
That was 200 years ago. Over those centuries, Napoleon's manhood has made quite a journey.
Sit back and read on as we explore the many homes and owners of the short French general's wang.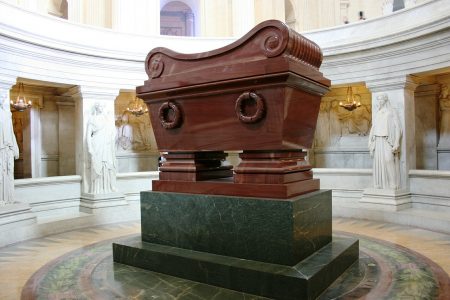 The Birth of a Penis (and Napoleon)
The story of Napoleon's penis began in 1796, since that's when he was, you know, born. Over his lifetime, his dong had quite an active social life.
Napoleon desperately tried to father an heir with two wives, finally succeeding with Napoleon Francis Joseph Charles in 1811. He also had several mistresses and at least two illegitimate children.
Once he died on the island on Saint Helena, Napoleon's penis started its journey around the world. Francesco Antommarchi, the doctor who separated the dong from its owner, gave it to Napoleon's chaplain.
It's unclear why the doctor got Napoleon's penis off. Some say it was an accident, some it was done to humiliate Napoleon after his death.
Whatever the case, the penis now belonged to the chaplain, whose name history has forgotten. The priest smuggled it back to Napoleon's native Corsica.
Unfortunately, he couldn't enjoy the penis for long. The priest was killed in a vendetta, and Napoleon's dong passed to his family as an heirloom.
What an honor.
'A Shriveled Eel'
The penis remained with the deceased priest's family until 1916. That's when Maggs Bros, a British bookselling company, bought it for an undisclosed sum.
The firm attempted to sell the penis back to the French government, but they weren't interested for some reason. In 1924, however, Maggs Bros found a buyer in S.W. Rosenbach, another antiquarian from Philadelphia.
Rosanbach through the penis was too important to keep just for himself. In 1927, it went up on display in New York's Museum of French Art. Because a shriveled penis is a work of high art.
And it indeed was shriveled, since the penis had never been preserved in any way. People who saw it at the time said it looked like a "maltreated strip of buckskin shoelace" or a "piece of leather or a shriveled eel."
Yikes. We don't think any guy would like that kind of a review of his little dude.
Doing the Rounds
After the exhibition, Napoleon's penis started its wandering years. Rosenbach eventually got bored of owning it and sold the wang to a collector called Donald Hyde.
Once Hyde died, his wife donated the penis to a bookseller by the name of John F. Fleming. What is it about booksellers and Napoleon's d***?
Fleming sold the penis to an unnamed collector, who unsuccessfully tried to sell it at a Christie's auction under the title of "Napoleon's certain part." Really, just call it for what it is if you're trying to sell it.
Finally, in 1977, a urologist and professor John K. Lattimer purchased the penis for $3,000 – more than $12,000 in today's money. Lattimer didn't want any attention, though, so he kept the penis hidden under his bed and refused to let anyone see it.
In 2007, Lattimer passed away and his daughter Evan inherited Napoleon's dismembered dong. To the best of our knowledge, it remains with her to this day.
Unimpressive, to Say the Least
And there you have it, folks – the story of Napoleon's penis. If nothing else, you can use it as a conversation starter when meeting strangers.
But there's still one question. Napoleon may have had an unwarranted reputation for being short – but what about his manhood? Was it short as well?
Well, we have no eyewitness accounts about the penis from when it was still alive and well. But these days, however, it's not exactly anything to brag about.
We know that because Tony Perrottet – author of Napoleon's Privates: 2,500 Years of History Unzipped – has seen it. One of Lattimer's daughters gifted him with the privilege of seeing the famed shaft.
"It was kind of an amazing thing to behold. There it was: Napoleon's penis sitting on cotton wool, very beautifully laid out," Perrottet recalled to NPR.
"It was very small, very shriveled, about an inch and a half long. It was like a little baby's finger," he said.
Ouch. Sure, it's probably shrunk over the centuries, but… Ouch.