Anything called a Snot Otter deserves to be an official SOMETHING...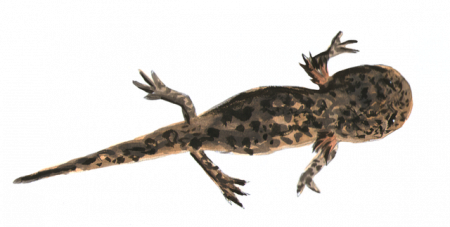 Many animals are chosen to represent a state. Some for their beauty, some for their usefulness to the environment as a natural resource. The Eastern Hellbender salamander? Because it's in trouble. And also hideous.
It was a 191-6 House Vote on April 9th. Pennsylvania named the Eastern Hellbender salamander as their state lizard.
The largest North American amphibian, at 2 feet long. The Eastern Hellbender salamander is actually on the decline. Rep. Garth Everett, R-Lycoming spoke on behalf of the salamander. Rep Everett helped shepherd the bill through the House.
"Not many people have actually seen hellbenders," Everett said after the vote. "They live only in very clean streams, and they live under rocks."
Many have given the newest state animal have given the unfortunate creature nicknames. Names that allude to its physical nature. Devil dog, ground puppy, Allegheny alligator, snot otter, lasagna lizard and mud devil, to name a few.
As recently as 1990, hellbenders were plentiful in Pennsylvania. The Chesapeake Bay Foundation says pollution and soil displacement have decimated their numbers in Eastern states.
Formerly, their range generally covers the Appalachian Mountains, from southern New York to northern Georgia. However, other factors researchers also worry about are disease and warming water. Rising temperatures are caused by climate change.
Hellbenders do not have federal protected status, unfortunately for them. That is to say, while some states give them protected status, Pennsylvania does not. Hopefully being the state amphibian will bring attention to the creature and its plight.
On the other hand, the Hellbender had a contender for the title. Wehrle's salamander was also in the running for official state amphibian. The Wehrle's salamander was named after the late naturalist R.W. Wehrle, of Indiana, Pennsylvania. 
Want to tell your strange story?
Tell us about it
and it could be featured on Oddee. You can remain fully anonymous.