After getting her first piercing at the age of 15, a tattooist has since gotten completely black eyeballs and split her tongue.
She say's that she's addicted to the pain of body modification.
Anu Karki, 25, of Nepal, South Asia, says she's the first person in her country to get her eyes inked entirely in black. She details this as her favorite modification so far. She grew up "obsessed" with all things piercing and modification, and tattoist Anu is now known online as "emo punk," due to her look.
Anu, who has various stretchers and tattoos, says  she falls "in love" with her eyes "every time" she sees them, and feels "so proud" to be the first girl in Nepal to have them inked black.
Anu said: "The most painful body modification for me was my split tongue, as I felt sick for at least a week. I have no idea how much I've spent on tattoos because I have my own studio, so I don't pay for these now. I gave myself my first tattoo about five years ago and a modification about five months ago."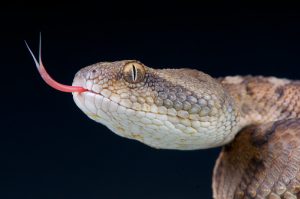 Anu has spent around 365,000 Nepalese Rupee (£2,386) or just under $2876.00 American dollars on creating her eye-catching, original looks. She has plans for modifications she wants going forward. She is hoping for a tongue tattoo for her next modification but said that "this will take some time."
The tattooist Anu, a regular TikTok-er, said, "My dream body modification is horn implants and making my ears pointy, as well as getting a hook, but let's see. I get a lot of positive and negative reactions, as our culture is different for most girls."
She continued: "Society loves a girl with decent clothes, who can become a nice housewife but I don't like these people who judge. They think tattoos, modifications, and piercings are done by people who take drugs and they don't understand it's an addiction getting inked to the pain."
"If they hate or like what I do, I still will do what I want to my body and I won't regret any of this," she concluded.