And this is all you have to do to get one.
Just show up in their drive-thru, and boom. A Doritos Locos Taco, just for you, for free.
It seems too good to be true, but then again, this life feels to unreal to be reality so, go get a delicious taco while you can!
Or today, as today is Taco Tuesday, and this is the only day they are extending this deal. (Though, they did give away Doritos Locos tacos last week on Tuesday as well, so. Just saying.)
Taco Bell wants to reach out to the community and to "satisfy our craving for a little good news." This is their reasoning for the taco giveaway.
The chain announced the free tacos via tweet yesterday. The tweet stated that everyone gets a free Nacho Cheese Doritos Locos Taco.
You don't have to buy any additional items for the promo but you may want to, after all, we are in the middle of a worldwide pandemic and who doesn't love themselves some Taco Bell. But what do you have to do for your free taco?
Just roll up to the take out window and ask nicely. Really, that's it!
Due to Coronavirus, all non-franchised Taco Bells have closed their interior dining areas. Drive-thru and pick up is available, and you can get your free taco using either option.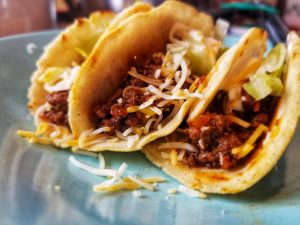 But, if you get delivery, than the free taco does not apply to your order.
"One of the things that encouraged us most to continue the promotion is that we heard enthusiastic feedback from team members across the nation who were excited to play a part and join us in feeding their communities," said Mark King, CEO of Taco Bell.
During this hard times, it's great seeing businesses help out and give back. Landlords are gifting people to a rent-free month, people are offering help with food across social media, and we are seeing hearts, a sign of hope, displayed across the United States. Stay healthy all, and stay home if you can!