Incurably ill people can now end their suffering in a sci-fi styled capsule.
You really can make just about anything with a 3D printer. Case in point, the technology is now helping terminally ill people end their lives.
Switzerland has approved a 3D printed pod that kills its occupant in 10 minutes after activation. The pod is intended for the controversial practice of human euthanasia.
Titled the Sarco capsule, the death pod is a futuristic-looking, blue coffin with a large window on the lid. According to Philip Nitschke, the founder of the pod's Australian manufacturer Exit International, it provides a peaceful, comfortable end to people's suffering.
"It's a 3D printed capsule, activated from the inside by the person intending to die. The machine can be towed anywhere for the death," Nitschke told Swissinfo.ch.
"It can be in an idyllic outdoor setting or in the premises of an assisted suicide organization, for example."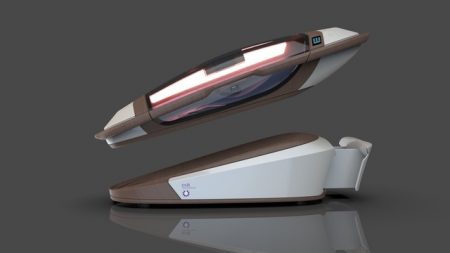 Breathe in the Fumes
Human euthanasia, or assisted suicide, is a legal practice in multiple countries — such as Switzerland and the Netherlands — as well as some U.S. states. It's intended as a solution for terminally ill people in severe pain and no hope of recovery.
So far, the commonly accepted method of assisted suicide is a drug called liquid sodium pentobarbital. After ingestion, the patient will fall asleep within five minutes, followed quickly by coma and death.
The Sarco, however, takes a different approach. After a person enters, they will be asked a few questions to confirm their intent to die out of their own free will.
Once confirmed, the patient activated the pod with a single button press. The Sarco's mechanism will then begin to flood the pod with nitrogen.
The oxygen level in the pod will plummet in 30 seconds from 21% to 1% or less. However, unlike you may think, the occupant will not feel like they're suffocating.
"There is no panic, no choking feeling," explained Nitschke.
"The person will feel a little disoriented and may feel slightly euphoric before they lose consciousness. Death takes place through hypoxia and hypocapnia, oxygen and carbon dioxide deprivation, respectively."
According to Nitschke, the pod's occupant will quickly lose consciousness. Within five to 10 minutes afterwards, they will be gone.
No Need for Doctors
Nitschke explained that one purpose of Sarco is to remove the need for controlled substances from assisted suicide. The second, however, is to give people seeking assisted suicide more freedom in their decision.
"Currently, a doctor or doctors need to be involved to prescribe the sodium pentobarbital and to confirm the person's mental capacity. We want to remove any kind of psychiatric review from the process and allow the individual to control the method themselves," said Nietschke.
In fact, Exit International wants to drop other people from the process altogether. Nietshcke said that the company is developed an AI screening system that would evaluate the Sarco user's mental state.
"Naturally there is a lot of skepticism, especially on the part of psychiatrists. But our original conceptual idea is that the person would do an online test and receive a code to access the Sarco," he added.
Legal and Ready to Kill
One could ask whether doing away with professional psychiatric evaluation is the right thing to do when it comes to people who wish to die. But that's not our call to make, and courts seem to have no problem with the concept.
"Last year, we sought senior advice on the legality of using Sarco in Switzerland for assisted dying. This review has been completed and we're very pleased with the result which found that we hadn't overlooked anything. There are no legal issues at all," Nietschke said.
Exit International is hoping to have the first Sarco unit operating in Switzerland by the end of 2022. They have produced to other pods, but they're not currently in use.
"The first Sarco is being displayed at the Museum for Sepulchral Culture in Kassel, Germany from September 2021 to August 2022," explained Nietschke.
"The second turned out not to be aesthetically pleasing. For that and various other reasons it's not the best one to use," he added.
That seems like a bit of a weird reason. But then again, if you're ending your life in a pod, suppose you would want it to at least be a pretty one.
Assisted Death on the Rise
As we mentioned multiple countries around the world have declared assisted suicide legal. The list includes 10 U.S. states, four Australian states, Canada, and multiple European countries.
In practically every jurisdiction where the procedure is legal, those seeking it must have an incurable and/or terminal condition that causes them great suffering. Switzerland, however, is a bit of an odd bird in this crowd.
In Switzerland, there are no restrictions on assisted suicide. The only caveat is that the individuals assisting a person in dying must not have "selfish motives."
A total of 1,282 people died in Switzerland through assisted suicide in 2020. That's still a low number, though — for example, in Netherlands where assisted suicide is more restricted, 6,361 people opted to end their lives.
There was an increase in assisted suicide worldwide last year. Wonder if the pandemic had anything to do with that.