Since the 1970s, Joseph Badame had gathered and stored 80 barrels of food in an underground bunker
When his wife died in 2013, his property went into foreclosure
He met a young Puerto Rican couple raising funds for to help their town and donated his stores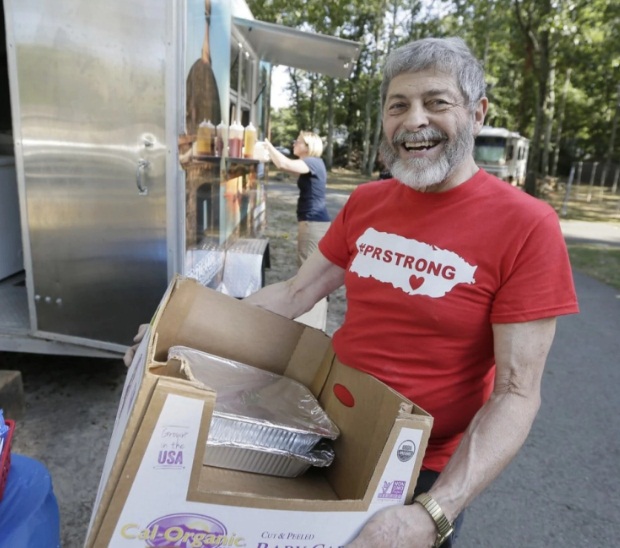 Maybe, with all he had been through, he realized the world wasn't going to end, or perhaps he just felt like giving. Whatever the reason, Joseph Badame is helping a lot of people who really need it. The New Jersey man spent who decades preparing his home for Doomsday is now donating all his stored food to families affected by Hurricane Maria in Puerto Rico.
The 74-year-old was in the process of losing his Medford home when he met a couple, Victoria Martinez-Barber and her husband, Anthony Barber, who were raising money for their family affected by Hurricane Maria in Puerto Rico. Despite being down on his luck, he made a $100 donation, and while chatting with the couple, he led them to the room where he stored his bounty and told them to take it all.
Badame had gathered 80 barrels of food that each could sustain 84 people for four months. The stock, which included dried beans, rice, flour, sugar, pancake mixes and more, would have been thrown away otherwise because of the foreclosure. "I've lost everything. My wife, my house, everything," he said. "The last thing I was going to lose is the food."
Badame started preparing for the end of times with his wife Phyliss in the 1970s. Together, they equipped their basement with multiple kitchens and bathrooms, a bomb shelter, food, and survival books, spending about a million dollars.
That all came to an end when Phyliss suffered a massive stroke that left her paralyzed in 2005. Badame quit his job, took out a half-million loan on his house and cared for his wife. By the time Phyliss died in 2013, he was broke. The bank foreclosed on his property, and it was at the estate sale last month where he met the Barbers, who he said gave him a new purpose in life.
"Phyliss and I prepared all this for one group of people, and it turns out it's going to help another group of people," he said. "That's wonderful."
FOLLOW ODDEE ON FACEBOOK AND TWITTER.