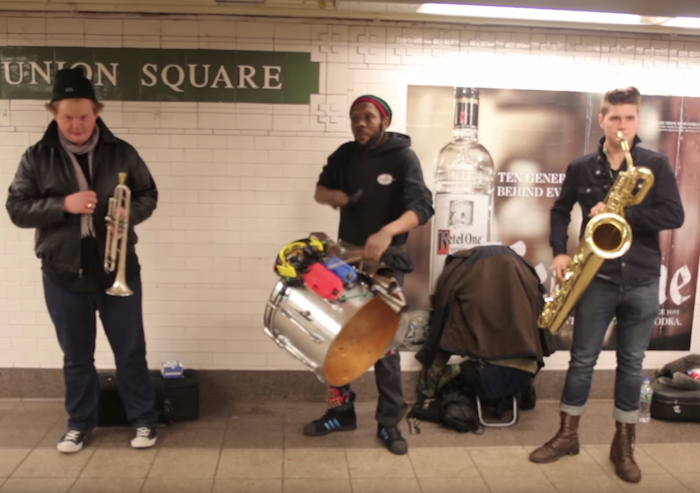 New York City – if you can make it there, you can make it anywhere. Heck, there are so many people walking around the Big Apple that maybe the expression should be "If you make can't make it there, you should."
Gotham is littered with talented performers. And don't think you have to fork over a cover charge and two-drink minimum to see these people showing off their talents. In some cases, all you need is a MetroCard because the subway and subway platforms are filled with people singing and dancing, in the hopes you'll give them some change, a practice more commonly known as busking.
And while you may not give a second look to some of them, every once in a while, you'll find yourself blown away and ask yourself, "Why is this person performing on the platform of the 6 train and not Radio City Music Hall?"
Check out some of these eye-opening and ear-pleasing performances and be prepared to never look at busking the same way again.
So Drumadic
The Drumadics have earned a following for their cool, sassy sound. When you hear them in action, it's not hard to understand why people like this energetic and group.
Zoo Won't Believe This
The sax player from Drumadics is also part of a jazz funk trio called Too Many Zooz. They're  downright amazing and bound to make any commute more tolerable.
Geechee Greatness
This guy is known as Geechee Dan and simply doesn't look like he should be able to belt out a song with the soulful '60s authority he does. His pipes pack quite a punch.
The Little Drummer Boy
4 Busking isn't just for adults, you know. Check out this young drummer, who parlayed his skills into a spot on "Good Morning America."
Underground Rappin'
Okay, we're going to leave New York City for a moment and go overseas to Europe where "busking ninja" Infidelix joined forces with a woman named Silvia Rodriguez for this unforgettable rap performance.
Mind-Drummingly Good
This singer-drummer has got all the goods. His voice is unique and his abilities with the drums are more than solid. Look at how the people are totally caught up in his performance. That's the mark of someone who knows what he's doing.
The Beatles Would Be Proud
These guys are part of a band called Blac Rabbit that wins raves for this perfect and understated Beatles cover.
For the Yung at Heart
This cover of "Unchained Melody" by a gentleman named Mike Yung is remarkable.  His skills haven't gone unnoticed – he went onto "America's Got Talent."
You Could "Use" This
This artist is named Damiyr, although we think it should be Daaaamiyr because daaaamn this is fantastic. This pensive cover of "Use Somebody" is the type of thing that gives chills.
The Magical Sounds of a Water Bottle
This band is great for many reasons, not the least of which is the boy in the back who's banging a water bottle. They're like a combo of a reunited '70s group and every wedding band that's ever played.
Crow, Crow Good
Coyote and Crow is a husband-and-wife team who've got the market on banjo (they have a stand-up banjo bass, for goodness sake) cornered. They play a down-home style of music that seem at odds with the hustle and bustle of New York City, but still manages to work.
Whistle While You Work
Vilray is the singer in this clip. He has a captivating Sinatra-style voice and is one-half of what may be the deftest whistling you'll come across.
CHECK OUT OUR ARCHIVES FOR MORE ODD NEWS STORIES AND FOLLOW ODDEE ON FACEBOOK and TWITTER.