They were expecting some textbooks and supplies, but what they got was something different all together.
When the school got their shipment, it was a strange delivery, not the supplies and textbooks they thought it would be. Instead, it was a box of guns.
The police called the accidental and strange shipment, an "honest mistake."
Chester High School received a delivery from FedEx, but they had made an mistake. Parents say that it couldn't have come at a worse time, with schools laser-focused on keeping kids safe as they return to school.
One Twitter user expressed "there's enough gun violence in Philadelphia" and "we don't need these kinds of mishaps." Another said that her daughter was set to start at Chester High School this week, but that she is reconsidering sending her there.
Dr. Craig Parkinson, Chester Upland School District Superintendent, reiterated that they were waiting on a delivery of supplies and textbooks for the start of the year, but instead staff has a strange delivery arrive at the loading dock last Friday.
The mistakenly dropped of shipment was stored inside the school over the weekend. Staff was surprised when they opened the box, expecting supplemental supplies for the school year that started yesterday.
A FedEx driver returned Monday when they realized that the delivery was wrong. He was, however, unable to collect the package  as protocol calls for guns discovered on school grounds to be confiscated.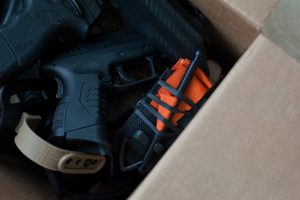 Police eventually opened the box and took the guns in as evidence.
Turns out the guns ended up at the school, after the FedEx driver misread the delivery address. There were six guns in the package.
"We were contacted and followed school protocol and got the police involved immediately," Nafis Nichols, Chester Upland School District receiver, said.
The guns were .30 caliber rifles, military weapons. They were ordered legally and legitimately by a gun collector, who never received his order.
"We deeply regret this happened and take this very seriously," a FedEx spokesperson said in an emailed statement to Newsweek. "We have fully cooperated with investigating authorities to resolve this matter. We appreciate Chester High School and local authorities working with us to quickly retrieve the shipment. We immediately conducted a review of the situation and are addressing the matter internally."
Parkinson said that "visibly concerned" and "very professional, very apologetic" when he returned for the guns. "He definitely made it clear that it was a mistake," Parkinson said.