Would you be able to spend years alone on a massive ship?
Some people are natural hermits who enjoy spending most of their lives in complete solitude. But for most, being left utterly alone would be a special kind of hell.
For one man, that hell has come to an end. On April 22, Syrian sailor Mohammed Aisha was finally allowed to leave an abandoned ship on which he had spent the last four years – completely alone.
After the cargo ship MV Aman was detained by Egyptian port authorities in 2017, Aisha became its unwitting guardian. Due to various circumstances, he ended up being left all by himself on the floating hulk.
On his way home at the Cairo airport, Aisha could only describe his feelings in two words.
"Relief. Joy," he told the BBC.
He later gave the news agency a slightly longer statement.
"How do I feel? Like I finally got out of prison. I'm finally going to be rejoined with my family. I'm going to see them again," he said.
Over the long years of the ship, Aisha battled both physical and mental health issues brought on by his complete isolation from the outside. He had no company, no sanitation, no power – nothing.
But in the end, he pulled through. Congratulations, Mr. Aisha.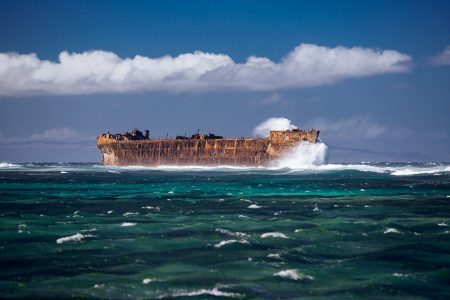 A Victim of Circumstance
But how did he get abandoned on a dead ship? The whole story began in 2017, when Aisha joined the crew of MV Aman as a chief officer, contracted by a Lebanese firm and owned by another company in Bahrain.
On its way through the Suez Canal, officials at the Egyptian port of Adabiya stopped the ship. They discovered that MV Aman's safety equipment and classification certificates were woefully out of date.
There shouldn't have been any majors with the problems. All the ship had to do was get to a port, get new safety gear, and get its paperwork in order.
However, its owners simply said: "No." The Lebanese company that had contracted the ship refused to pay for additional fuel, leaving the ship stuck in the Gulf of Suez.
At the same time, MV Aman's Bahraini owners ran out of money and declared bankruptcy. The ship was going to go absolutely nowhere anytime soon.
The famous saying goes that a captain is supposed to stay with their ship until the bitter end. That wasn't the case here – at some point the captain left and never came back.
With no captain on the ship, an Egyptian court declared the next highest-ranking officer as the ship's legal guardian. That was Aisha.
At the time, he simply shrugged and signed the court order, as he didn't know what the decision entailed. The horrible truth dawned on him only months later when the rest of the sailors were leaving the ship.
According to international law, Aisha had to stay with the ship, come what may. He wouldn't be getting paid, and he had no hope for aid.
His nightmare had begun.
Abandoned on a Floating Coffin
Aisha was now stuck on the ship. With no fuel, there was obviously no power, and he only got food from occasional coast guard visits.
There was nothing to do on the ship but watch other vessels sail by. A few times, Aisha's brother – who is also a sailor – passed MV Aman, and the two talked briefly on the phone.
The loneliness and desperation of his situation quickly started to wear down Aisha's mental wellbeing, especially when night fell.
"You can't see anything. You can't hear anything. It's like you're in a coffin," he said.
But a bigger blow came in August 2018, when Aisha learned that his mother had passed away. At that point, the stranded sailor toyed with the idea of turning the ship from a figurative coffin into a literal one.
"I seriously considered ending my life," Aisha admitted.
Solitary years passed, and in March 2020, a massive storm hit the Gulf of Suez. The winds pushed MV Aman way from its anchorage, causing it to drift five miles before running aground a few hundred yards from the shore.
During the storm, Aisha was terrified, but he soon realized it had been a blessing. Now, he could swim ashore every now and then to buy food and charge his cellphone.
Perhaps more importantly, he could talk to an actual human being instead of the shadow people on the walls.
But still he had to return to his ship. When the Ever Given blocked the Suez Canal earlier this year, Aisha passed the time by counting the other ships stuck in the seaway.
Not the Only One
Although Aisha's moment of deliverance finally came, he says he feels let down by the ship's owners. On their part, the owning company – Tylos Shipping and Marine Services – said they tried to find help but laws and practicality tied their hands.
"I can't force a judge to remove the legal guardianship. And I can't find a single person on this planet – and I've tried – to replace him," a representative said.
Aisha's experience is unfortunately far from unique, and it highlights a serious problem. The International Labor Organization says that there are currently 250 similar cases active around the seven seas.
When a ship owner runs into financial difficulties, they far too often simply abandon the sailors to their fate. Forsaken by their employers with no aid incoming, sailors in these situations easily succumb to depression and other health problems.
"This drama and suffering of Mohammed Aisha could have been avoided if the owners and the parties with responsibilities and obligations to the ship had assumed their responsibilities and arranged his repatriation earlier," said Mohamed Arrachedi of the International Transport Workers Federation, who arranged Aisha's trip home.
You'd imagine Aisha would want nothing to do with ships after this, but you'd be wrong. He's a dedicated seafarer who knows what he's good at.
Once he's caught up with his family, Aisha intends to return to the sea. Hopefully his next trip doesn't end up lasting four years.