If you're looking for your own Italian villa, here's your chance.
Have you ever wanted to own a house in a picturesque Italian town, with cobblestoned streets and gorgeous views directly out of your home window? Good news; you can now get one at a real bargain.
In fact, it'll be about the price of a cup of coffee – or even cheaper. The Sicilian town of Castiglione di Sicilia is selling off houses at the astronomical price of roughly $1.
You can have your pick, too. There are more than 900 houses for sale at stupendously affordable prices.
The location of the town couldn't be better, either. Castiglione di Sicilia sits on the verdant slopes of Mount Etna, with the beaches of the Sicilian coastline only 10 miles away.
Alright, what gives? This is just too good to be true, what's the catch?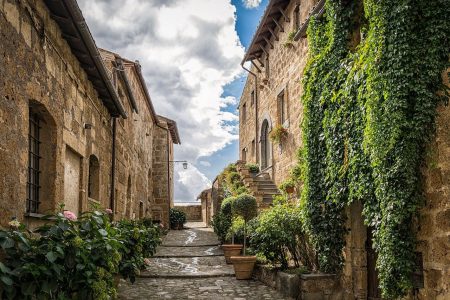 Save Our Town
Believe it or not, there really isn't much of a catch. The town's mayor Antonino Camarda says that the houses are being sold dirt cheap for one simple reason – it's an effort to keep Castiglione di Sicilia in existence.
The town is facing a major population crisis, in the sense that there soon won't any population left. In its heyday in the early 1900s, Castiglione di Sicilia had some 14,000 residents, whereas today they're lucky to reach 3,000.
As a result of the exodus, the town is now chock full of empty, historically significant houses, says Camarda.
"We have a huge architectural heritage to rescue, packed with history," he told CNN.
"Over time, too many people have left, leaving behind a bunch of old, picturesque houses, many even dating back to the Renaissance."
A Handyman's Dream
If you're scrambling for your wallet to buy your very own Sicilian villa, hold your horses for just a minute longer. We said there wasn't much of a catch, but there is still a catch.
You see, some of the houses are in… Questionable condition, to put it mildly. In an effort to save them from complete ruination, buyers have to commit to renovating the houses within three years.
As part of Castiglione di Sicilia's house offloading scheme, each house has been priced according to its condition.
"We've carried out an in-depth study cataloging each property based on maps and land registry data. According to their condition, buildings will be sold at different prices, starting from $1," explained Camarda.
You can probably guess that the $1 homes are basically barely-standing skeletons of a house. You still don't have to break the bank to get an Italian summer home that's in better condition – houses requiring only minimal renovations go for around $5,000-$6,000.
Of course, you might be one of the DIY kinds of folks who love a good home renovating challenge. Still, you should be prepared to do a bit of paperwork before heading to the cashier.
Castiglione di Sicilia requires all potential buyers to submit a detailed description of the kind of house they'd like. In addition, they need to hand in a plan about how they intend to renovate the place.
It might sound like a lot of work, but it makes sense if you consider the town's perspective.
They're trying to breathe new life into the locale. The last thing they want is people to buy the cheap houses only to leave them sitting and falling into further ruin.
Taxes, Taxes
Despite it all, this is still a pretty good deal. To begin with, the town doesn't require buyers to pay a deposit for the houses, unlike many other places with similar schemes.
New homeowners will have to get an insurance policy from a local bank, priced at around $5,000. In the grand scheme of things, that's really not too bad.
There are also some tax benefits to be reaped. Taxes in Sicily are low compared to elsewhere in Italy. Homeowners can also benefit from the Italian governments 110% tax credit scheme for renovations that make houses more environmentally friendly.
A Paradise on Earth
As we already mentioned, Castiglione di Sicilia makes for pretty much an ideal vacation home locale. The landscape around the town is nothing short of breathtaking.
The surrounding Alcantara Valley has dozens of crystal-watered streams and waterfalls that cut through olive groves and vineyards. There are plenty of opportunities for hiking, rafting, biking, horse riding… The place is an outdoorsman's dream.
If that sounds too sporty for you, there are miles and miles of white sandy beaches within a half hour drive. And that's without mentioning the local food – like pastas and desserts – and wines.
You know what, this is starting to sound pretty dang good. Where can we submit an application?