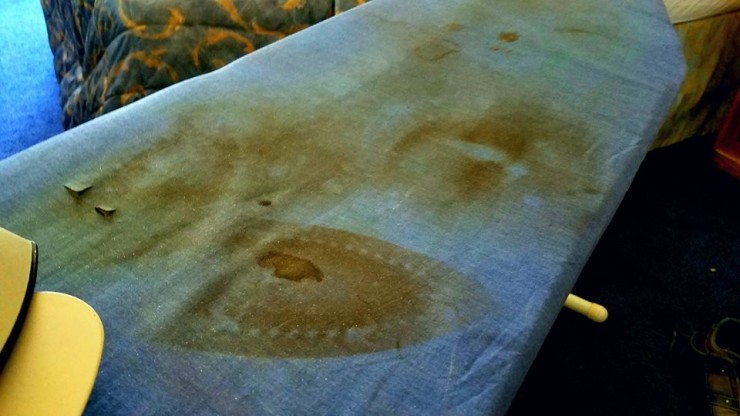 In today's reader-submitted story, Layover Paige tells us about her gross side project. 
"I don't think anyone just wakes up and says 'This is the day that I'm going to start collecting and collating really disgusting discoveries that people encounter while on the road!'
It just happens one day on a business trip in Toronto when you're working in your room and notice that someone has smeared a big line of snot on a framed piece of art.
Because my mother may have eaten paint chips when she was pregnant, I think this is funny, so I post it to Facebook. The photo has the desired effect and really upsets friends. So, naturally, the next time I see something disgusting, I post it.
Eventually, people started sending me their gross finds.   And then the flight attendants discover your site and start sending you their gross stuff.
So I created a website.
Yep. I'm odd. Here's some of my "best" findings and submission.
Free WiFi, Parking, And Big Scary Bugs
From a mom on vacation with a daughter in Tucson: The bug was on the floor by the ironing board. Completely startled me. It was a good size bug and was twitching around a little bit. I wasn't interested in doing the bug relocation program since I didn't know if it was like a scorpion and it would sting if I touched it. It, unfortunately, had an untimely death.
Headboard Splatter
From an international traveler at a hotel in Niagara Falls. The submitter was impressed by the "volume and trajectory" of the projectile-er.
Really Filthy Radio
From a radio employee on move-in day at their new offices where she found this splatter inexplicably on the wall in the hall.  Welcome to the new facility! "And don't forget, Friday is Hazmat Suit Day. So, where your Hazmat suit if you want to."
The Classy Skies
From radio personality, world traveler and humanitarian www.ramblinrandy.com who was fortunate enough to sit across from the gentleman on an Air Fiji flight.
Someone Tried To Recreate Psycho
A reddish pool of left-over plasma from someone's previous misadventure at a very very nice hotel in Canada.
Poop or Blood?

From a radio industry professional on vacation at a major brand hotel in Tribeca, NY. Even when he posted the shot of this towel to his Facebook account, the question is undecided. Face towels, generally, blood. Bath towels, usually dookie. Editorial opinion.
For more, check out Hotel Nightmares.
Do you have a fascinating job or hobby? We want to hear about. Tell us more here.
CHECK OUT OUR ARCHIVES FOR MORE ODD NEWS STORIES AND FOLLOW ODDEE ON FACEBOOK and TWITTER.