Mochi, 8, has a tongue that is almost 7 1/2 inches in length
She smashed the previous record held by a Pekingese whose tongue measured in at 4 1/2 inches long
Today, wherever he is, Gene Simmons is probably green with envy.
Mochi 'Mo' Rickert, an 8-year-old St. Bernard from Sioux Falls South Dakota, was crowned the Guinness World Records holder for the longest tongue on a dog. The pooch got tongues wagging when record keepers measured her slobbery appendage dangling an impressive 7.31 inches in length. It smashed the previous record held by a male Pekingese named Puggy whose tongue measured 4.5 inches long.
"Mochi is constantly stopped on the street by strangers, some of whom 'stare and laugh," owner Carla Rickert, says.
Mochi found her new home with the Rickert family when she was two years old, through a rescue organization for large dogs. It was "love at first sight," says owner Carla Rickert who drove 11 hours with her daughter to meet Mo before adopting her. Carla describes Mochi as a "resilient, happy-go-lucky dog, with a big personality."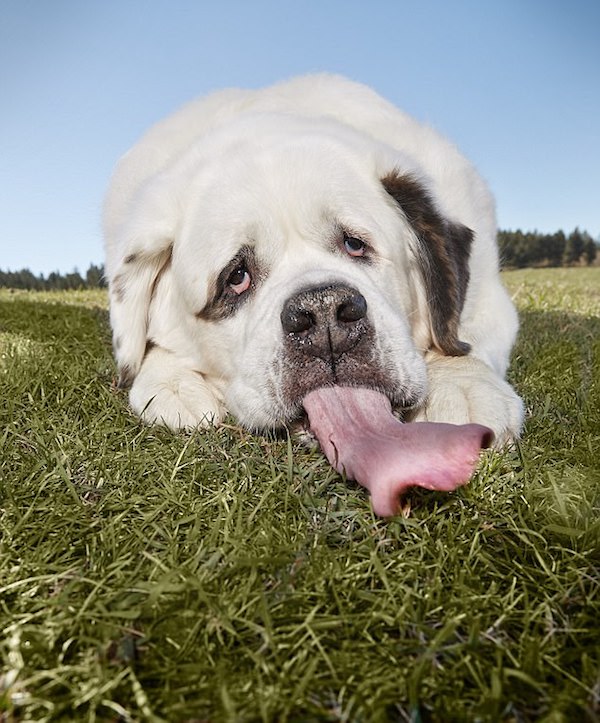 Mo enjoys dressing up in costumes, having her picture taken, spending time with her family, and snacking on sweet potatoes. But she faces some obstacles as a result of her long tongue, including breathing challenges, extra slobber, and dirt, dust and leaves sticking to her mouth. She also needs help eating treats because she can't grab onto them the way other dogs do.
Carla said of Mochi's new record, "It still does not seem real! Mochi is so humble, she never brags or boasts but I know that she is as proud of her new record as we are. It feels truly amazing to be a part of the Guinness World Records: Amazing Animals book! We are so grateful for the opportunity to make others smile."
Craig Glenday, Editor-in-Chief of the first edition of Guinness World Records: Amazing Animals has returned the sentiment. He said, "We are very excited to welcome Mochi and her record-breaking tongue to the Guinness World Records family as part of our new publication, Amazing Animals."